Patchwork Pumpkins Wall Hanging is here!
How about a little fall decorating with this adorable Patchwork Pumpkins wall hanging?  The pattern is now available and it's on sale for $6 until November 1, 2018!  You can purchase the pdf pattern in my Etsy Shop here.  The finished size is 20 1/2″ x 22 1/2″.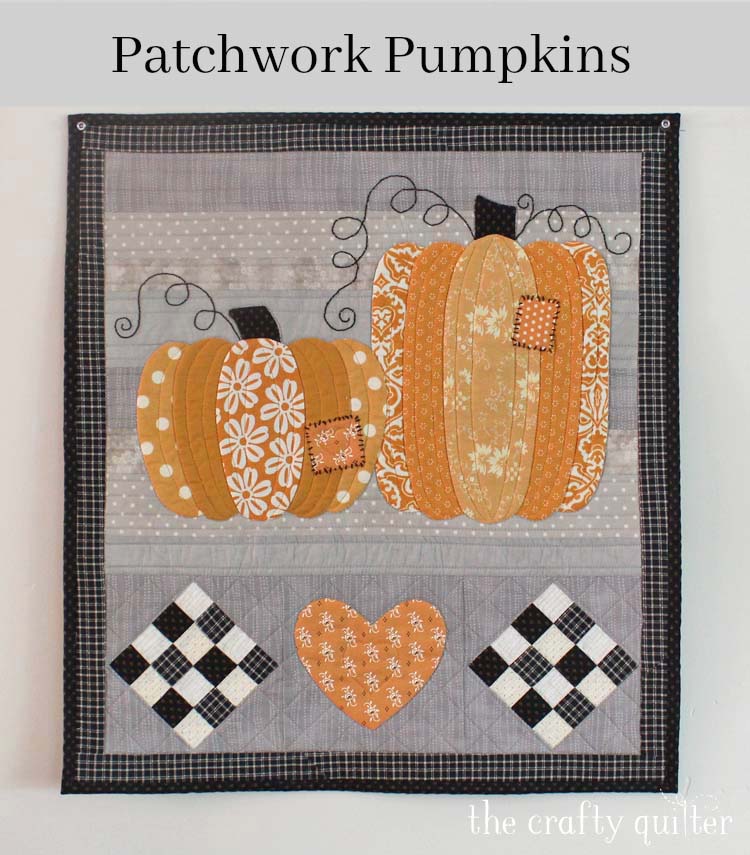 These pumpkins have been patched with love and are appliqued onto a simply pieced background.  I love the checkerboard squares on point and the heart in between adds to the charm.  It's farmhouse style at its best!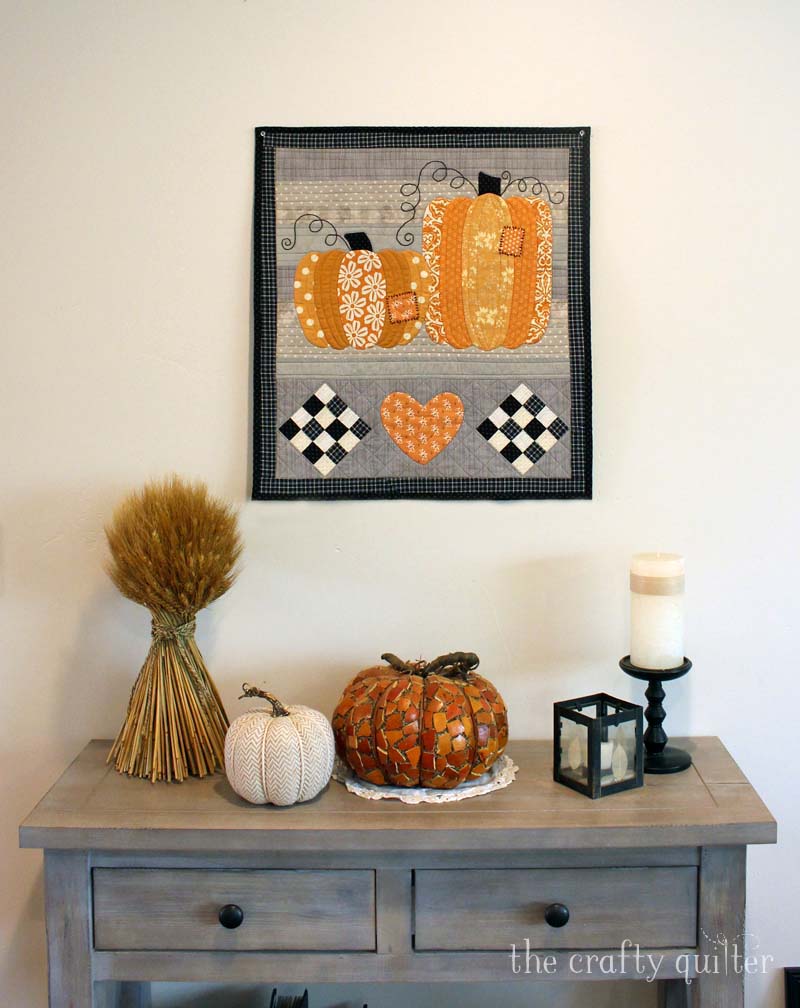 I added tendrils and patch stitches with three strands of black embroidery floss using a backstitch.  If you're in a hurry, you could always use a Pentel Gel Roller to draw those stitches.  I used this technique on my Save The Bee's Block 1, and it was a real time-saver.
The piecing on this wall hanging is simple and straight forward.  The instructions include two ways to do machine applique:  raw edge fusible machine applique and turned edge fusible machine applique.  If you haven't tried the turned edge method, I think you'll like it.  It's the same technique I used in this turned edge applique tutorial, but I've discovered a new product that makes it even better.  Quilter's Select Cut Away is a fusible stabilizer, and it's also perfect for this technique!  It's really thin, but super strong so it's easy to turn your applique piece right side out.  I keep the fusible part on the back side of the turned applique shape so that I can fuse it into place.
Once it's fused together and onto the background, I use clear monofilament thread and a narrow zig zag stitch to sew it in place.  This makes it look like it was done by hand, but it's all machine!  Of course, you can actually stitch it by hand or use your favorite applique technique.
Quilting this wall hanging was fun and simple.  I stitched straight, horizontal lines in the upper background section and a 1″ grid on the bottom section.  I free motion quilted pumpkin ridges inside each pumpkin along with a smaller heart inside the large heart and the short pumpkin patch.
I had two talented ladies that tested the pattern for me (big thanks!).  They finished their quilt tops and did an excellent job helping me with a few corrections.  It's always nice to see a quilt in several different fabric options, so have a look at Jan's and Annie's beautiful quilts.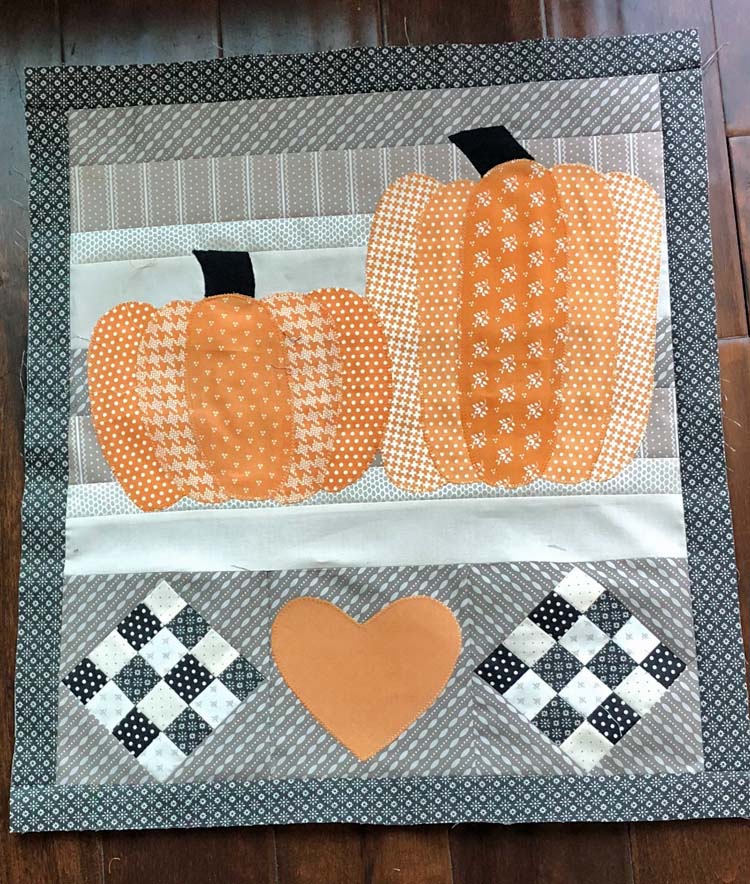 Annie made a second quilt using her stash of Fig Tree fabrics.  I couldn't get the photo any larger than this, but you'll get the idea.
I hope you enjoy this pattern.  I know it's a little late, but I love that it can be used for Halloween and still remain up for the Thanksgiving holiday.   Have you done any more Fall decorating or are you moving on to Christmas and Winter?
Thanks, always, for supporting me and my blog through your purchase of my patterns.  I truly appreciate it!  If you make this wall hanging, you can tag it with #patchworkpumpkinswallhanging for sharing on Instagram and tag me @thecraftyquilter.
Happy quilting!