Peppermint Snowball Candy Mat and free pattern
With the holidays around the corner, I'm always looking for unique gifts that I can make for friends and family. Enter the Peppermint Snowball Candy Mat! It's the perfect gift that combines two of my favorite things: candy and quilting.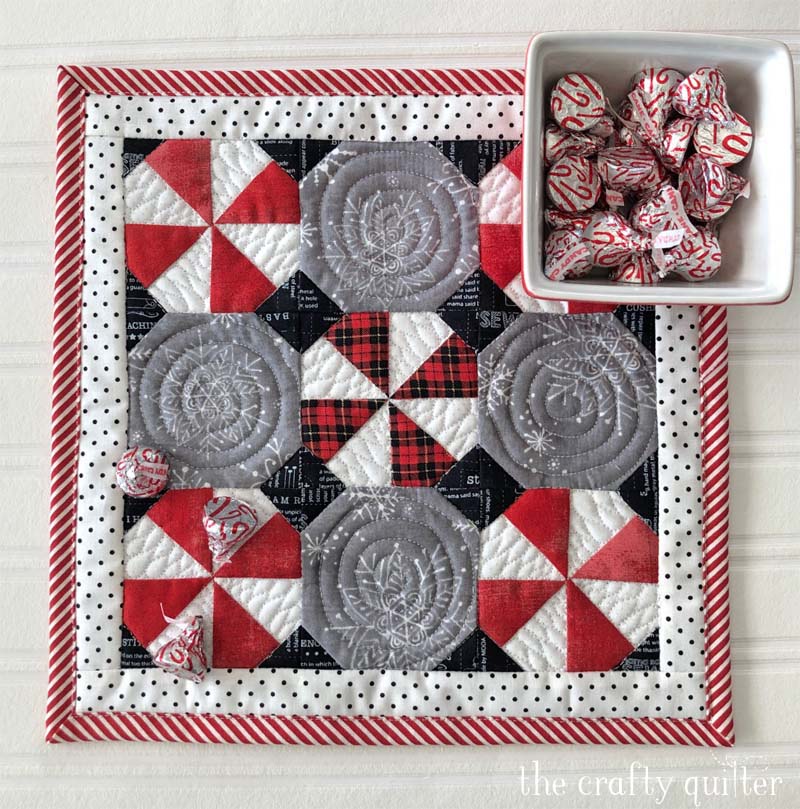 That candy dish deserves something special to rest on. Or perhaps that plate of cookies would look so nice on this sweet little quilt. It measures 11 1/2″ square and is just the right size for a bowl or a plate to fit on top.
Peppermint Snowball Candy Mat free pattern
I was going to do a step-by-step tutorial for the blog but I had some problems with the photos I took along the way. So it's a free pattern that you can download for your own! Just click on the download button below.
I used fabric that I had in my stash, so it's a mish mash of old and new. Most of the fabric requirements are 1/8 yard pieces. I ran out of the red grunge fabric for the pinwheels, so I had to make the center pinwheel different. But you could definitely make them all the same.
This pattern would also work well with charm squares. If you have a favorite holiday-themed charm pack, try it out! Just make sure you have good contrast between the snowballs and the pinwheels. My first attempt was a failure (kind of) because everything blended together too much. I'm much happier with my red/black/gray version.
The quilting on my Peppermint Snowball Candy Mat really stands out because I used Pellon Thermolam for the batting. This is a dense polyester layer that really shows off the quilt stitches. I use Thermolam for all of my table runners and placemats. I feel like it absorbs heat well and provides a little more protection than regular cotton batting. You can definitely use whatever type of batting you have on hand. This is a great project to use up those extra batting scraps.
Don't you love a striped binding? This red and white stripe is one of my favorites! It's from Bonnie & Camille Basics for Moda fabrics. I used my all-machine binding technique to sew it on quickly, and I added a custom label from Dutch Label Shop to the back.
I can also picture this little Peppermint Snowball Candy Mat as a great place to set a plate of cookies on top of for Santa Claus. I'm sure he would appreciate the extra special touch and perhaps remind him of Mrs. Claus. I'm sure she's made a quilt or two in her day (along with lots of cookies)!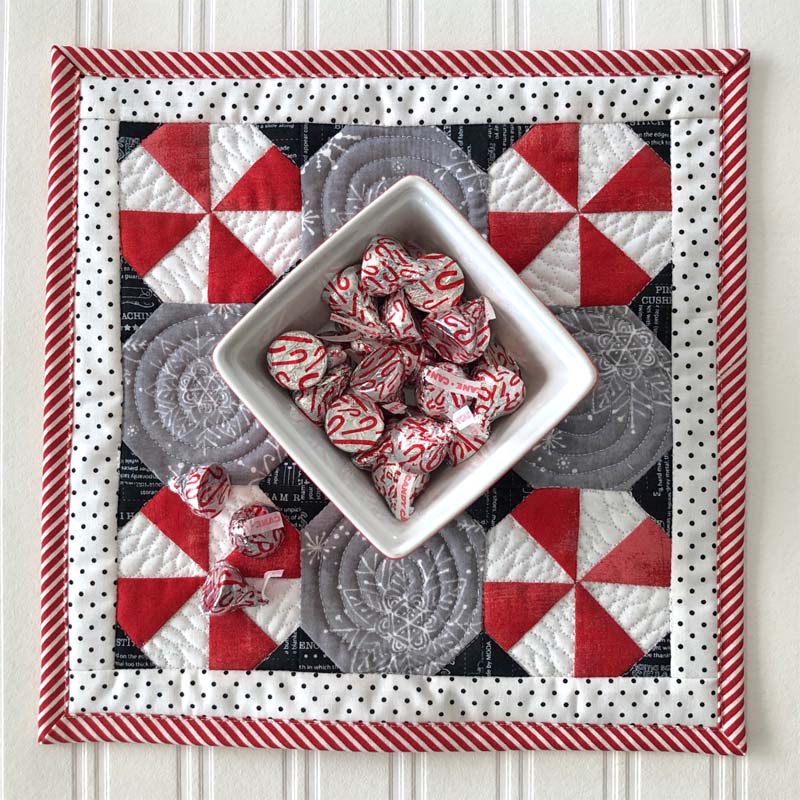 Speaking of cookie plates… if you've been following me for a while, you might remember my Cookie Plate Crumb Catcher tutorial from several years ago. This is another great Christmas gift idea that I love to customize for any holiday.
---
As the holiday season approaches, it's the perfect time to start making lists of things to make, and I hope this Peppermint Snowball Candy Mat makes it onto your list. It's sure to please someone including you!
Thanks for visiting today, and happy quilting for the holidays!