Christmas Once a Month, Cookie Plate Crumb Catcher
It's October and we have a little over two months left before the big day!  Seriously folks, Christmas will be here before you know it!  This month's Christmas Once a Month project is a Cookie Plate Crumb Catcher.
Yes, that would be a special quilt to keep your cookie plate company and catch any stray crumbs that may fall its way!
I think every plate of cookies deserves a good crumb catcher!
These little quilts would be perfect for a hostess gift or make a bunch for co-workers and family members.  And they are just the right size for placemats if you wanted.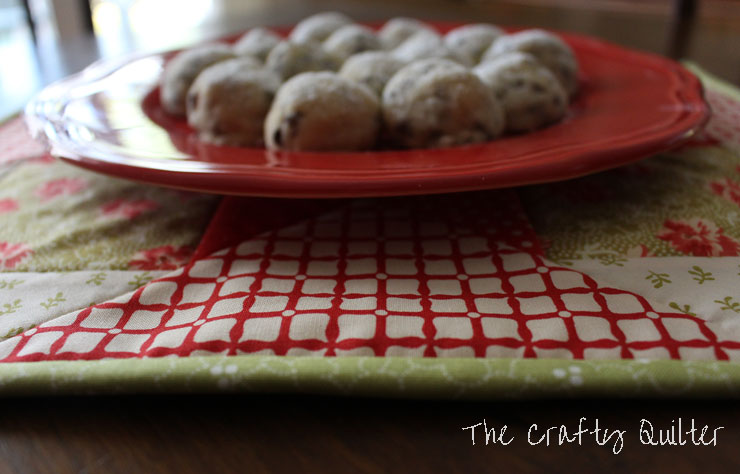 The following is a tutorial for you that shows every step needed to make your own crumb catcher.  If you want to download a shortened pdf file to print out, then you can find it here:  Cookie Plate Crumb Catcher
Cookie Plate Crumb Catcher, finished size:  15″ diameter
Supplies:
Fabric A (red): 1/8 yard
Fabric B (red polka dot): 1/8 yard
Fabric C (green floral): 1/4 yard
Fabric D (white print): 1/8 yard
Fabric E (red/white check): 1 fat quarter
Backing: 1 fat quarter
Binding: 1/4 yard
Batting:  Scrap, 18″ square
Cutting Instructions:
Fabric A:  Cut (2) 3 ½" squares; cut (4) 3" squares
Fabric B:  Cut (2) 3 ½" squares; cut (4) 3" squares
Fabric C:  Cut (4) 5 ½" squares
Fabric D:  Cut (8) 3" squares
Fabric E:   Cut (1) 9" square, subcut on both diagonals to make 4 setting triangles
Piecing Instructions:
Note:  You will be making 1 pinwheel unit and 4 square-in-a-square units.  They will all measure 5 1/2″ (unfinished).  You can use your preferred method to make these units, but adjust the cutting instructions as needed.  I will be using mostly traditional methods for this tutorial such as "stitch and flip" for the square-in-a-square units.
All seam allowances are 1/4″.
Make pinwheel block:
1.  Draw a diagonal line on wrong side of Fabric B 3 ½" squares.
2.  Layer Fabric A and B 3 ½" squares, right sides together and sew ¼" from each side of diagonal line.  Cut on drawn line and press towards dark fabric.
3.  Trim to 3" squares.  (They should be slightly over-sized before trimming).
4.  Arrange half-square triangles to form a pinwheel.  Stitch squares together into pairs and then stitch pairs together to form (1) 5 ½" unfinished pinwheel block.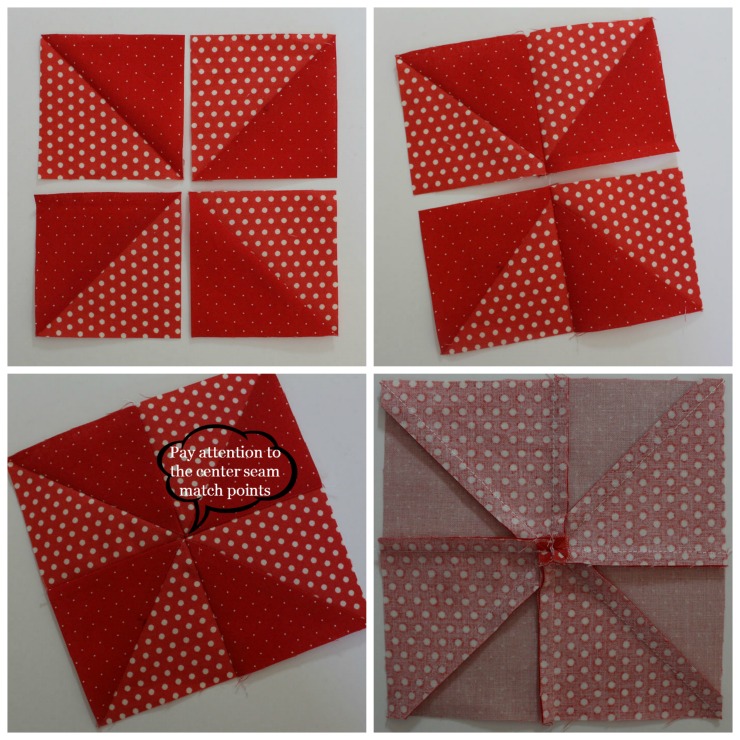 5.  Notice how I pressed the seams in the last photo above.  The final seam can be pressed so that half of it is up and the other half is down.  You need to twist the center a bit to "pop" the stitches open to allow it to spiral.  This gives you a flatter center intersection when pressed.
Make square-in-a-square units:
1.  Draw a diagonal line on wrong side of each 3" square from Fabrics A, B, and D.  Place Fabric A square on upper right corner of Fabric C (5 ½") square.  Sew just next to the drawn diagonal line. (This allows space for the thread and fold-over fabric).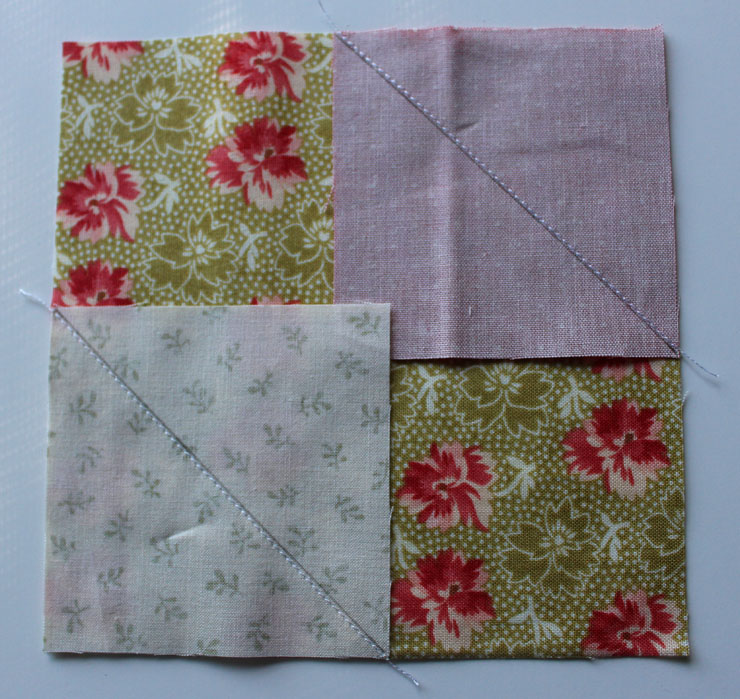 2.  Make sure that you have the correct color placement of squares in the upper corners.  You want to match the colors with the pinwheel block so that you get a star when it's all put together.
3.  Press towards corner and trim excess fabric.
4.  Repeat for remaining corner squares.  Make 4 square-in-a-square blocks.
As an alternate method, you can use my Perfect square-in-a-square technique to make these units.
Assemble quilt top:
Place the pinwheel unit, the 4 square-in-a-square units and the setting triangles into rows as shown below:
Stitch the rows together.
Press the top and bottom row seams toward the setting triangles and press the center row seams toward the middle.
Join rows together, matching seam intersections.  Press seams to the outside.
The setting triangles are over-sized so you need to trim them.  First, trim the points that hang over the short sides: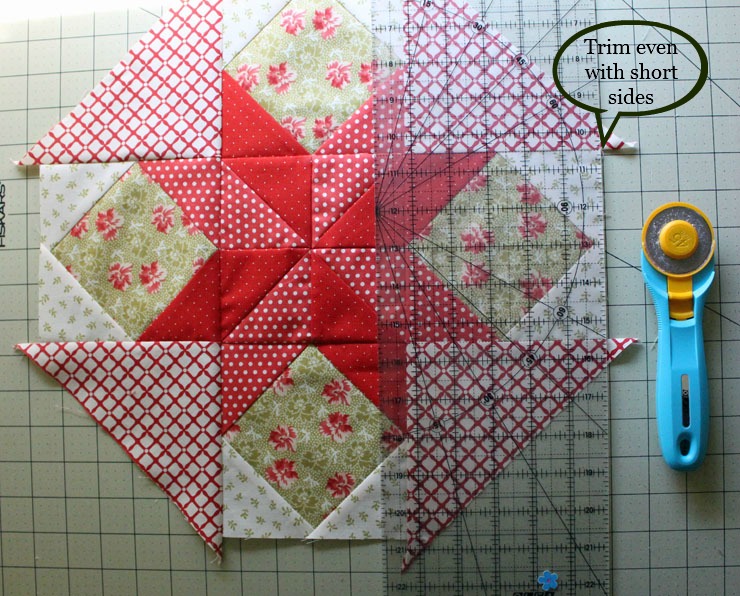 Then trim the long edge of the setting triangles so that they are even with the seams: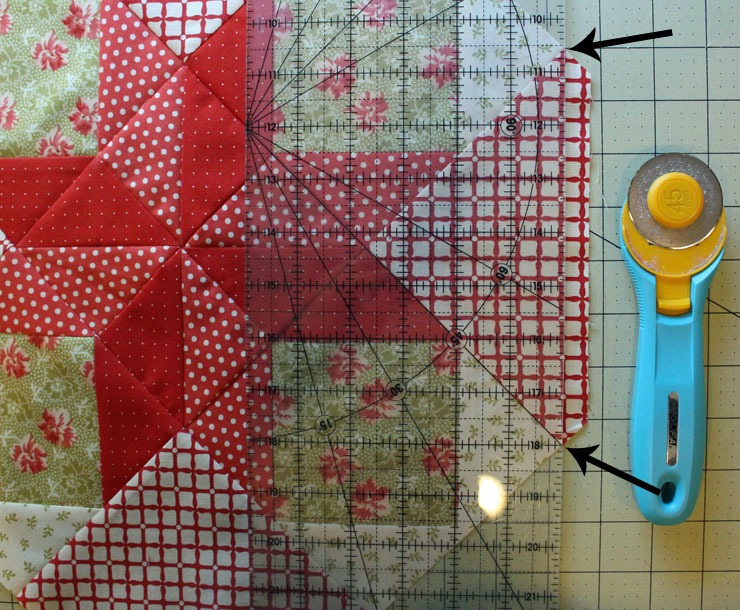 Now you're ready to baste and quilt!
I simply stitched in the ditch for my quilting.  Nothing too fancy, but feel free to get creative!
The last thing you need to do is add the binding.  You have some odd corners here.  They're at a 45 degree angle (rather than 90) and you'll need to approach them a little differently.  Here's how I do it:
As I approach the corner, I draw a 1/4″ line on the binding that follows the next side of the quilt that I'll be turning on to.  This will give you a pivot point.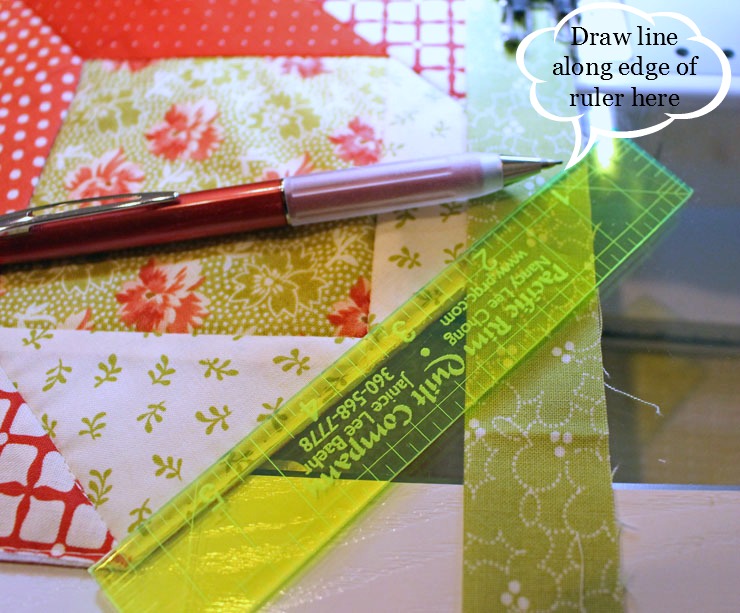 When you reach the pencil line, stop and pivot.  Then stitch out to the edge.

Remove the quilt and clip the threads.  Now rotate the quilt/binding so that you're working on the next side.  Flip the binding up and away from the quilt (the raw edges should form a straight line) and then fold the binding back down on itself so that the folded top edge is even with the corner.  Continue sewing to the next corner.
When you're done sewing, the corners will look like this from the front:
When you fold the binding to the back of the quilt, there will be a very small miter that you make on the back side.  Sorry, I don't have a picture, but this is what it will look like from the front:
I love this project because it's small and quick to make.  You don't need a big investment in time or material.  Plus it's so versatile!
And you don't need to wait for Christmas to put this little quilt to good use.  Halloween, here I come!
I LOVE the mouse's nose peeking out behind the pumpkin: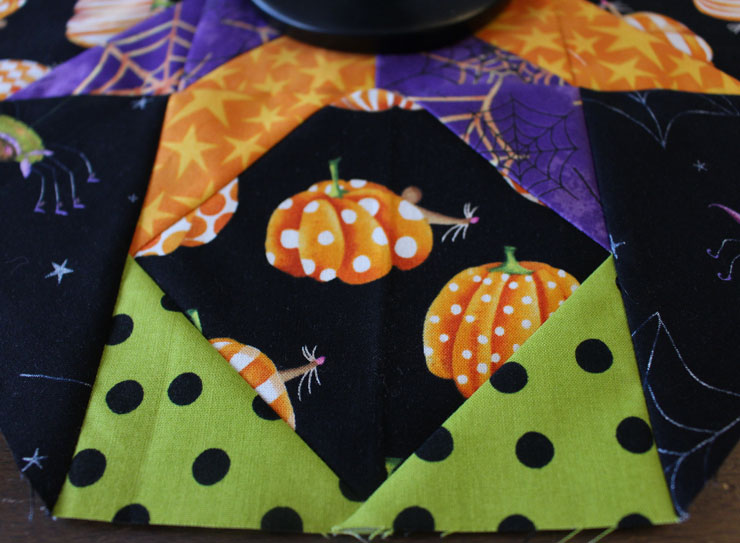 And then there's this soft Fall version.  And I had to make some pumpkin mini muffins just for this photo shoot!  I'm a real trooper that way!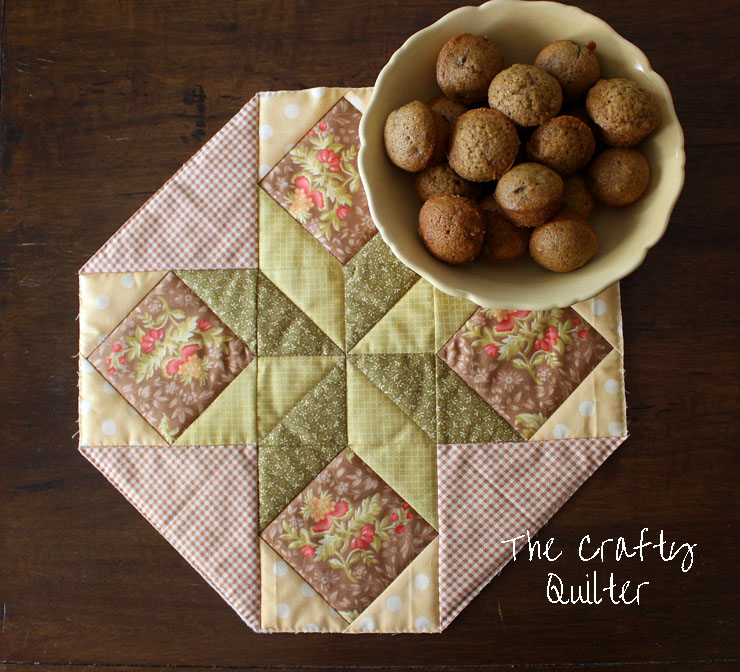 And still more Christmas versions.  Notice how the fabric choices emphasize a "plus" shape: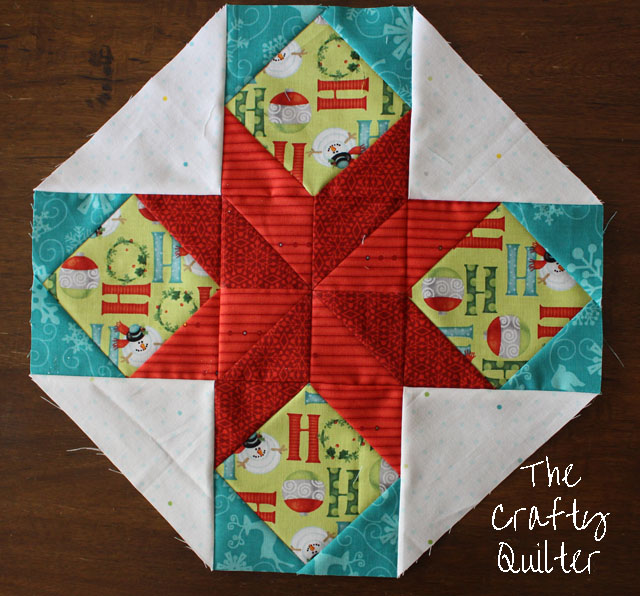 Oh, but don't forget the candy: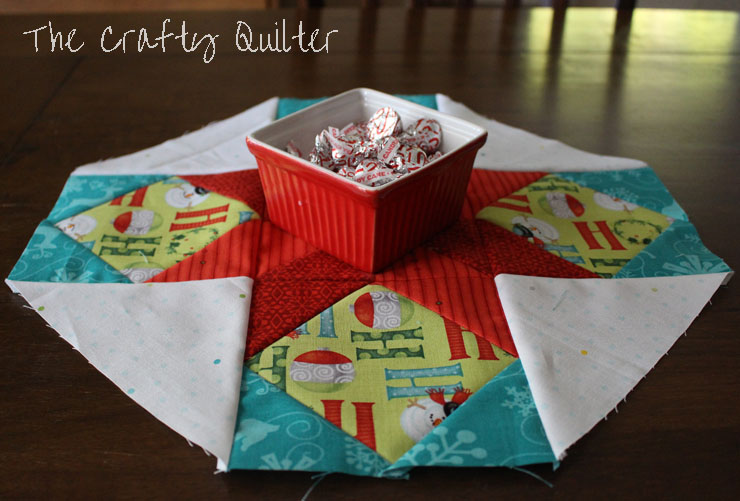 And here's a classic Christmas version:
And since you've stayed with me to the end of this vast tutorial, I want to reward you with a few cookie recipes!  The snowball cookies that are pictured in the original version came from my best friends at Nestle Toll House:  Mini-chip Snowball Cookies.
Another favorite Christmas cookie is the Candy Cane Kiss Cookie from Our Best Bites.  Simply delicious!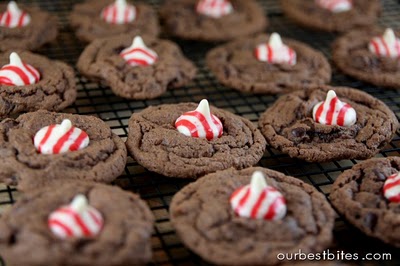 I make my Christmas cookies in November and freeze them.  They will last three months in the freezer.  I place them in Ziploc freezer bags and squirrel them away until it's time to eat them give them away.
What do you think of having a cookie exchange on my blog?  Maybe a linky party with our favorite Christmas cookies!  Or, I could just do a round-up of cookie recipes that I find out there in blogland.
In the meantime, get your cookie plate crumb catchers ready!