Check out Passport to Quilting!
Hello quilters! I have exciting news to share that will make your quilt-y hearts happy! The Passport to Quilting event is right around the corner, and it's the perfect opportunity to get lots of free sewing and quilting patterns just in time for summer sewing!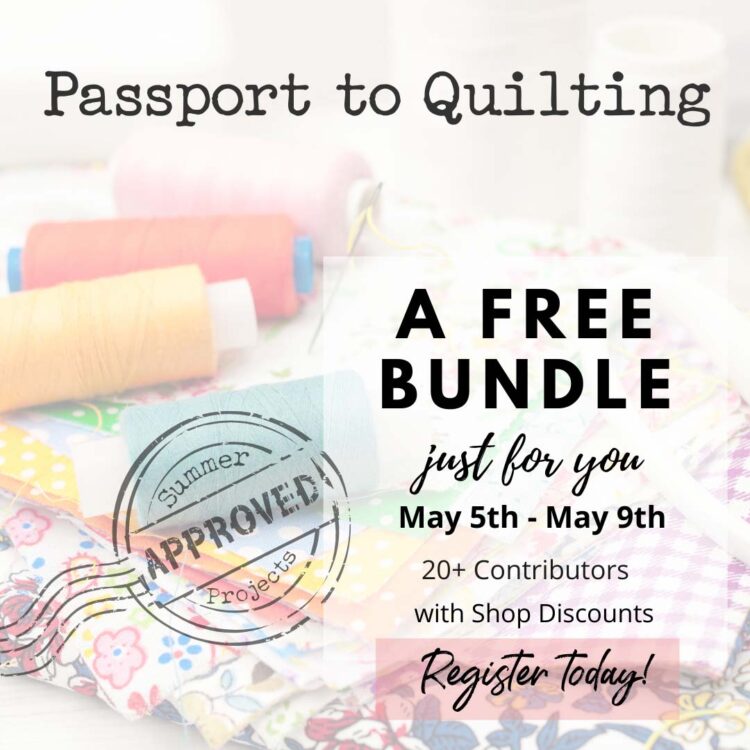 Passport to Quilting Details
So, what is Passport to Quilting?
This is a totally FREE event that takes place May 5th thru May 9th, 2022. I am one of 20+ designers participating and we are thrilled to be offering a bundle of free sewing and quilting patterns just for you! Think of it as a customer appreciation event where we give back to our awesome quilting community. In addition, each designer is offering special discounts in their shops just in case you want to do some extra shopping!
Here's what you'll find in the FREE Bundle…
11 Quilt Patterns from some of the most creative quilt designers out there.
10 Quilty Projects that are fun and creative.
Fun and Simple Sewing Projects
20+ Inspirational Quilt Designers
---
How it Works
Go to the Passport to Quilting Page and learn more.
Click the orange Enroll Button and add your name and email.
Receive an email with details on how to login to the site. SAVE THIS EMAIL!
Get immediate access to the Bundle information and details.
Come back on May 5th and download all of the amazing free patterns and projects.
And, just in case you're wondering… there are no special hoops to jump through to get the bundle. You just go to Passport to Quilting, add your name and email; and from May 5th-9th you get to download all of the FREE patterns and tutorials. Everything is hosted on a site called Thinkific which makes access simple and easy. Just be sure to save your confirmation email.
I'm excited to share my Seasons Reflections quilt pattern for this event (above photo – bottom left). I've mocked it up in perfect springtime colors, but it looks great in any seasonal or holiday color palette.
---
Make sure to sign up today by clicking the button below. May 5th will be here before you know it!