Scanfil Organic Thread review
I'm so excited to share my Scanfil® Organic Thread review with you! It also happens to be Earth Day, so it's perfect timing to learn about this earth-friendly option. I was so curious about this new product when I first saw it advertised. I love knowing there is an organic thread option available, but is it any good? That is the question I'm here to answer!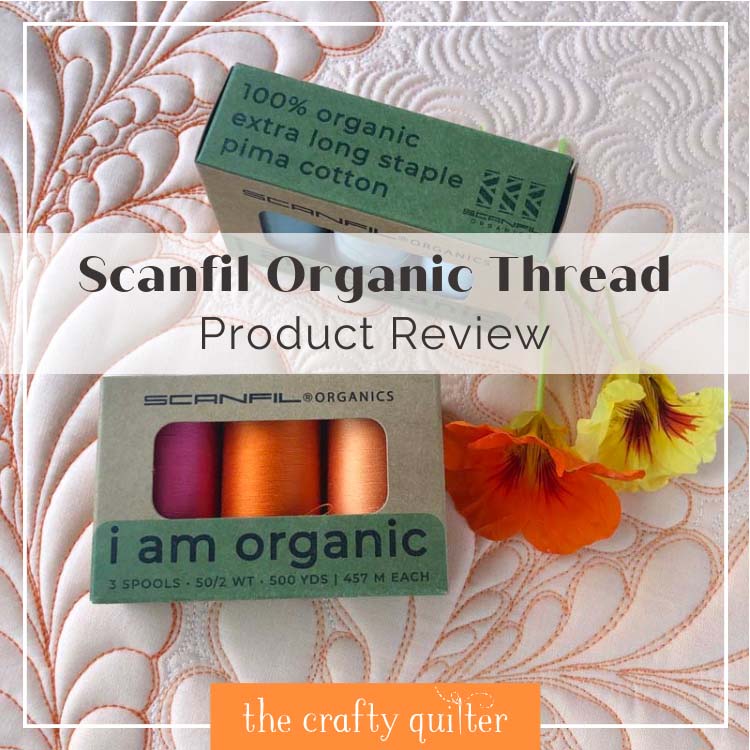 Several months ago, I reached out to Scanfil and asked if they would send me a sample of their organic cotton thread that I could try in the quilt-making process. I also offered to post my thoughts in a review on my blog. They were happy to accommodate. They generously sent me samples of their 30 wt. and 50 wt. cotton organic thread in several colors.
Please note: This is not a sponsored blog post and there are no affiliate links used. The opinions given here are my own, based on my own experience using these threads.
My hopes were that their organic thread was easy to work with, strong, beautiful, and provided value. I tried to remain as neutral as possible while working with the different threads I was given. With that said, I can honestly tell you that I'm really pleased with the performance of Scanfil Organic Thread.
About Scanfil Organic Thread
Scanfil Fine Threads are manufactured by Forbitex International, a family-owned company that started in 1970 in the Netherlands. One look at their website and product range will tell you that they care about the health of the environment and the global community.
Their Pima Organic cotton threads are spun from the finest extra long staple Supima cotton fiber which is grown without the use of chemical pesticides. They also use GOTS certified non-toxic solutions throughout the manufacturing process, along with a very restricted process of mercerizing. They also offer polyester, linen, invisible and other specialty threads. All of their products are manufactured in Europe.
As a quilter, I'm specifically interested in their cotton threads. They have 30 wt./2 ply thread and 50 wt./2 ply thread available in 300 yard spools or 5000 yard cones. They come in 3-spool or 6-spool sets or you can order individual spools and cones in a large assortment of colors. The thread spools are made from upcycled natural wood – also environmentally friendly!
Why choose organic?
Organic products have been the subject of debate mostly because of their higher costs and lack of information/awareness. As a consumer, I'm guilty of turning a blind eye to the environmental issues we face. My heart (as well as my children) tells me that organic farming practices are better for the environment overall. It uses less chemical fertilizers and pesticides, reduces soil erosion, and uses less energy thus reducing its carbon footprint.
Cotton production, specifically, uses 25% of the world's insecticides and 10% of the world's pesticides. These toxic chemicals are not only bad for the environment, but the exposure to farm workers may lead to significant increased health risks. Once these chemicals seep into the water supply, others are affected as well.
Most of us live in a free economy that uses modern technology to expand our production of raw materials (among many other things). Our consumer-based society has created a need for fast, abundant and cost-effective supplies for most products we buy. Unfortunately, this often comes at a price that Mother Earth has to pay and which eventually funnels down to humanity.
As Scanfil states, "By opting for organic cotton, you're not only choosing a healthier alternative for yourself, you're also contributing to a cleaner, chemical-free environment."
My review of Scanfil thread
For my review, I tested the Scanfil Organic Cotton 50/2 WT and 30/2 WT. Those first numbers refer to the weight of the thread (50 or 30) and the second number is the number of plies twisted together (2). An average thread weight is 50 and usually 3-ply. A 2-ply thread is finer but still very strong. The lower the thread weight, the thicker the thread (very counter-intuitive).
50/2 WT thread
The 50/2 WT organic cotton thread is ideal for piecing because it takes up less space in the seam allowance and lies very flat compared to a 3-ply and/or heavier thread. You can also wind more thread on a bobbin so it will last a little longer. I always reach for this size and weight thread when I'm piecing quilt blocks.
I've been using the Scanfil 50/2 WT thread in the top and bobbin for the past 6 weeks as I piece together various projects. I've had no problems with tension and my stitches appear straight and uniform. The Scanfil Thread Shop says their thread is lint-free and double mercerized which creates a strong and lustrous thread. I'm not a thread expert, but it appears to be lint-free; even though I'm seeing some lint build up on my needle and presser foot areas, I assume it's from the cotton fabric I'm using. It looks similar to the lint build-up on my rotary cutter.
The thread I would compare the Scanfil 50/2 WT to is Aurifil 50/2 cotton thread. It has many of the same qualities. I would say the Scanfil performs equally well to Aurifil, and seems just as strong (if not more so). I'm really pleased with the results after using Scanfil!
30/2 WT thread
Next, I used the Scanfil Organic Cotton 30/2 WT thread for the applique and free motion quilting. This thread weight is also great for topstitching or any decorative stitching. I made a little FMQ feather sampler and included two small applique shapes to add some interest. I used two layers of batting (one wool and one 80/20 cotton/poly blend) and Kona cotton on both sides.
I stitched around the applique shapes first using color 4804 and a zig zag stitch. I like this thread and weight for applique; it gives the shape good definition. The tension was perfect and the stitches came out beautifully. Fun fact – I stitched the applique after basting the quilt sandwich together, so the quilting was done at the same time.
After the applique was stitched, I started on the feather quilting. I used the 30/2 WT thread on the top and a 50 wt. thread in the bobbin. The tension and stitches were great (beyond my own operator error of inconsistent stitch length). The thickness of this thread allows you to really see the stitching. I'll talk more about that in a bit.
Using a Frixion pen, I marked the main spines of my feathers. Everything else is done free-style. The feather on the right (color 4804) is done with an open, more modern style. The feather on the left (color 4857) is done with a bump-back style which refers to backtracking over the top of every other feather; this is a more traditional look.
Don't look to closely, I'm a little rusty on my feathers. As I was stitching, I could see every little mistake along the way. When it's all said and done, it looks fine. In the future, I would not choose such a thick thread for traditional feather quilting. Backtracking over the stitches is really noticeable and creates thicker areas than I'd like.
Next, I filled in the background using the Scanfil 50/2 WT thread (color 4868), top and bobbin, to stitch the "bouncing bananas". I definitely wanted a finer thread in this area because it's a lot of dense quilting that can overpower the feathers. I was really happy with the performance of the thread. Great tension, nice stitches and no thread breakage. I was also glad to see how far the bobbin lasted – about 3/4 of the way through.
Price comparison
If you've every shopped for organic produce, the first thing you'll notice is the price. It's usually more expensive than conventional produce. The same is not true with organic thread (usually). Below is a price comparison using cotton thread from Superior Masterpiece 50/3, Aurifil 50/2 and Scanfil 50/2 Organic. The spool and cone sizes are not exactly the same, so it's a little difficult to compare apples to apples. Also, I couldn't find manufacturer's pricing for Aurifil, so those are based on retail prices from Fat Quarter Shop and Missouri Star.
Superior 50/3 Cone
(2,500 yards)
Aurifil 50/2 Cone
(6,452 yards)
Scanfil 50/2 Cone
(5,000 yards)
$29.99
$53.48
$59.99
Superior 50/3 Spool
(600 yards)
Aurifil 50/2 Spool
(220 yards)
Scanfil 50/2 Spool
(500 yards)
$10.99
$5.95
$9.29
I was surprised and glad to see that Scanfil Thread offers a great product at a competitive price range. Compared to Superior Threads, the prices of Scanfil Threads are fairly equivalent across the board. Aurifil beats them both with lower CONE prices (once you factor in the size difference), but spool prices are actually more expensive (again, factoring the spool size). Aurifil does offer a larger spool with 1422 yards at $14.95 which would be a better value than the others.
Final thoughts
I would definitely recommend Scanfil® Organic Thread for anyone looking for more sustainable options. It's one of the only organic threads on the market and it delivers quality at a reasonable price.
There are only two drawbacks that I can see: (1) Although it's available online, it's not readily available in local quilt shops (in the US), and (2) The color selection is good but not great. I'm sure the availability and color options will grow as the company grows. You can find more information and purchase online at Scanfil Thread Shop.
Pretty pictures
This section is just for fun! I love seeing details of other people's quilts, so I thought you might appreciate some of those here. I used a flanged binding that accents the little bit of applique in my sampler. It gives it just the right amount of pop!
You can see the quilting from the back of the quilt just as easily as the front since I used bobbin thread in the same colors as the front. I added an easy corner label to the back with the details of the quilt. Something I don't do often enough. I ordered my personalized labels from Dutch Label Shop.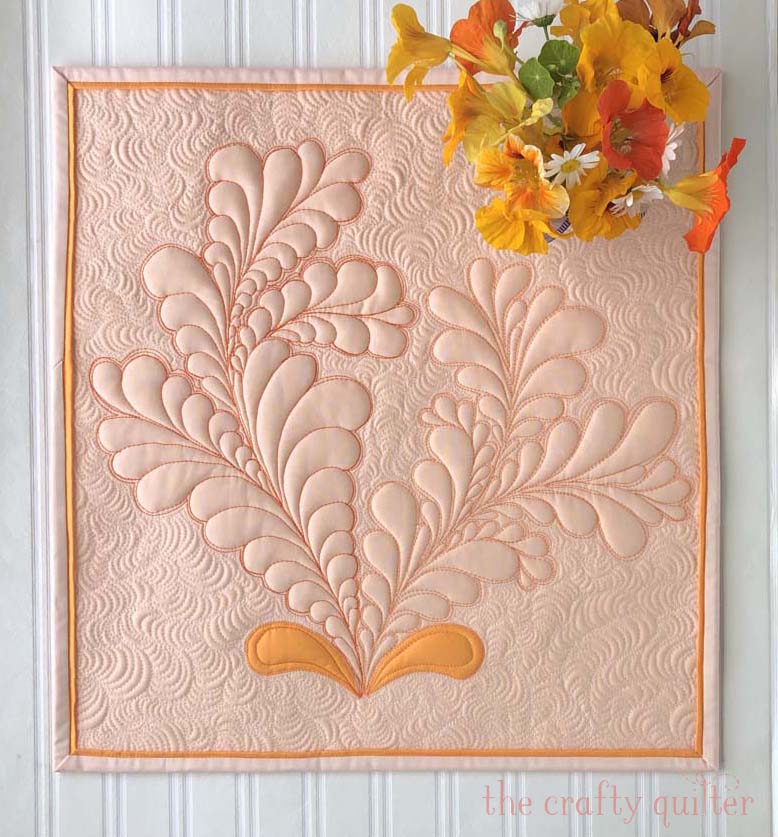 Thanks for taking the time to read my Scanfil® Organic Thread review. Cotton products are everywhere, and as quilters and sewists, we use them all the time. We have the ability to choose healthier alternatives, and I appreciate having a cotton thread option that embraces the health of our planet.
For more of my product reviews, check out these blog posts! Happy quilting and happy Earth Day!