My experience & tips for using Cuddle minky
I recently shared my scrappy Arrow Stone Quilt finish; today, I want to share my experience and tips for using Cuddle minky fabric for backing and binding on that quilt. I learned some hard lessons and had some pleasant surprises, too. I'm excited to give you all the details and helpful tips for using Cuddle minky.
Update: I've just added a section at the end of this blog post on microfibers and their effect on the environment. I think this information is important and will bring awareness to these issues. Even though I use and recommend these materials because of their softness, I feel an obligation to share the caveats of doing so, plus some actions we can take to lessen their impact.
What is Cuddle minky?
Cuddle and minky have become interchangeable words. They both refer to a microfiber plush fabric made from polyester. Cuddle is the Shannon Fabrics brand name for minky. It's like Kleenex is to facial tissue. Below are the basic characteristics of Cuddle minky.
100% polyester
Knit fabric
Machine washable and dryable
Does not shrink
It has a nap/pile
It's ultra soft
Cuddle is often used for making baby blankets, stuffed animals and as backings for quilts. It comes in 60″ wide sizes (which is standard for Cuddle), and it's also available in an extra-wide 90″ size. There are a variety of finishes as well: embossed, sparkle, solid, print and faux fur.
For my scrappy Arrow Stone quilt, I used Luxe Cuddle Fawn in beige. It is gorgeous and ever so soft! My quilt top finished at 53″ x 68″, so two yards of fabric was just right (60″ x 72″) and I didn't need to piece the back.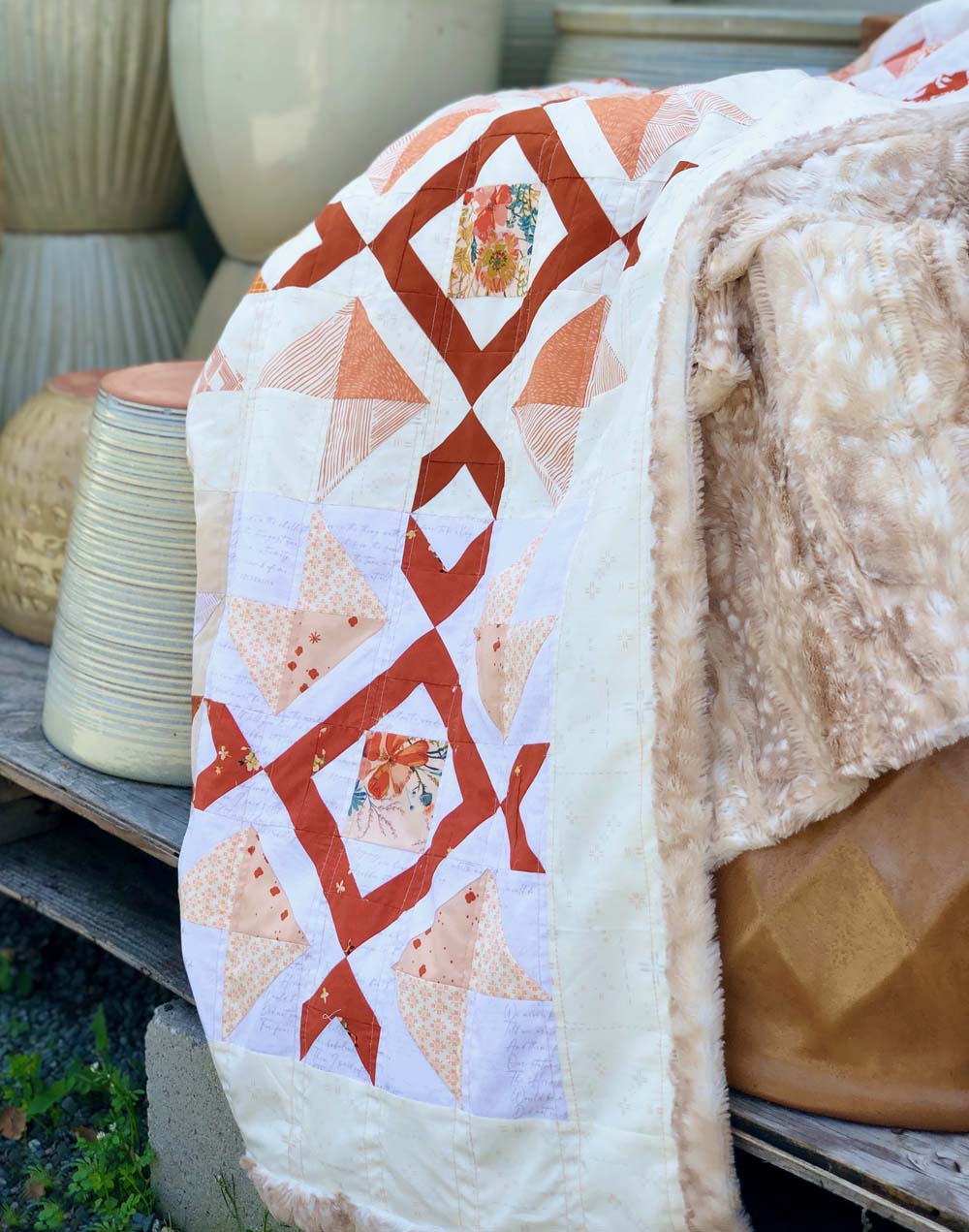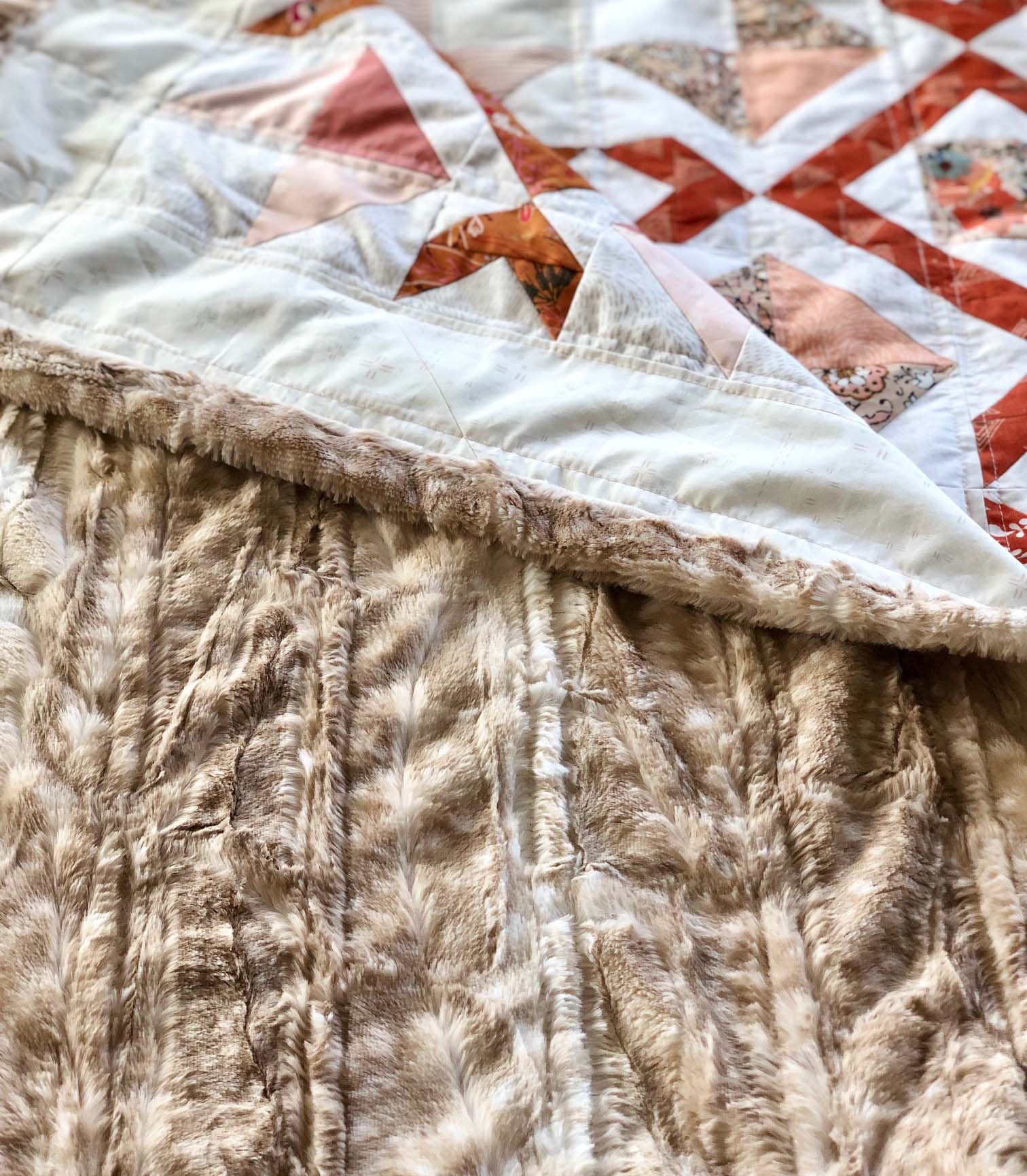 My experience with Cuddle minky (Luxe)
I knew I wanted to use this particular Cuddle Luxe Fawn (in beige) for this quilt. It had been in my stash for a while and it was the perfect color. If you've experienced the softness of regular Cuddle, you'll be blown away at the silky softness of Cuddle Luxe. It's just amazing!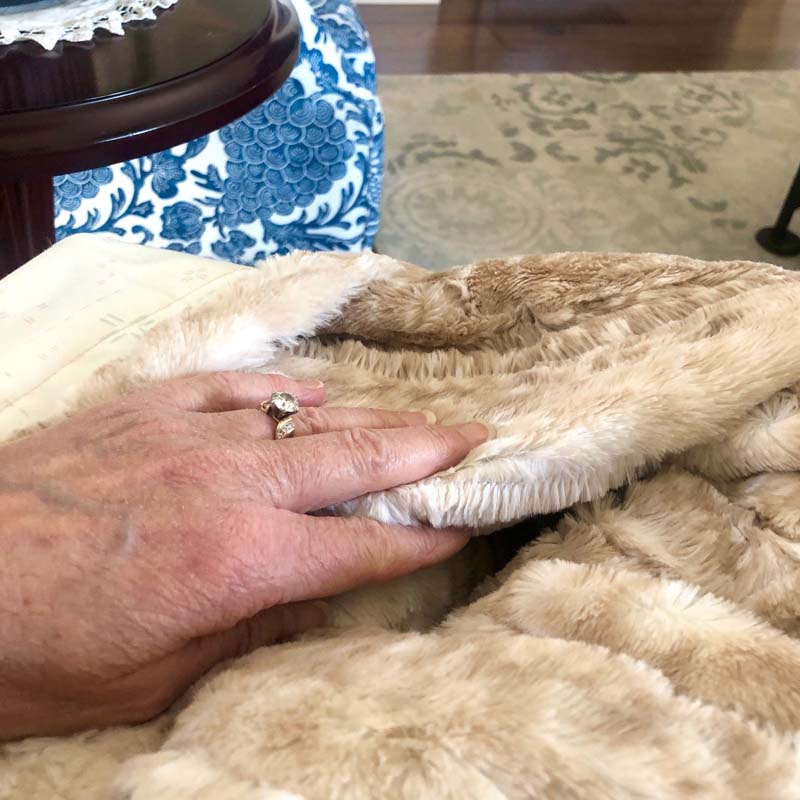 Because of this extra softness, I thought it would be nice to use it as the binding as well. I'm really glad I did, and it was super easy to do (after a bit of research first). I'll give you more details about the binding process in a bit.
I will say there is a learning curve to working with Cuddle. Here are a few things to be aware of when you first use it.
It is slippery which makes it move around a lot.
When you cut it, you'll get "cuddle dust" that can be messy, but easily contained and cleaned.
It adds more weight to your quilt than cotton alone.
It requires the use of a walking foot for seams and quilting.
Basting a quilt with Cuddle
One thing about Cuddle, is that it's heavier than most quilting cotton or flannel. I didn't want my Arrow Stone quilt to be bulky and heavy especially since I was going to quilt it myself. With that in mind, I decided to leave out any batting. This is a decision that I now regret for a few reasons.
First, there are some very lightweight battings available that would have kept it light enough. I'm thinking of a cotton/poly blend or silk or even wool batting (although maybe too lofty for this one). Second, the finished quilt is a little too flimsy. I feel like the cotton top doesn't "match" the backing in comfort level. Having some batting would have definitely made the top more cuddly like the back. It's a very nuanced sort of thing!
I chose to spray baste the quilt top and Cuddle minky together. I had a hunch that I didn't use enough spray and I was right. It wasn't enough to hold the two layers together. If I had added safety pins during the basting process along with the spray, it would have been fine. Unfortunately, I didn't find this out until I was quilting it. I had the frustrating experience of dealing with ripples across the center of the quilt as I was quilting. It's okay, though. It adds texture and the human touch is ever present.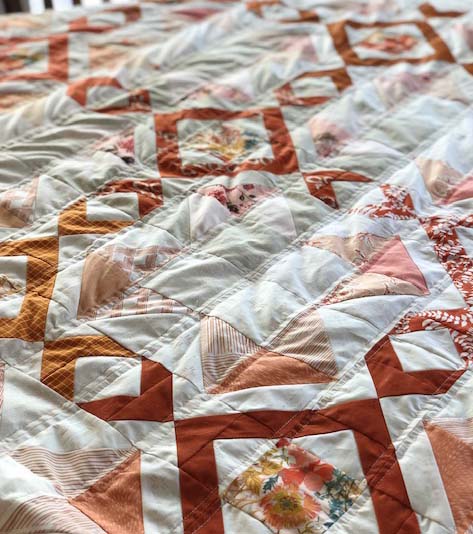 Using Cuddle to self-bind a quilt
I wanted to bring some of the Cuddle softness from the back of the quilt to the front. Using the backing to self-bind a quilt is a great way to do that. What that means is there is no separate binding attached. The extra backing fabric (after quilting) is trimmed to the desired width of the binding. Then it is wrapped around to the front and stitched down by machine. Unlike regular binding, the corners are mitered first with a seam.
I trimmed my backing to extend 1 1/4″ on all four sides. This would give me a generous 1″ wide binding. If you're using batting, there will be an extra step and other considerations for the width of the binding. One of the advantages of Cuddle minky is it does not fray, so you don't need to turn the raw edges under.
There are a few options for stitching the binding down. I chose to use a serpentine stitch which is a gentle wavy line. It does a good job of securing the binding in place. It looks nice, but it's so hard to see with this particular Cuddle Luxe. In the photo below (left), you can see the wavy stitching on the top horizontal edge. The stitching line will disappear into the nap of the fabric over time.
My intention here is just to show you what worked for me, not a full tutorial for self-binding. This video by Teresa Coates for Shannon Fabrics shows you how to sew a self-binding blanket and several variations for quilts. It's what I used to navigate my way through my quilt.
Overall, this was a really quick and easy way to bind a quilt. I've used self-binding to make napkins and in a few other baby blankets and quilts. I'll definitely use it again any time I have Cuddle minky on the back.
My top tips for working with Cuddle minky
No need to prewash since it's polyester and won't shrink.
It's best to avoid ironing, but if necessary, use a low setting so you don't melt the material.
Polyester thread is suggested, but I've used cotton and it works okay.
Use a 90/14 stretch needle or top stitch needle.
Always use a walking foot.
Use lots of pins! Teresa Coates suggests pinning parallel to the raw edge and then pin a second row parallel to the first in alternating positions (like footsteps).
Lengthen your stitch to 3.0 – 3.5 mm.
Use 1/2″ seam allowance.
If you're sewing Cuddle to another type of fabric such as cotton, place the Cuddle on the bottom. This allows the feed dogs to control it and feed evenly.
More Cuddle minky projects
I have used Cuddle minky many times in the past. Here are a few projects that showcase the variety of ways you can use this plush fabric.
Plush microfiber and the environment
There is a big downside to using any type of plush or synthetic material in your quilting or sewing. They are not good for the environment because they shed tiny microplastics into the water when washed. Laundry has become a significant source of plastics in our oceans and waterways. This article from The New York Times and this one from Plastic Pollution Coalition are great resources for more information.
I struggle with this information because I want to be a good steward for our planet, yet I'm guilty of purchasing fleece clothing, Cuddle minky, synthetic fabric, etc. I think awareness is a good place to start, and you can go one step farther by implementing the following laundry protocols.
Ways you can reduce microfiber pollution
Wash all synthetics including clothes, quilts, blankets and cleaning cloths less frequently.
Spot clean when possible.
Wash laundry in cold or tap water which may have less shedding power.
Wash full loads of laundry (it causes less frixion).
Avoid delicate settings (it uses more water).
Line-dry when possible (great for the longevity of quilts, too).
Front loading washing machines are better because they use less water and there is less agitation.
Consider purchasing a Guppyfriend Washing Bag. This is similar to a lingerie bag, but made of finer mesh that will trap some (but not all) microplastics. May not be big enough for a quilt, though.
Consider purchasing a Cora Ball. This laundry ball is thrown into the wash and will reduce the amount of fiber breaking away from clothes, quilts, etc. I wouldn't use this with lingerie or fine garments as I "hear" it might snag those fibers.
Thanks for keeping these things in mind as you keep your clothes and quilts clean. We are a long way from solving this environmental crisis, but there are steps we can take to lessen our impact.
I hope you learned a little something from my experience using Cuddle minky on my latest quilt. It seems like every quilt offers an opportunity to grow and learn. In my opinion, it's worth every bit of time and effort!