Quilter's Favorites (My Version)
Hello!  I am so glad to be joining Geta's Quilting Studio for the Quilter's Favorites link up party.  This will be a great resource of information for quilters of all skill levels.  If you're a new visitor to this blog, I want to thank you for taking the time to visit.
Geta has suggested some questions that we might want to answer, but first let me give you a little background about moi.  My name is Julie and I have always loved to make things.  When I was little, I could draw, cut, paste and color all day long.  In junior high, I took my first sewing class.  I loved making my own clothes and anything else with fabric.  After I got married, I started making curtains, then maternity clothes and baby outfits, then Halloween costumes and finally quilts!
When my youngest daughter started preschool, I decided to give quilting a try.  I was hooked after my second quilt!  I was self-taught and it took two attempts before I felt "the love".  Eventually, I started teaching at my local quilt shop, The Granary, and then I also began working in the shop one day a week.  You can't imagine all of the fabric that follows me home!
I started The Crafty Quilter 1 1/2 years ago as a way to compliment my teaching and to share all of these ideas that are swimming around in my head!  I have had so much fun connecting with you all, and it makes my day when somebody tells me that they love reading my blog.
Q & A:
1.  List three of your favorite quilting notions (besides my reading glasses).
Sharp pins and a magnetic pincushion.  I use Clover Patchwork Pins (Fine)to match seams and pieces before stitching.  And I just love my magnetic pin cushion!
Spray Starch.  I press my fabric with Mary Ellen's Best Press  before I begin cutting my fabric and after my quilt blocks are done (and sometimes in between).  It really helps my piecing accuracy because it stabilizes the fabric and gives it added firmness.
The right ruler for the right job.  It has come to my attention that I have a thing for specialty rulers.  I think they can make certain tasks easier and more "perfect".  Let me highlight one: The Folded Corner Clipper by Prairie Sky Quilting.  This ruler is so easy and so versatile that I might call it "best all around".
2.  My Sewing Machine – what makes it special?  What features do you think are the most important to a sewing machine used for quilting?
I quilt with a Bernina 440 QE.  I own two other sewing machines, but the Bernina is my favorite and most used.  It is a solid workhorse.  The stitches are beautiful and it's easy to sew a straight line.  I love the knee lift which raises the presser foot without having to use a hand which is really helpful when pivoting for machine applique.  It also has an amazing walking foot – the best I have ever seen (and I get to see a lot in my classes).  The only thing it is lacking is a larger harp space.  This is the space between the needle and the bulk of the machine.  A larger harp space equals easier quilting for large quilts.
If I were looking for a new machine, I would look for good stitch quality first.  What does that mean?  It should sew a straight line smoothly without veering off at an angle when stitching a 1/4″ seam.  The stitches should be even and flat.  It should manage a bulky seam intersection without pushing too hard and the stitches should be consistent in size.
Other things to look for are a needle up/down option, a good walking foot or IDF (integrated dual feed) foot, at least one blanket stitch option for applique and an automatic needle threader/cutter is nice.  Make sure the dealer that you buy from has a good reputation.  What is their return and trade-in policy?  How is their customer service?  Do they know quilting vs. garment sewing?
3.  Could you share some tips for easy piecing?
I have a few tips for obtaining a scant 1/4″ seam allowance and for making a perfect quarter square triangle unit.  You can find the tutorials for each by clicking on the images below.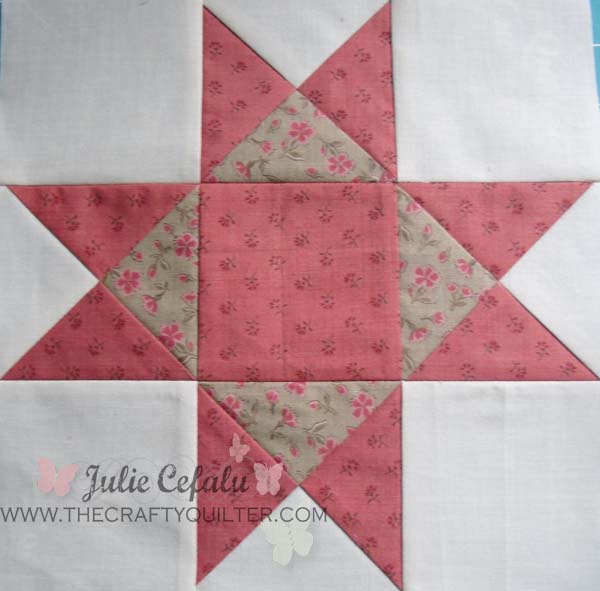 4.  Any other tips related to quilting?
I had a question from one of my readers that I would like to answer.  Her question is, "Does it matter if sashing pieces or borders are cut from the length of fabric or should they be cut from WOF?" 
The lengthwise grain runs parallel to the selvages and has less "give" or stretch than the crosswise grain.  Many quilters like to cut their borders from the lengthwise grain because it adds stability to a quilt's outer edges and perhaps less sag will occur if the quilt is hanging.  You can also cut longer strips from the length of fabric, assuming you have a large enough piece of fabric.  Generally, I cut my sashing strips from the width of fabric (crosswise grain).  Most of my borders are cut from the width of fabric also.  Since the WOF has a little more give, this allows me to ease my borders to fit my quilt top (if necessary).  If I know that a larger quilt is going to be a wall hanging, I would probably use the length of fabric for the borders to add strength to the outside edges.
One more tip.  If you haven't tried spray basting a quilt, you should give it a go.  I have a tutorial for using spray adhesive here.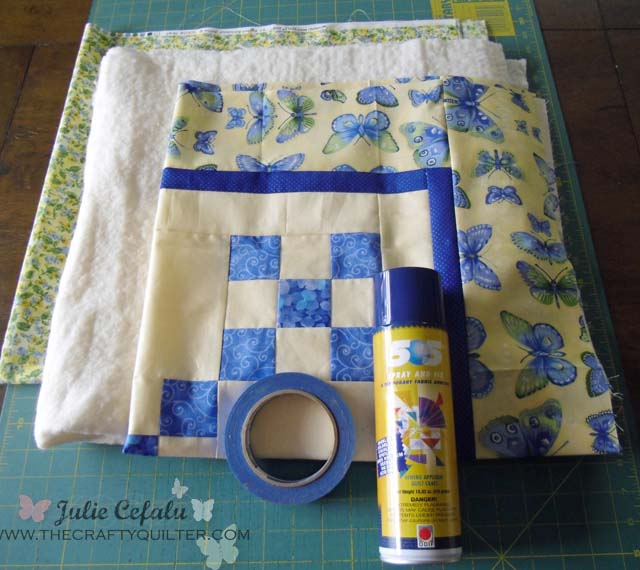 5.  Do you have free tutorials on your blog?  Share a link to one (or two) of your favorites.

Yes, I have free tutorials and tips on my blog and I am hoping to add many more!  This year I am hosting a "Christmas Once a Month" series which includes gift ideas, decorations and recipes.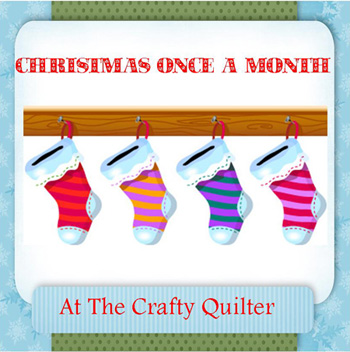 And one of my most popular tutorials is the Easy Fat Quarter Placemats.  This project is quick and fun plus the tutorial shows you how to use the Quick Easy Mitered Binding Tool.
6.  Could you recommend a book to someone who has just started quilting?  A quilting bible?
I have two books that are great reference guides for quilters: Quilting The Complete Guide by Darlene Zimmerman and The Quilter's Quick Reference Guide by Candace Eisner Strick. Unfortunately, both of these books are no longer in print, but you can find them through Amazon.
7.  List one or two of your favorite quilting techniques and a tutorial/pattern/book where you learned about them.
I love the look of the cathedral window technique and I know of two great tutorials for making them.  The first one is from Kim of My Go-Go Life and she shows you how to make an adorable pincushion out of a cathedral window block.
The second tutorial is from Angela of My Three Sons for The Moda Bakeshop.  Angela's tutorial makes the sweetest pillows I have ever seen from cathedral windows!
8.  Do you have a favorite quilt designer?
I have always liked Joanna Figueroa of Fig Tree Quilts, both her patterns and her fabrics are divine.  I also like Terry Atkinson of Atkinson Designs.  All of her patterns are bold and beautiful.
9.  Do you have a favorite quilt blogger?
Oh, just a few.  I must read 50 quilt blogs every day.  So, here's the short list:
10.  Would you like to share one of your favorite quilts made by you?
I think my favorite would be an unfinished quilt top that I have named Bella Vita.  I started it over 5 years ago and I like to think of it as my masterpiece in hiding.  I designed it all on my own, and one day I will finish it (when the time is right).
There are so many great resources out there on the internet.  I want to thank Geta of Geta's Quilting Studio for putting this linky party together and providing a space for us to share what we love.
Thank you for joining me here and I hope you'll come back and visit!