I love Dresden Plates and …
Anne Sutton of Bunny Hill Designs! She has a beautiful website and blog and I have always loved her patterns and her fabric.  She does beautiful applique work and has great tutorials.
This year she is hosting a Scrappy Plate Club. It started in January and continues for six months and when you're done you will have a beautiful Dresden Plate quilt! Each month she will give instructions to make a dresden plate block and quilt. Here's what my fabric stash for this project looks like:
Don't you just love chocolate and raspberry together?  Me too!  I have been waiting so long to make something from these sweeties!
Anne gives great instructions on how to make these blocks. Here's what my strand of blades looks like after the first step of sewing:
Once you have sewn the blades together, you will get a circle that looks like this:
Notice the hole in the middle? That gets covered up with an appliqued circle. I machine appliqued my first circle.
Then I tried hand appliqueing the second circle, and I think I like it better.
I love these little plates so much that I just had to try them out before making them into a quilt!  Here is one as a center piece: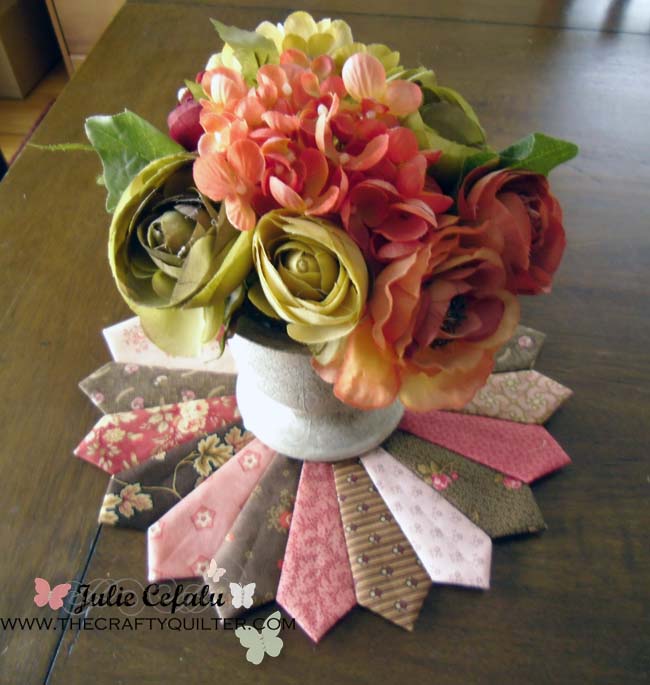 And here it is underneath a candle:
And of course it would look great under a vase:
My sewing basket needed a pretty nest to sit on:
And don't forget how nice a cup of tea would look:
O.K. Please don't judge me:
Now we're talking:
I hope you feel inspired to join the Scrappy Plate Club and give it a try. I'll be back again with a progress update, so keep a look out!