Free Golden Peaks quilt block pattern
Hey friends! I have a new (and free) quilt block pattern to share with you: Golden Peaks! I've even included instructions for three different size blocks: 6″, 9″ and 12″ (finished sizes). I came up with this design while working on the Moda Blockheads 5 blocks. I wanted to avoid making a paper pieced block, so I designed my own pieced block! As they say, necessity is the mother of invention.
A few things I love about this quilt block is that it's quick to make and there are no seams that need to match up between the units. It's made with stitch & flip diagonal seams and basic units that you're most likely familiar with. The fabrics used in my samples are from the True Blue Collection by Maureen Cracknell for Art Gallery Fabrics (except for the yellow which is from my stash).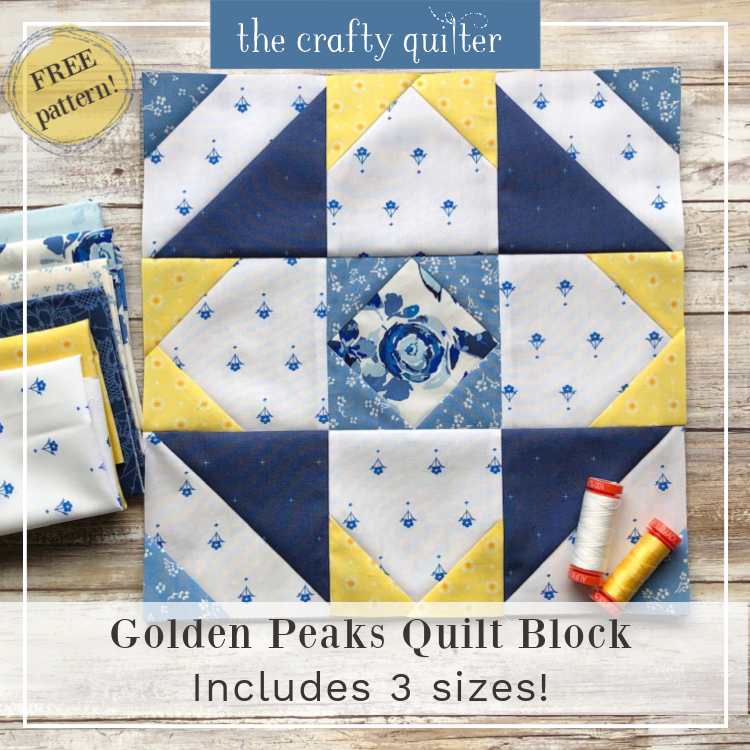 Golden Peaks Quilt Block Pattern
I think you'll love making this quilt block! It's fun and versatile with lots of opportunity to play with color placement. Click the button below to download the pattern.
Note: If you are reading this in an email, you may need to click over to my blog in order to see the download button. If you have any trouble downloading the file, please leave a comment or send me an email.
This is a free pattern and I've tried my best to make sure it is accurate. With that being said, it has not been tech edited or tested by others. Feel free to contact me if you find any inaccuracies.
Quilt block options
The Golden Peaks quilt block is one of those you can play with. By that, I mean you can rotate the units to completely change the look of the block. I love doing this! Below, are four different variations of the same basic block. I've just rotated the corner units and the peak units in each.
Color variations & placement
You can also change the look of this block by changing the color placement of light, medium and dark fabrics. Below left is the original color placement values, but I added a dark center square. Below center, I switched places with the Peak unit fabrics. Below right, I swapped colors of the HST corner unit. Those are just a few examples of how your choice of color can affect your block.
My Moda Blockheads version
I chose a very different color palette for my Moda Blockheads 5 blocks. This version of Golden Peaks has a contrasting center square and black as the background color. It's very dramatic!
Golden Peaks block used in a quilt
Let's take a look at what an entire quilt would look like with the Golden Peaks block. I've added sashing and cornerstones to these versions with a few different color options.
I love the idea of a seasonal table runner with no sashing. This one would look great for Christmas!
I know what you're next question is going to be: How much fabric would I need to make a quilt or a table runner? I don't have the answer for that. If I decide to make this into a quilt pattern, I'll figure it out. For now, I suggest you you decide how big you want your quilt to be and then find a pattern that has similar blocks and style.
I hope you enjoy the Golden Peaks Quilt Block pattern. You can find more of my quilt block tutorials and patterns here.
Make sure to Pin the image below, so you can find it easily! Enjoy and thanks for visiting!