Welcome home Sweet Hearts!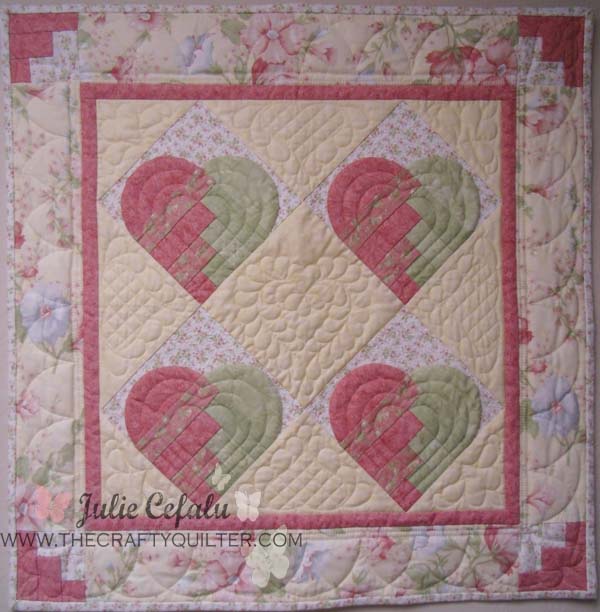 I made this quilt five years ago and it has been hanging in The Granary Quilt Shop all this time. It finally came home to me a few days ago – just in time for Valentine's Day!
I love everything about this quilt. The fabric came from a Moda line by 3 Sisters and I love the soft yellows, pinks and greens.  I also love the quilting, even if I do say so myself!
I used wool batting which really makes the quilting pop. The center heart motif came from Sue Nickel's book, Machine Quilting: A Primer Of Techniques
This is a great book if you want to learn free motion quilting.
The corner triangle hearts came from a stencil from my growing collection. I pick up new stencils whenever and wherever I can – it's like candy, you know?
I even love the back of this quilt.  I forgot that I had made this cute heart label – it made me so happy when I turned the quilt over and saw it! I really couldn't remember when I had first made this, but now I know. Hmmm, maybe I should be more diligent about labeling everything – what a concept!
The pattern for the hearts in this sweet wall hanging came from It's "El"ementary: Quilting Tips and Techniques (Quilt in a Day)
, by Eleanor Burns. This is a great book for beginning and intermediate quilters because she gives such detailed instructions and diagrams. The top of the hearts in this quilt are machine appliqued. The base of the heart is a simple log cabin variation block. The finished size of the quilt top is 23 1/2″ square. It's a small enough project that you might be able to get one finished in time for Valentine's Day! Yeah, in your spare time:)