I actually have a cabinet dedicated to UFO's (plus my pattern stash).  On the bottom shelf are quilts that have been basted, but not quilted.  On the top shelf are quilt tops waiting for the next step.
Since it's February, and Easter will be here before you know it, I chose my "Rabbits Prefer Chocolate" quilt to finish this month.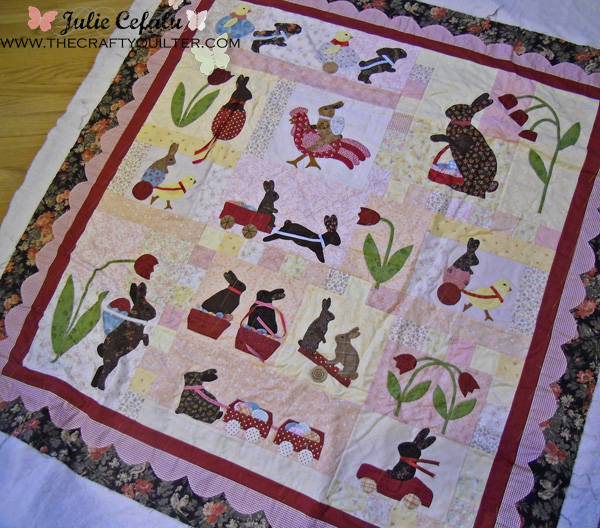 This is a pattern by Anne Sutton of Bunny Hill Designs.  I hand appliqued all of it and the plan was to hand quilt it.  I got as far as thread basting it, marking it and stitching a small square by hand.
Here is a close up of one of the blocks:
I am so slow and non proficient at hand quilting.  It's hard to get motivated when I know I could quilt this on my Bernina and be whizzing along!
So that's my dilemma.  Do I keep trying the hand work or give up and go for the quick finish by machine?
My bunnies and chicks won't mind either way!  They just want to be able to show off for Easter!
I'll let you know how it goes!