Charm Pack Tree Skirt Quilt Along
Hi everyone! I'm so happy to be sharing my version of the Charm Pack Tree Skirt, a Fat Quarter Shop Shortcut Quilt. This is a fast and fun project that I loved making!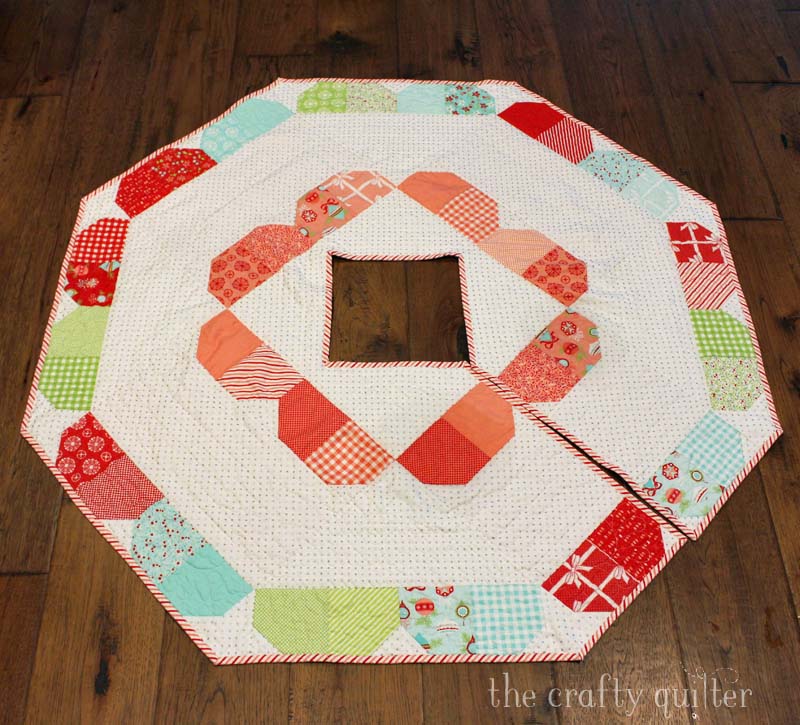 I used two charm packs of Vintage Holiday by Bonnie & Camille for Moda Fabrics. The pattern requires 48 (5″) squares plus two yards of background fabric. I used Vintage Holiday Silver Metallic Dots for the background and Vintage Holiday Pink & Red Bias Candy Stripe fabric for the binding.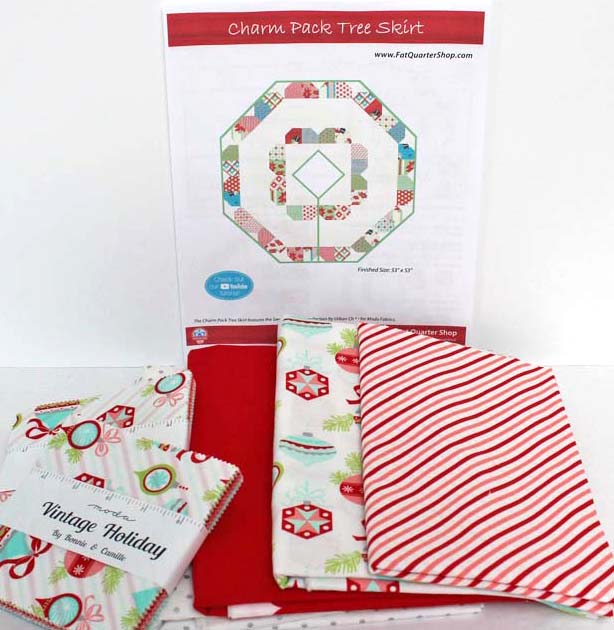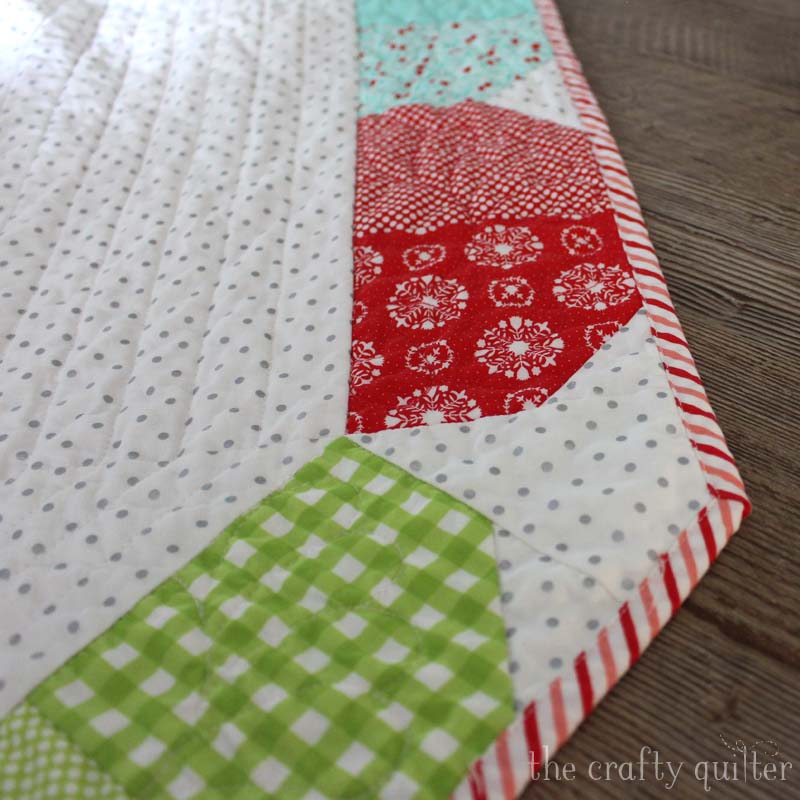 For the back of the tree skirt, I created a large nine patch using 19″ squares. It was a good way to efficiently use fabric without too much waste.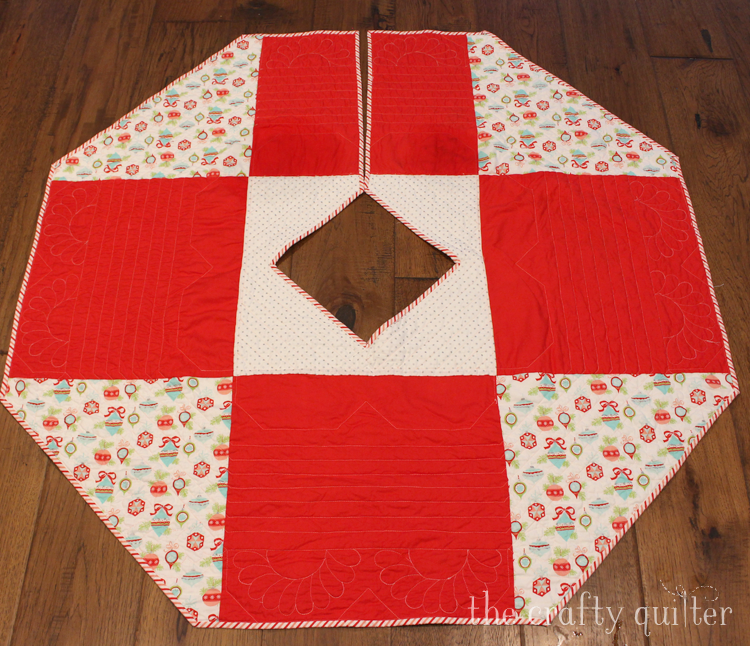 It's not easy taking a good picture of a Christmas tree skirt in the middle of May. My holiday props are all tucked away and the days are sunny and long. In the photo below you can see the colors really well. I just love this collection of fabric! I used only pink charm squares in the center of the tree skirt and a mix of red, green and turquoise for the perimeter. They remind me of gumdrops!
If you missed my recent blog post on my experience using Crayola Ultra-Clean Washable Markers (on this tree skirt), you might want to check it out. There was a little bit of drama going on at my house as I frantically tried to get the quilting marks to disappear – which I did! Happy ending.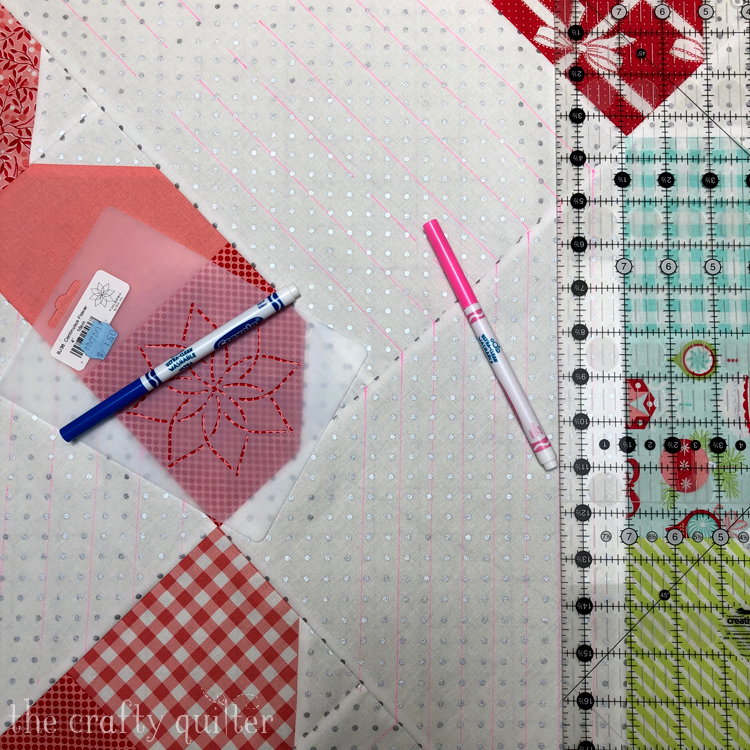 Charm Pack Tree Skirt binding tips
You'll notice that the shape of this tree skirt is an octagon. That means there are EIGHT corners to bind and they are at a wider angle than the typical 90 degree corner. I have a few tips for those corners.
General binding notes: Because the center of this tree skirt is a square and not a circle, I'm able to use fabric strips cut on the straight of grain rather than bias strips. I'm also using my all-machine binding technique, so I'm starting on the back of the quilt and then wrapping it around to the front.
Wide-angled corners: before you get to a corner, fold the binding strip up and away, so that it's even with the next edge. Finger press, forming a crease.
Stop stitching with the needle down at the crease and then pivot. Stitch along the crease, out to the corner.
Fold the binding up and away from the corner, very similar to when you made the crease. You should see a straight line from the new edge of the quilt and the edge of the binding. Next, fold the binding back down on itself, with the top folded edge just above the corner. Pin and begin stitching at the fold.
I didn't take any more pictures of this corner, but I have photos from an older project (Frosty Cabin tree skirt) with the same technique and corner. Below is how it will look from the first side and then from the second side.
The binding on the center cut-out square of the Charm Pack Tree Skirt uses a completely different technique. I found a great YouTube video by Marci Baker, that was really helpful. It's not hard, just different. And it worked!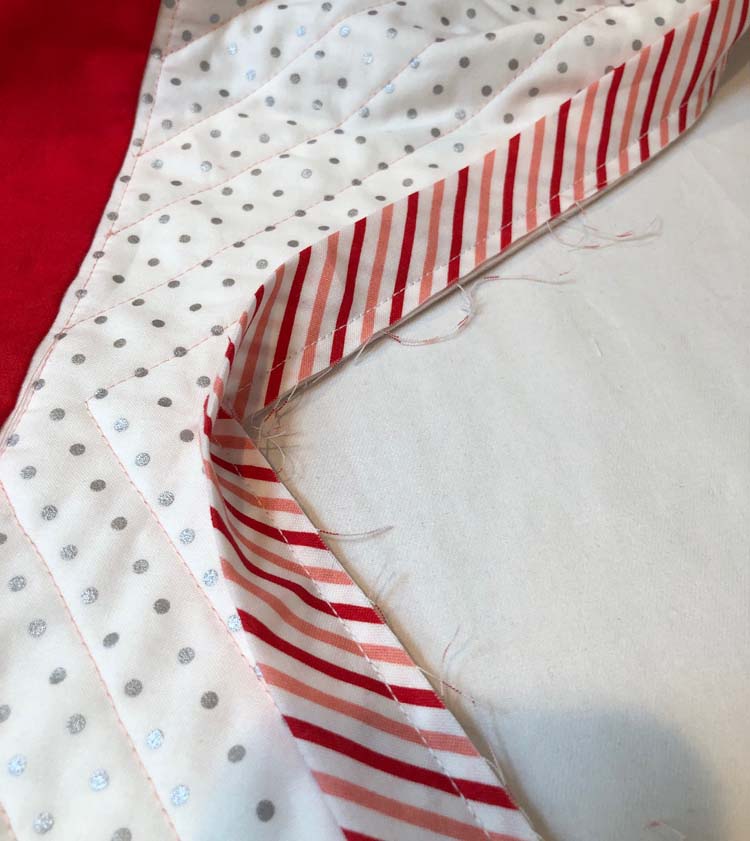 I whipped up this Charm Pack Tree Skirt in four days! Of course having a deadline looming in front of you helped, but it was really a fast project that I enjoyed making. If you pop over to Fat Quarter Shop's blog, the Jolly Jabber, you'll find links to all of the other participating bloggers and the pattern. I'm excited to see the other versions of this sweet Christmas tree skirt!
Thanks for visiting today. I'll be back on Sunday with the 2019 UFO & WIP link up for May. If you've got a project that you finished this month, you'll be able to add it to the link up and be eligible for this month's prize!
Have a great Memorial Day weekend everyone!