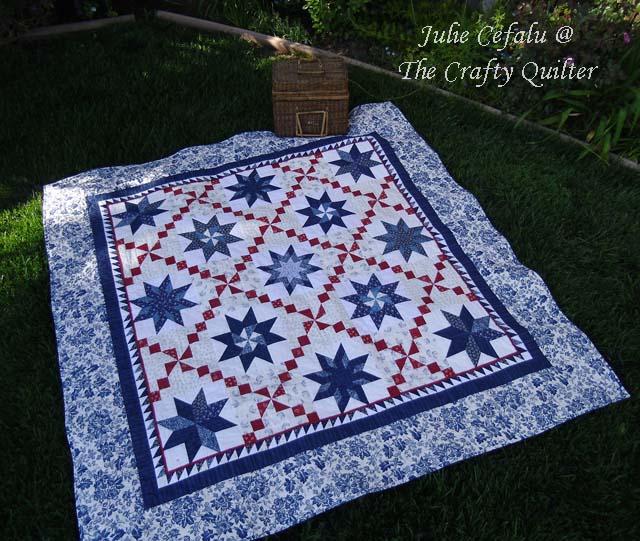 I just finished my March UFO, "Oh My Many Stars" quilt with two days to spare!
There's something so good and so right about finishing a quilt that you started seven years ago!  I didn't realize it had been that long until I saw this:
I'm not sure that I used this fabric right away, so I'm giving myself a year of "shelf time" just in case.
I did a speedy binding all by machine, and it turned out really nice.  When I know I'm going to be finishing the binding by machine rather than by hand, I start by sewing it onto the wrong side of the quilt and wrap the binding to the front.  Then I stitch very close to the binding's edge on the front of the quilt with invisible thread.
This pattern originally came from American Patchwork & Quilting Magazine and it is now downloadable here.  I changed the center of the chain blocks and made them pinwheels and most of the stars are variations of the original.  I used the book, Stars by Magic, by Nancy Johnson-Srebro (no longer in print) to make all of my stars without any Y-seams!  I love her technique and the star variations are just beautiful.
I had trim pieces left over from the stars and I used them to create a pieced border.  I must have been really ambitious back then!
I also had pieces of a star left over (that I somehow managed to save and find) that I wanted to use for a quilt label.  If I put the units together as intended, there would be no room for writing:
So I rearranged them into this:
And now I have lots of room to write all of the information I want!
I'm so happy with this quilt and so glad it's done!
You can see what everyone else has finished this month at Fiber of All Sorts, Never Too Hot To Stitch and Lily's Quilts Fresh Sewing Day.
I hope you all have a wonderful day!
Julie