Patchwork Please! Sew Along – The polka-dot-cafe apron
I was recently introduced to the term "zakka" and I was so intrigued that I bought the book, Patchwork, Please!: Colorful Zakka Projects to Stitch and Give by Ayumi Takahashi.
Zakka refers to objects that can improve your home, life, or appearance.  This book includes plenty of small, yet practical, projects that embody the Zakka philosophy.
The Patchwork Please Zakka Sew Along is happening now and I have been happy just looking at all of the beautiful creations that everyone else has made.  But when I saw this week's project (the adorable cafe apron) and when I just happened to pull a 1/2 yard of the recommended cotton twill out of a random box of fabric, I knew I had to join!
I love my new apron!  It's cute enough on the table, but it's even cuter on my daughter, Sara…
The patchwork pockets are what makes this apron so practical:
I used bits of my Marmalade stash (by Bonnie & Camille for Moda) for the pockets.  I love the striped accents, especially the pocket binding!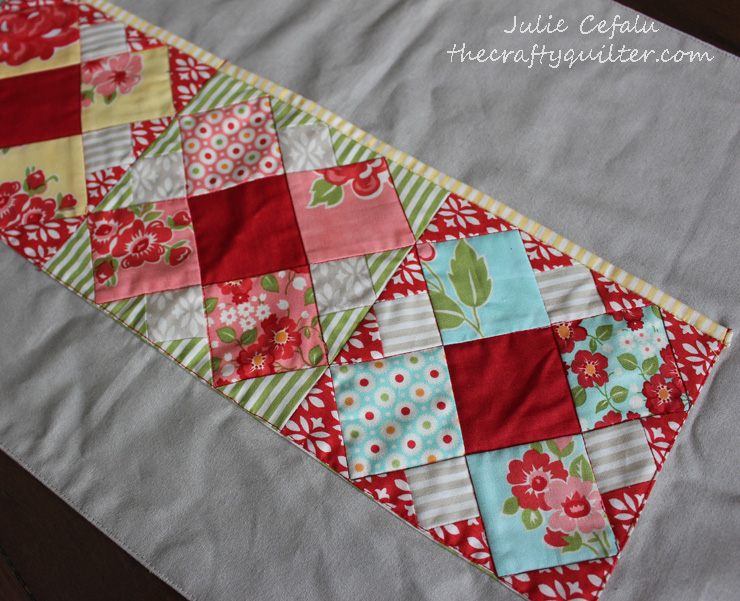 Here's a few of the changes that I made to the pattern:
I did not use the patchwork templates given.  I cut over-sized squares (cut in half diagonally) for my side triangles.  This allowed me to trim down the block to the perfect size of 6 1/2″:
I used a cotton lining for the pockets that I added lightweight interfacing to.  I think I would not use any interfacing next time.  The added weight is not necessary.
I decided to line my apron with another Bonnie & Camille fabric rather than turn under all of the apron's edges.  I think this was actually faster than the original method.  Plus, it's fun to have a pretty, reversible side!
Now I'm ready for the kitchen!  Although, this is so cute I might want to wear it all the time.
I still have enough cotton twill to make another apron, but I think I might skip straight to the next project in the Patchwork Please! Zakka Sew Along – the Diamond Patchwork Placemat.  Hmmm, we'll see!