Sew Thankful Sunday, 10.06.2013
I have had a busy week, but I do have some bloggy gems to share with you today that I am sew thankful for!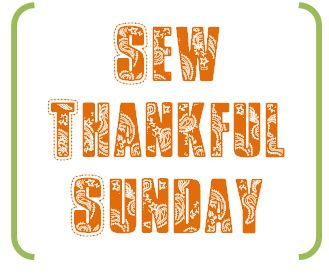 (Remember, you can click on any of the images in this post and it will open up a new tab to the associated link.)
1.  If you're ever looking for a quick and easy baby gift to sew, Natalia at Piece N Quilt has a "No Bind Receiving Blanket" that is just adorable.  If you have an embroidery machine, you can make yours personalized!
2.  Maureen from Maureen Cracknell Handmade has a wonderful Herringbone Quilt Tutorial for all of you "quilt as you go" fans.  This is a great technique and a great way to use up your scraps!
3.  If you want to learn more about threads for quilting, you must visit Stitched in Color.  Rachel recently did a post on a new thread that she tried and gives you her feedback.  Make sure you read all of the comments to see what everyone else likes or dislikes about thread!
4.  There's a new format of blogging called the "open forum" and it is really well demonstrated at The Inbox Jaunt.  Once a week, Lori has an "Open Line Friday" and each week she suggests a topic.  Readers can respond by commenting. The most recent topic was on pressing and starch.  Very informative!
5.  I love to find tips for free motion quilting.  Wendy at Ivory Spring occasionally offers her FMQ expertise in her "Thread Talk" series.  Recently she talked about an easier way to quilt feathers called "pseudo-feathers".  I'm definitely going to try this!
6.  One of my all-time favorite free motion quilting teachers/authors is Diane Gaudynski.  Her books are outstanding and occasionally she offers bits of advice and inspiration at her blog, Diane Gaudynski, A New Tradition in Quilting.  Here's a great example of her amazing quilting from her latest post:
Thanks for joining me today and a big thanks to everyone featured!