My finished 2012 BOM: Paris at Christmas Time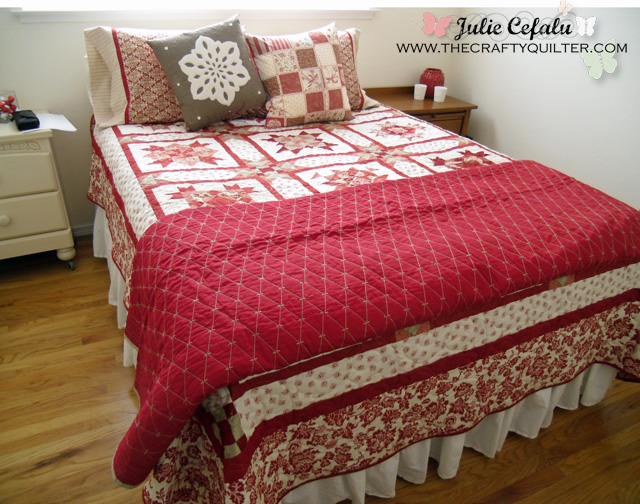 I promised some more pictures of my version of the "Paris in the Fall" Block of the Month that I finished in December.  This was the 2012 BOM quilt at The Granary Quilt Shop which I co-teach with Paula Ivers.  More information on this year's BOM is at the end of this post.
My quilt is called "Paris at Christmas Time" since I went with the red/white color scheme and I really wanted a quilt to go on the guest bed for the holidays.  Here is my quilt label that still needs to be stitched to the back:
I made a scrappy version of a star block and added the label information with a Sharpie fine tip pen.  I first drew some straight lines with a blue water soluble (disappearing) pen so that my writing would be straight.  Then I added some holly leaves to fill up all of that blank space.
Here are some of the blocks that are part of the quilt:
All of that lovely quilting was done by Jody Gosnell at The Granary.  She does beautiful work!
Here is a picture of the pieced sashing and I apologize for the blurry pictures (definitely poor lighting and operator error):
This is what the quilt looks like all put together:
And of course I had to make pillows and pillow cases to go with it!
You can find details of the Snowflake pillow here.
Most of my fabrics came from Rouenneries and Rouenneries Deux by French General for Moda Fabrics.  It was love at first sight for me when I saw these come in the shop.  And I still have enough left over to make at least two more quilts!
If you happen to live in the Bay Area and you'd like information on the BOM quilt that we're working on this year, keep reading…
Tyler Rose Parade – doesn't that sound like fun?  It really is!  I'll post some pictures of our version of the quilt once we get it all put together.
Happy Quilting!
~Julie