May UFO & WIP Challenge link up
It's the last Sunday of the month and it's time for May's UFO & WIP Challenge link up. If you finished a project this month, you can enter up to two of them into the link up. Full details are at the bottom of this blog post. This month's prize is an Olfa 40th Anniversary limited edition rotary cutter, two half-yard cuts of Freshly Picked by Katie Doucette for Wilmington Prints, and a tea towel calendar from Moda.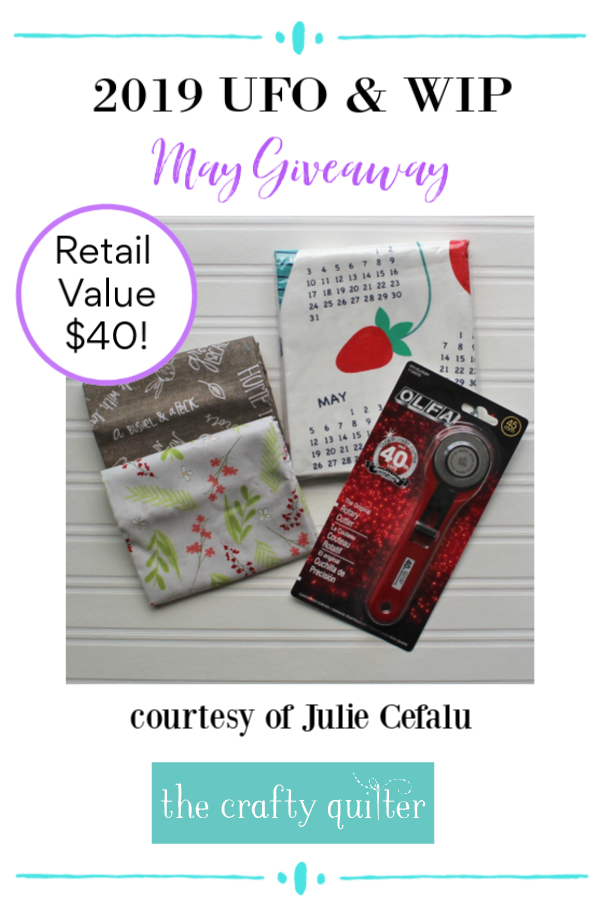 How did you do this month? It can be a busy month for some with end of school year activities, graduations, etc. I had a very busy month with family in town and a few other projects that got worked into the schedule. I finished one of my goals which was adding the binding to a BOM sampler from several years ago.
This sampler quilt was started in 2016 as part of the Sugar Block Club with Amy at Stitchery Dickory Dock. My version is missing a few of the paper pieced blocks; I substituted with the Dresden plate blocks and placed them in all four corners. I finished putting all of the blocks together in 2017 and had it quilted by my trusty longarm quilter. The end. Binding is always something I intend to do right away, but this one sat in a pile of unfinished quilts for two years.
I used fabrics from a fat eighth bundle of Prairie by Corey Yoder for Moda. I love all of Corey's fabric lines. Fortunately, her recent fabric line, Strawberry Jam, coordinates so well with this quilt. I found the perfect bias stripe for the binding.
The other WIP that I had planned to make progress on is a busy book for my granddaughter, Amelia. I didn't get too far on that, but there are still a few days left in the month and a long weekend to catch up!
Now it's your turn. I love seeing the variety of projects that you guys have finished.
May UFO & WIP Challenge Link Up
Link-up Rules:
You may add up to 2 finished projects.
One image per finished project.
Project must be quilting, sewing or needlework related.
The link-up will be open until June 1, 2019, at midnight, PST.
This month's giveaway is open to US and Canada only.
Winner will be drawn at random on June 2, 2019
Link-up Instructions:
After you "click here to enter" (below), a separate InLinkz page will open up. Click on the blue "add link" button.
Enter the URL of your link.  If you don't have one, click on the blue "enter without link" button. The upload widget will activate.
If your photo size is too large, it may not accept it. You'll have to re-size it to a smaller file size.
Enter a caption for your image.  This should describe your project and it can include your name if desired.
Enter your email address.  No one will be able to see this but me.
If you have any trouble, just leave a comment or send me an email with your photo attached.  I can add it for you.