Isn't this a nice view?  One might think this was an ordinary day with an ordinary magazine,  but, no.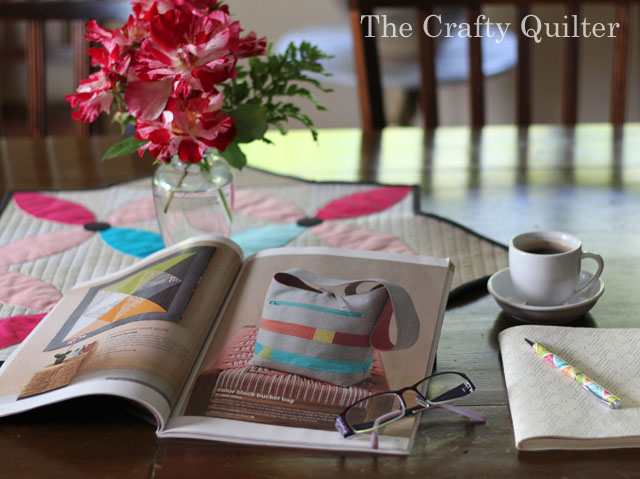 This is an extraordinary day with an extraordinary magazine!  I've been published in Modern Patchwork Magazine!  (See the end of this post for Interweave Store deals).

I'm not kidding.  This is a first for me, which means it's the most exciting thing ever!  I made this bag (which has been named the Color Block Bucket Bag) and wrote the pattern and took pictures of my process.  Modern Patchwork did a great job of editing (minimal) and staging the bag.
Many years ago, I made the original bucket bag for my oldest daughter, Kelly.  The design was based on a bag that I bought in Portugal which I had given to her.  She loved it to pieces, and so I was forced to make Kelly (and myself) another one. Eventually, I made 6 or 7 more bags for friends and family.
Towards the end of last year, I decided to make a bag for Quilt Con and I added the MQG (Modern Quilt Guild) logo letters to the front of this bag.  I submitted the design to the Quilt Con magazine and they declined it.  I was so disappointed.
A few months later, I got an email from the editors at Quilting Arts Magazine (parent of Modern Patchwork) and they thought it would be a great project for Modern Patchwork.  I'm not going to argue with that!
Yesterday, I coerced asked my daughter, Nicole, to model it for me.  She is quite the actress/model and did a great job of making everything look good. I hope you don't mind a few pictures (and humor).
O.k. thanks for humoring me.  I've got that out of my system.  I'm actually the luckiest mom (and wife) ever.
This bag is great to wear on shopping trips.  It can be worn as a cross-body bag or a shoulder bog.  When it's worn cross-body, it allows your hands to be free for, well, for shopping.  I've taken this bag on a few hiking trips and it holds all of the essentials like a water bottle, car keys and sunscreen.  Again, hands free and the strap is wide and comfortable.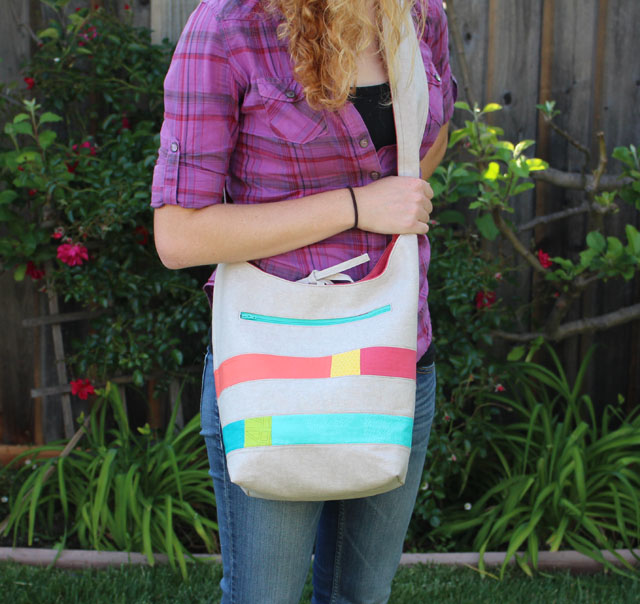 It's also completely reversible!
I made another sample with canvas and a great fabric line from Quilting Treasures called Life…Enjoy the Ride by Tina Higgins.
The wording fits perfectly into the wide strap of the bucket bag:
And when you turn the bag inside out (being reversible is nice that way), you can see more of the words that I love in this fabric piece.
I ended up changing the size of that pocket (above) to a smaller one (shown below).  It "fits" the bag better.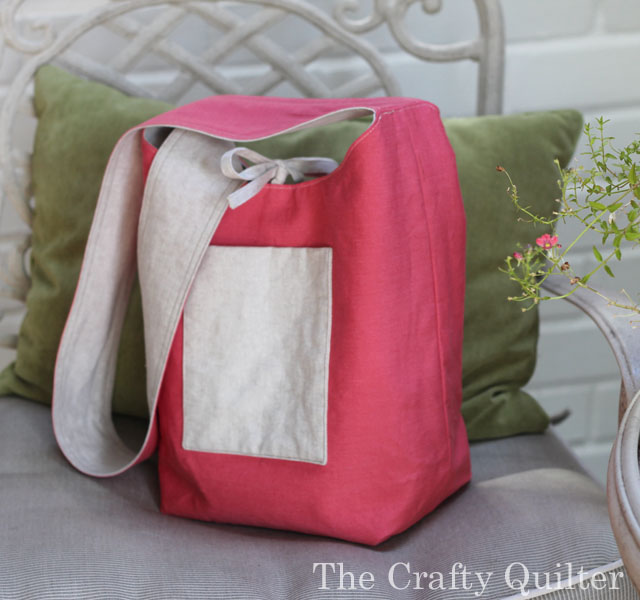 One of the things I love about this bag is the inset zipper pocket.  It is so much easier to make than it looks!
You can add a nice pop of color with the zipper and use a fun fabric inside there, too.
The main bag fabric is from Essex Linen from Robert Kaufman in natural.  It's made out of 55% linen and 45% cotton, and it's perfect for bags.  The rest of the fabric came from my stash.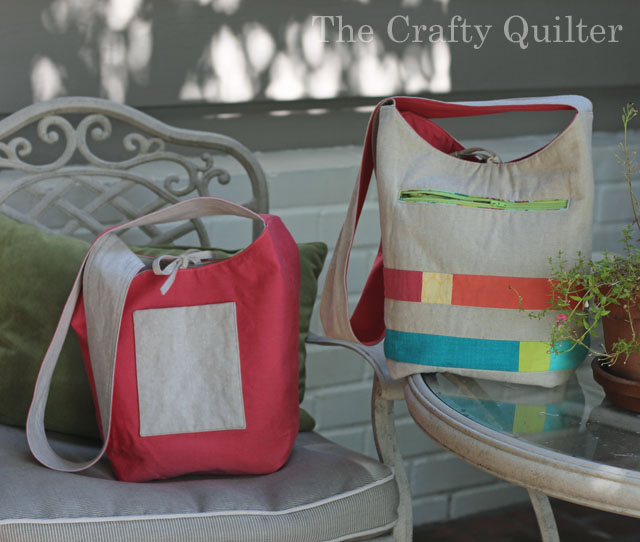 I'd like to share something that has made me the happiest about this whole experience.  I received an email yesterday from Jennifer W.  She said:
Hi Julie!

I just wanted to let you know that I immediately bought the new issue of Modern Patchwork when I saw your bag pattern.  I started the bag the day after I bought the magazine and thoroughly enjoyed every second of the project! The instructions were crystal clear.  I started sewing about 2 years ago and have focused mainly on bags but none of them have involved piecing together strips. I have been wanting to quilt but have been so intimidated by the process. Piecing the strips for the front of the bucket bag has given me the confidence to start working on a simple quilt.  Thank you!!
That is the biggest compliment of all!  If only one person makes this Color Block Bucket Bag, then I'm a delighted lady (which I am).  And it was nice to know that my instructions actually made sense!  Plus, Jennifer might be on her way to becoming a quilter (I'm always looking for someone to convert).  She sent me a few pictures of her completed bag.  It turned out beautiful!  She used a magnetic snap closure instead of the ties and she used fusible fleece to give it more body.
Thank you, Jennifer, for sharing your kind words and your photos.  I am very grateful!
This may have been my first project to get featured in a magazine, but I'm sure it won't be my last.  If you've been thinking of submitting an idea to a magazine, I encourage you to go for it!  You have nothing to lose.  I've already got a few quilt ideas swirling around in my mind to submit.  I just need to prioritize (and focus).
If you're interested in purchasing a copy of this issue of Modern Patchwork, you'll find a few deals at the Interweave Store.  Now thru May 10, they're having a Mother's Day special:
Save 30% at Interweave with Offer Code MOM30AFF
Or you can take advantage of their May Day special which is valid on May 1 only:
Save 40% at Interweave with Offer Code MAY40
Thank you, all, for indulging me today.  I am so appreciative of your encouragement and support.  I have a long way to go before I'm famous, but that's not the goal anyways.  I just want to "enjoy the ride" and share the creative process with you!