Versatile Face Mask pattern and tutorial
Hi everyone. I have a versatile face mask pattern and tutorial to share with you today. (June, 2020 update: A video is now available too! Scroll down a bit.) It's versatile because it allows you to use elastic or ties to secure it in place and you have the option of inserting a filter between the two layers and adding a wire nose guard.
I know there are a lot of face mask patterns out there. I have refrained from adding to the menagerie, but I've had a few requests, and I've become a little frustrated myself when pattern instructions are hard to follow. This tutorial and pattern is a group effort by several ladies I work with at The Granary Quilt Shop. We have come up with something that can be made to suit your own needs and supplies.
Please know that these homemade masks are NOT a replacement for N95 masks or other PPE equipment. They are simply better than nothing. If you want to make face masks, make sure you know the requirements of those you're making them for. Check within your local healthcare community and/or elderly care providers. Visit GetUSPPE for more information on how you can donate.
June, 2020 update:
I have a video available on how to make my versatile face mask (scroll down the page a bit).
To adjust the size of a face mask, check out this video by Gail Kollmar.
To make your own fabric ties, there is a 2″ Double Fold Binding tool available at Purple Hobbies.
April 6, 2020: Please note the following updates:
I have updated the PDF pattern to include instructions. It's three pages total (click the "Download" button under Versatile Face Mask Pattern below).
Cori at Hey, Let's Make Stuff has made a SVG pattern using my tutorial for those with a Cricut Maker.
The latest CDC recommendations for homemade face masks can be found here.
A new resource for filters: Filti Face Mask Material
To clean masks, an effective method is "70 C / 158 F heating in a kitchen-type of oven for 30 min, or hot water vapor from boiling water for 10 min, are additional effective decontamination methods." – from LiveScience.
I have added a summary of tips that have been shared in the comments at the end of this blog post.
Versatile Face Mask pattern
You can download the face mask pattern templates and instructions here:
Print out the face mask pattern at actual size. Make sure the 1″ square measures true to size.
You can watch me demonstrate how to make a face mask in this video:
Resources mentioned in the video
If you have a Cricut Maker, visit Cori at Hey, Let's Make Stuff. She has made an SVG pattern using my tutorial.
Face mask size: This face mask fits an average adult profile. To resize it, I suggest you watch this video by Gail Kollmar on how to resize a face mask. Her method works really well, and I enlarged one to fit my son. You could also try adding 1/4″ – 3/8″ on all sides to make it bigger. If you want to make it smaller, subtract 1/4″ – 3/8″ from all sides.
Materials:
Two 8″ cotton fabric squares for outside of mask, washed and dried
Two 8″ cotton fabric squares for inside of mask, washed and dried
1/4″ elastic or hair ties or 1/4″ – 3/8″ wide grosgrain ribbon or double-fold bias tape
wire or pipe cleaners or twist ties or paperclip (optional)
filter (optional) 4/10/20 Update: Resource: Filti Face Mask Filters
pencil or other fabric marking tool
sewing machine
scissors
pinking shears (optional)
printed face mask pattern
Supply information: Use 100% cotton fabric that has a tight weave, if possible. Batik and poplin fabric are good choices. You could also use a pillowcase or sheet that is tightly woven. Quilting cotton is also fine. If you're uncertain about the quality/weave, you can hold your fabric up to the light and see how much light filters through. Less light showing through is better. Pre-washing all fabric is recommended. For more information on best materials to use for DIY masks, check out this article.
Update: Instead of pins, use clips such as Clover Mini Wonder Clips to hold pieces in place. This will prevent any extra holes in the material.
For the elastic, I find that 1/4″ flat elastic works best. You can use elastic cording or other elastic that you have on hand. If you can't find elastic, you could use hair ties, but I find they're a little uncomfortable and not adjustable.
Instead of elastic (and the one that I prefer) is ribbon or fabric ties. These can be sewn to the four corners of the mask or threaded through the casing using two longer ties (which is harder to tie because it's loose for me). Grosgrain or twill ribbon is better than satin ribbon because they don't slip as much. Also, you can use t-shirt material cut into strips. Double-fold bias tape can also be used and you can make your own by cutting strips of fabric 1 1/2″ wide (doesn't have to be on the bias, straight is fine), folding it in half along the length (wrong sides together) creating a center fold, and folding the raw edges to the center fold. Then press in half along the center fold and topstitch along the outer edge, making a 3/8″ wide tie. The length should be about 16″ long each.
Adding wire to the nose area is optional but very effective. Wire should be thin enough to bend easily and can be found in home improvement and craft stores. Pipe cleaners, floral wire, gardening wire, bag ties, etc. can also be used. Wire cutters are helpful for thicker wire.
Optional filter insert: If you want to add another layer of filtration, you can insert a HEPA filter into the open pocket. These come in the form of air filters or vacuum cleaner bag filters and can be found in home improvement stores. Make sure they do not contain fiberglass. If a filter is not available, you could use a non-woven sew-in interfacing such as Pellon 930 Midweight. Whatever you use, make sure you can still breathe through the mask easily. Again, this is not meant to replace a medical-grade filter system or personal protective equipment.
Face mask instructions
Cut out inner and outer face mask pattern pieces on the solid lines.
With fabric right sides together, pin pattern pieces to fabric or just trace cutting lines onto fabric. Cut out inner and outer face mask pieces.
Transfer solid casing line (1 1/2″ from raw edge) onto the wrong side of outer face mask pieces using pencil or other marking tool.
With right sides together, sew 1/4″ seam along the inside center face mask pieces. Repeat for the outside center face mask seam.
Cut notches into the curved seam allowance just sewn or use pinking shears to trim curved seam allowance. This will reduce bulk and help the seam to lay flat. Gently press to one side.
Turn under 1/4″ along the short side edges of the inner face mask and press. Stitch in place.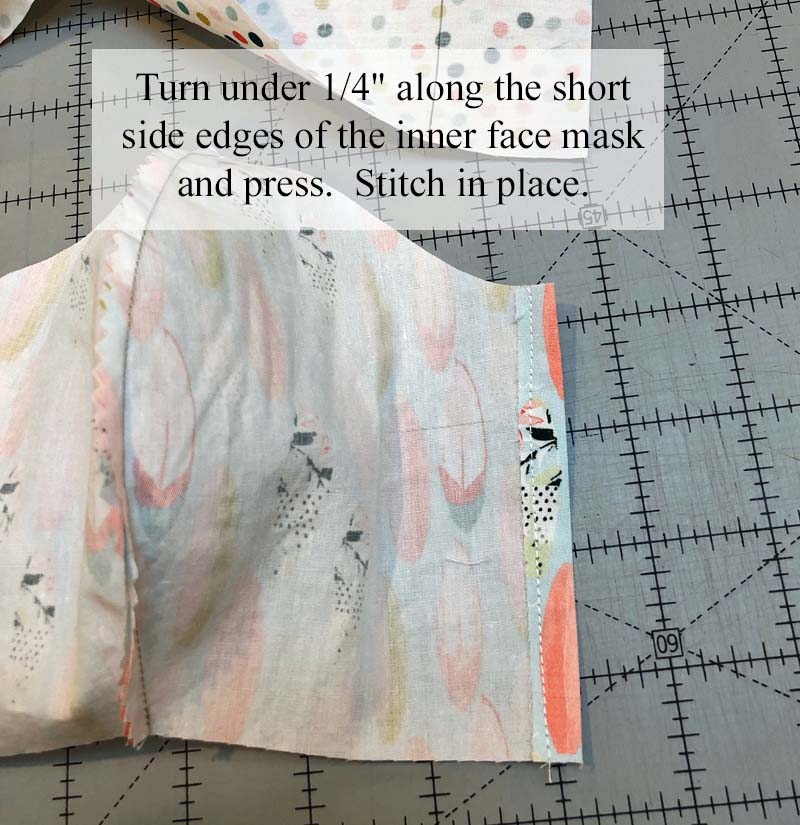 With right sides together, pin inner and outer face mask pieces along upper edge, matching center seam. Stitch using 1/4″ seam allowance (backstitching at the beginning and end).
Turn right side out and press seam, extending 1/4″ fold along the outer face mask edge.
Top stitch in place 1/8″ from folded edges.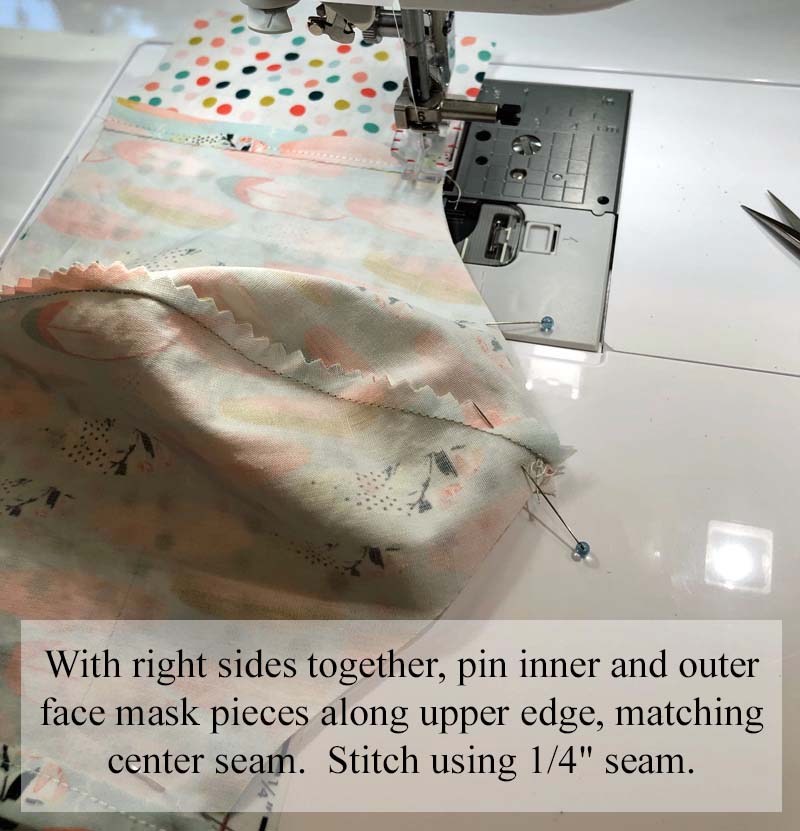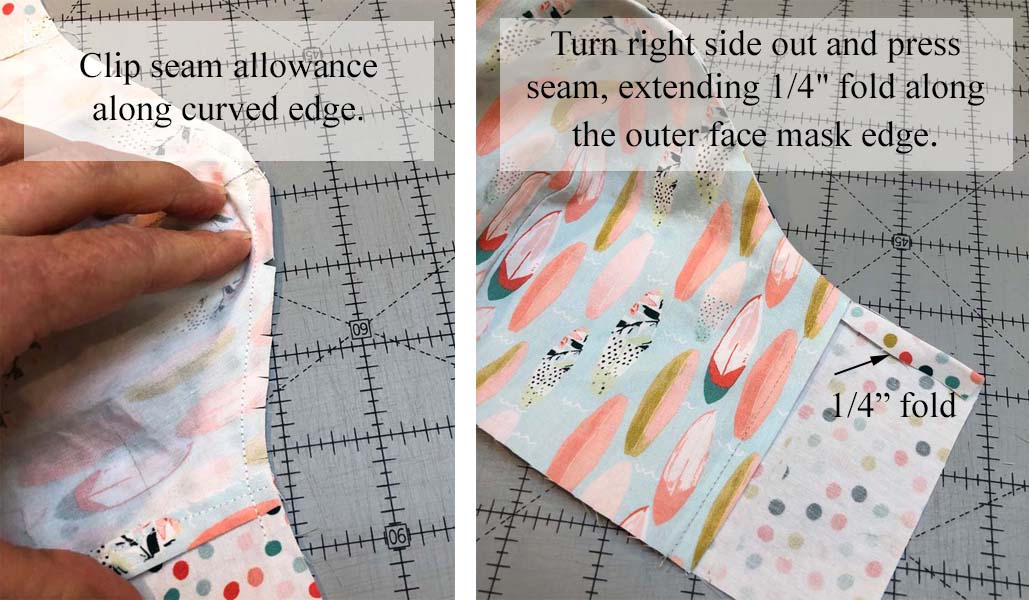 Repeat the above process on the bottom edge – right sides together and matching the center seam.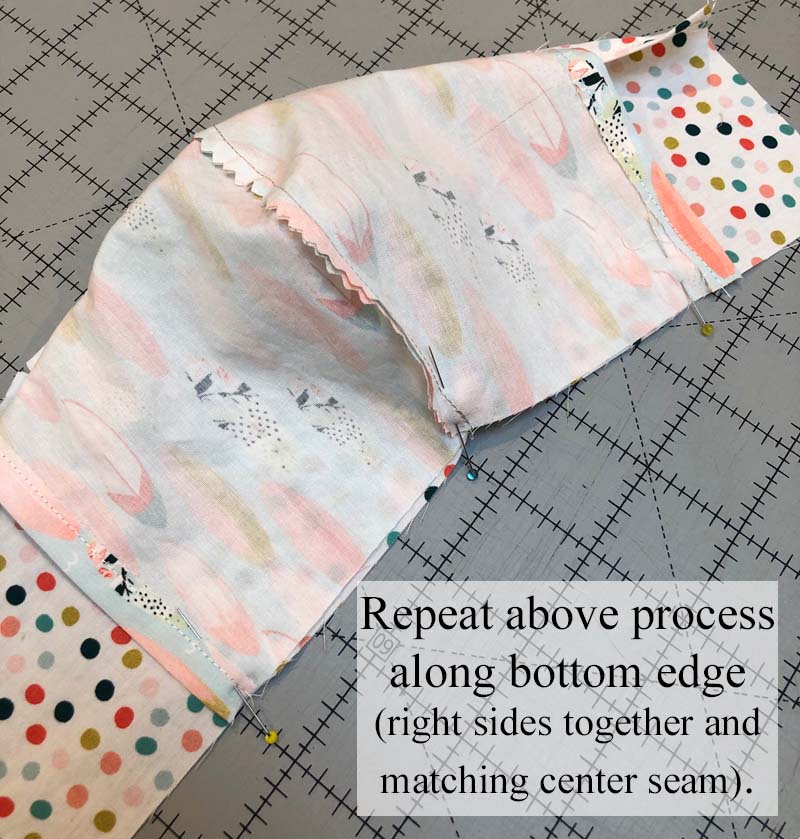 Turn under 1/4″ along the short sides of the outer face mask and press.
Fold this edge again (5/8″) so that it meets the pencil line and press.
Stitch along the inner folded edge, creating a casing for elastic or ties.
Add elastic or ties to the mask. If you have elastic, cut a 12″ length and thread through the side casing. Tie a knot and adjust it as needed. Once it's comfortable, you can slide the elastic around so the knot is inside the casing (optional).
If you're using hair ties, you can cut them in half and sew them to the outside instead of feeding them through the casing. Otherwise, you will have to place them into the casing before stitching the casing seam closed.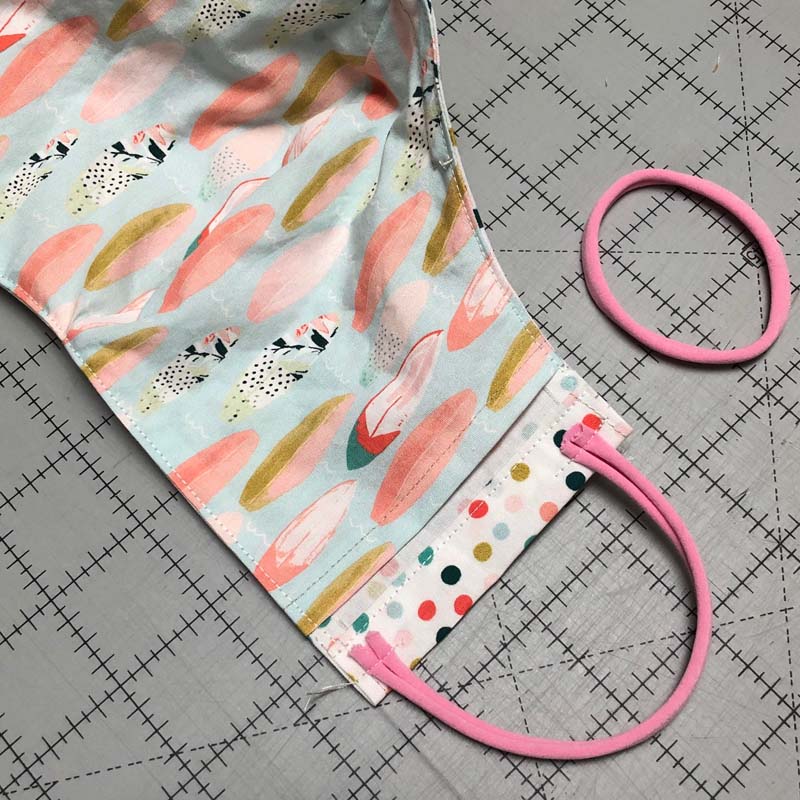 For ribbon or fabric ties, you can attach them two ways. The first way (my preference) is to sew each one to a corner of the face mask. The length should be about 16″ each. This takes a little longer to put the face mask on, but it's adjustable, the mask sits tight against the face and it makes it easy to remove the mask partially without having to completely remove it.
The second way to attach ribbon or fabric ties is to thread a longer tie (36″) through the casing on each side and tie it behind the head. This method is more difficult to tie it behind the head tightly. It also gathers the short sides of the face mask which might give you a better fit but it also can create gaps.
Optional nose wire: Cut a length of wire or pipe cleaner to 3 1/2″. Turn under the ends a tiny bit and crimp so that there are no sharp edges. I used thin florist wire so I folded a 6 1/2″ piece in half and covered the exposed ends with electrical tape. Sew a channel for the wire 1/4″ away from the upper edge and about 1 1/2″ on either side of the center seam. Insert wire through the side opening. Stitch channel ends closed.
Filter: A filter or another layer of material can be inserted at this point. Since I don't have access to any filters, I've used some interfacing just for example purposes. I cut a rectangle 5″ x 7″ and then cut a curve on both top edges by estimating it (eyeballing it). You could also use the pattern as a guide and even sew the interfacing the same as the inside mask pattern and then trim to fit.
Disclaimer: This pattern has not been tested. If you find a mistake, please let me know. This face mask is not considered personal protective equipment (PPE) and should be used only if nothing else is available.
I have made several different types of face masks and this style is my personal favorite. It gives you options to make it as simple or complex as you'd like. Each mask takes about 20-30 minutes to make depending on the type of tie and additional options used.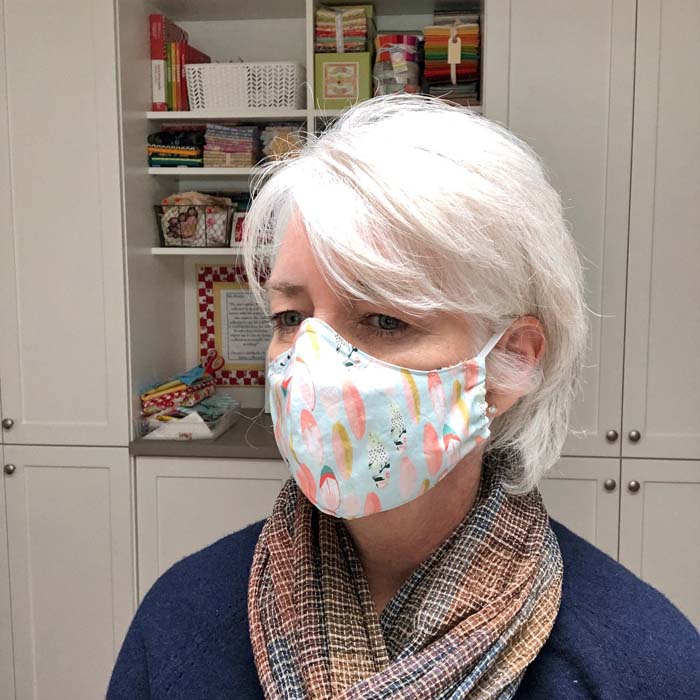 Currently, I'm part of a group effort to make face masks for veterinarians working at a zoo who are exposed to a certain primate species that can carry and transmit the COVID-19 virus. I'm also going to send some to family members that could use some means of protection.
This pattern is free for any and all to use as long as it's not being sold for profit. It's meant to share with the intent of helping others who have no other alternatives. I've tried to include as much information in this tutorial as possible. If you have any questions, please leave a comment and I will answer it.
4/6/2020 Update: Many people have commented on this blog post and shared bits of advice that has worked for them. Here's a recap so far:
Use clips (such as Clover Mini Wonder Clips) instead of pins when holding pieces together to prevent extra holes in the material.
Use a Microtex Sharp sewing machine needle, size 70/10 or 60/8. This will leave a smaller hole. Make sure the thread you're using is not too thick for the needle. If you have an automatic needle threader, do not use it on a size 60/8 needle; it will break.
If using pipe cleaners for the wire, they don't hold up in the wash well. Consider leaving one end of the wire channel open so you can remove the pipe cleaner first. You can do this no matter what kind of wire you're using.
For the nose wire, it might be easier to put the wire in place first, then topstitch around it from the outside. Sometimes that center seam is hard to push the wire through using the other method.
Try using a paperclip for the nose wire.
Other filter/material options being used (I don't guarantee the efficacy of these): coffee filters, two layers of blue shop towels (non-woven, heavy duty paper towels), t-shirts, Blue wrap (used for wrapping and sterilizing surgical instruments).
Shoelaces make great ties.
For the ties, "use two 1/2″ jersey knit strips about 16-20″ long for the ties for each mask (cut on the least stretchy grain). I inserted each strip into the side panel, centered it, and then tacked it down with a 1/2″ zigzag stitch to anchor it so the wearer does not lose their straps! Seems to fit tightly and not gap as you mentioned."
"Thread either the ties, or t-shirt yarn, through the sleeve, and then sew it down. That way, you don't get the bunching but don't have to fiddle with sewing the four corners."
"T-shirt strips work really well. Fold a t-shirt length wise, cut the bottom hem with a rotary is easiest, then 1″ strips. Cut the strip so it isn't a loop, then grasp the end and keeping it straight, just pull all the way to the end and it just curls naturally. They are super comfy ear loops."
"Fold 1/2″ bias tape in half to make a 4 foot tie. Thread the tie through the casings by going down from the top on one side then up through the bottom on the other side. The loop along the bottom goes behind your neck and both tie ends can be pulled on to snug the mask around the face and tied in a bow at the top of the head. I use a safety pin to thread the tie through the casings and leave it on the end of the tie just in case it comes out of the casing."
Apply fusible interfacing to the wrong side of the outer face mask material before cutting and sewing for an extra layer of filtration.
Use fabric glue on the center seam instead of stitching to eliminate holes and gaps there.
"The concern raised about the center seam having small openings between stitches could possibly also be solved by cutting a 1/2" wide piece of fabric and sewing it (to the wrong side) through the seam allowance and outer fabric about 1/8" from both sides of the center front seam (inner and outer mask seams)". I have pics of this if anyone would like.
Stay safe and stay positive!