January UFO completion and linkup
Today is the last day of January, and hopefully, you have a UFO finish to show me. You'll find a link-up at the end of this post so you can add your project and be entered into this month's giveaway.
If you're new to the UFO concept, let me help demystify it for you. UFO in the context of this post means "unfinished object". Many of us makers have a talent for starting new projects before finishing the last one. I have such a talent for it that I've challenged myself to finish one UFO each month in 2016. I'm inviting you to play along with me.
At the beginning of each month, I'll tell you what project I've decided to finish. I'm using the 2016 UFO Challenge at All People Quilt to determine which UFO I'm going to work on. They pick a number each month that corresponds to a numbered list of UFO's that I've made. January's number was 2. You can pick your project any way you want. This is just what I'm doing. I like the element of surprise and that I've made a list that I get to cross things off of.
On the last day of each month, I'll show you my finished project and have the link-up available so we can see what you've completed that month, too. For a little extra motivation, I'm having a giveaway for one prize each month!
I have been working hard to get my Simple Hearts Quilt finished (tutorial can be found here), and I'm happy to say that I've got it done! I may have spent more time on the quilting, and I still might go back and add more. But it's finished. And it's cute. And I like it.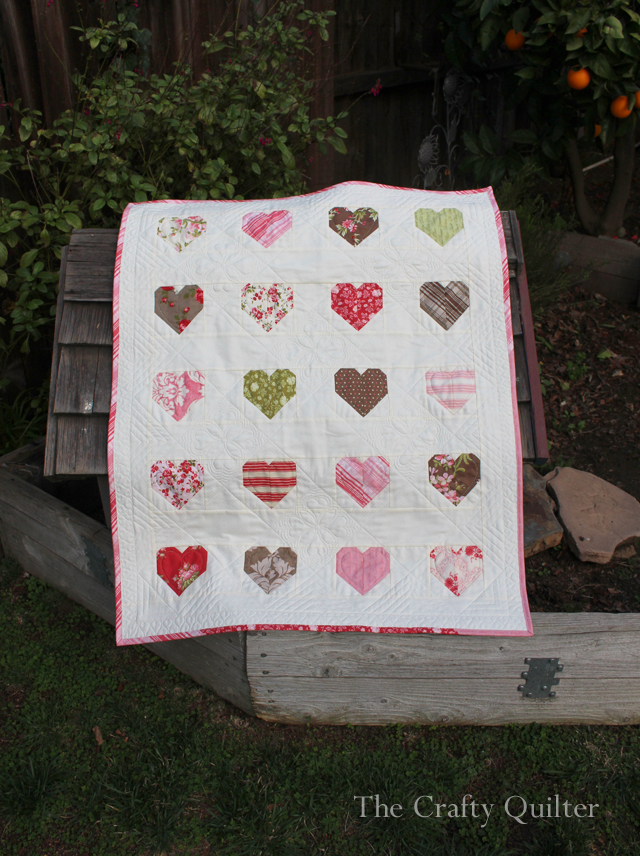 I used a stencil in every other open square and echo quilted around it.
I added some straight line quilting along the side-triangles and attempted a heart ribbon design along the outer border. You can find a great tutorial on how to free motion quilt the heart ribbon at The Inbox Jaunt.
I added some sparkle to the pieced hearts with my favorite, Sliver thread from Sulky. It's iridescent and gives the perfect shimmer to the hearts.
Now it's your turn! If you have a quilt or other sewing project that you finished in January, add a picture of it to the link up.
Link-up Rules:
You may add up to 2 finished projects.
One image per finished project.
Project must be sewing or quilting related.
The link-up will be open until February 6, at midnight, PST.
The giveaway is open to USA or Canada only, however, anyone can join the link-up. If a winner is chosen that is international, then another number will be picked until it meets the criteria.
Winner will be drawn at random on February 7, 2016.
Thanks for joining me!