Hey everyone!  First, I want to welcome all of the new followers from Bloglovin'!  I'm not sure why, but this week I've gotten lots of attention from the folks over there.  Thanks for choosing to hang out with me!
I have some hearts to share with you all today.  There's something about February 14th that I love.  Could it be the hearts or the chocolate or the significant other?  Maybe all of those things!  I know, you either love it or hate it depending on your status: single or double?  I hope you're on the double side!
I made this little Valentine for you that includes one of my favorite quotes: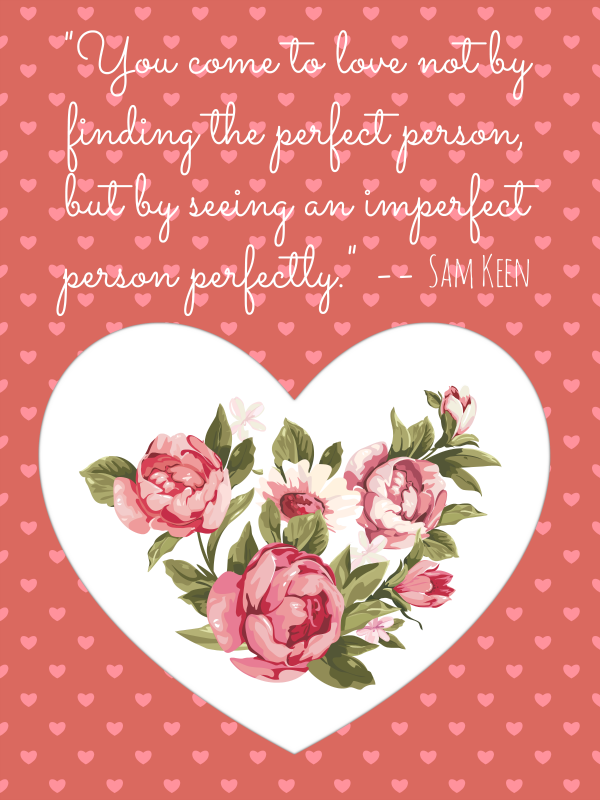 I'm certainly not perfect, but I know that I'm perfectly loved!  (Thank you Mr. Crafty Quilter).
If you're new to my blog, I have a few heart projects from years past that you might like.  I'll start with one of my favorites which is the Home is Where the Heart is Pillow.  You could use this any time of the year:
If you want a little project with some applique, then you might try the LOVE Letters Mini Quilt. It's a great way to add a touch of red to a corner:
I did a tutorial for the Moda Bakeshop a few years ago that included a Flirtatious Hearts Table Topper and Heart Pincushion.  You can see more FMQ detail from the quilt here.
And just recently, I shared a tutorial to use some scrap fabric and burlap to make the Hearts & Burlap Canvas.
On a different note, If you've been waiting to take a class at Craftsy, now is the time.  Starting today they're having a Sweetest Valentine's Sale with up to 50% off classes.  Sale ends February 16th.
I don't want to leave you feeling too mushy.  Here's another valentine I made for you that really speaks to my heart:
Have a great weekend!  I hope it's filled with love AND chocolate!