My 7 favorite hand embroidery tools
I've been working on a cute little hand embroidery project to keep me busy as I watch the winter Olympics.  So today, I'm sharing my seven favorite hand embroidery tools with you.  I wouldn't say I'm an expert at embroidery, but I have found some really helpful hand embroidery tools that can make life a little easier.
Note:  This post contains affiliate links.  That means I will receive a small compensation for any purchases made using these links with no added cost to you.  I am not recommending any products for any other reason than I love working with them and as a convenience for you.  Please feel free to check with your local quilt shop for availability!
It's so important to see what you're doing, so I LOVE my Beam n Read LED 6m Hands-Free Craft Light
.  I've had mine for well over 5 years and it's still going strong.  It easily fits around my neck and I can adjust the tilt of the light so it shines right where I want it.  This light is also perfect for reading, hand quilting, binding, knitting, etc.  It's perfect for any craft!
I just discovered Quilter's Select Print & Piece Fuse Lite, and it's perfect for stabilizing your embroidery (both hand and machine).  I find that my stitching is more accurate and I "hit my mark" more easily when I use this product.  It also helps to hide any lose threads on the back.  It temporarily fuses to the back of your work, and it will eventually soften to a light layer so there's no need to remove it when you're done.  Finally, I don't use a hoop when I hand embroider, and it helps keep my fabric more stable.
Quilter's Select Print & Piece Fuse Lite is also perfect for many applique techniques as well.  It's definitely worth having in your tool kit!
Using quality floss is important, and I've found that Cosmo Embroidery Floss is wonderful to work with.  It has a smooth feel and a lovely sheen.  It comes in a huge variety of colors so you'll always find the perfect shade for your project.  Right now, this Bonnie & Camille Handmade Collection is on sale at Fat Quarter Shop!  I love this combination of colors.
I am so happy to have found Sewline Tulip Embroidery Needles
!  They are perfect for the job and they feel so good in your hand.  They pass through the fabric smoothly, yet they are strong so they won't bend or break.  I'm using a size 8 with three strands of embroidery floss and it works great.
If you want the full lowdown on embroidery needles, you should definitely read Hand Embroidery Needles: how to choose them and use them by Mary Corbet at Needle 'n Thread.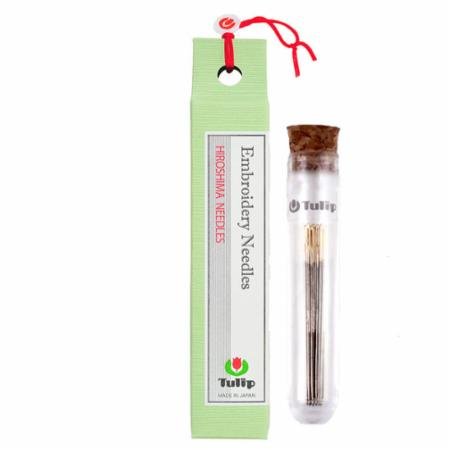 I would be lost without my Clover Needle Threader For Embroidery Needles
.  This little gadget makes it so easy to thread any thick thread or floss through an embroidery needle.  I really can't live with out it.  And that apple green color!  Love it.
When I need to clip threads close to the fabric, I rely on Karen Kay Buckley Perfect Curved Scissors
.  I use these not just for hand embroidery, but applique and machine quilting, too.  The blades are micro-serrated, really sharp, and that curved design allows you to get close to the fabric without any accidents.  Plus they're so cute!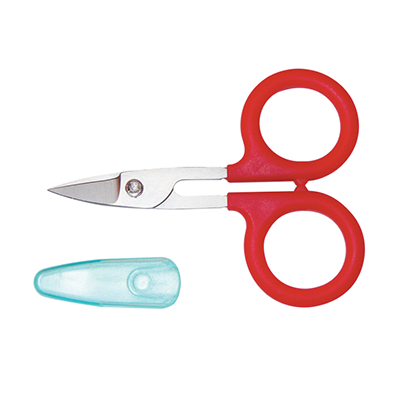 I keep this handy Embroidery Pocket Guide
close by, especially when I travel.  It has all of the most popular embroidery stitches with clear diagrams in a laminated, concise encyclopedia.  It lays flat and it's super helpful for beginners to more experienced crafters.
Those are my favorite hand embroidery tools.  I have been putting them to good use on this cute little project pictured below.  It's a pattern designed by Jenny of Elefantz Designs.  She has the sweetest designs and a lovely blog, too.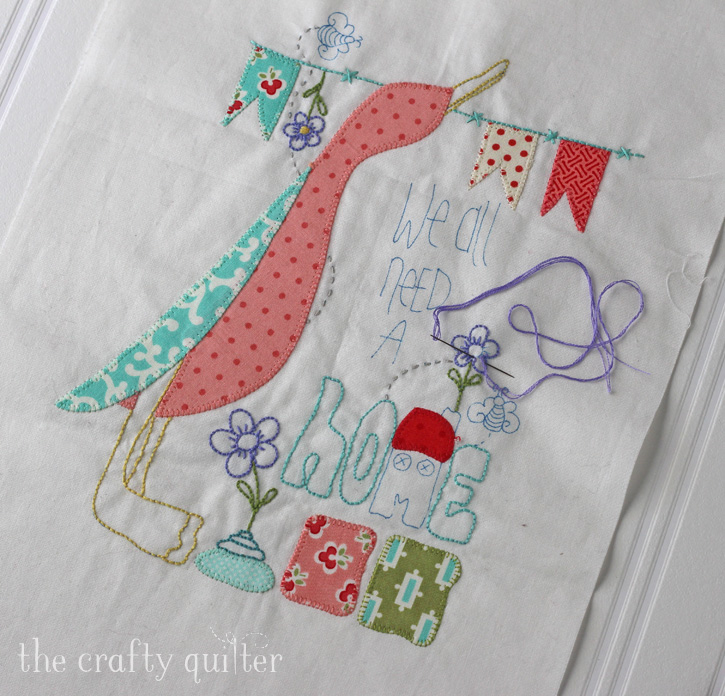 Everyone has their favorite methods and tools when it comes to crafting.  I'm finding that working without an embroidery hoop is much easier for me.  Using the Quilter's Select Print & Piece Fuse Lite on the back of my work makes this technique even better.  Here's what it looks like on the backside:
You can barely see the stabilizer along the edges.  It was also perfect for the applique that I did first.  I think I'll be using this for machine applique from now on, too.
Do you have any favorite hand embroidery tools that you'd like to share?  Many of you are more proficient at this than I am.  I'd love to hear what works for you!
Thanks for reading and happy embroidering!