Save the Bees giveaway winner
I have a giveaway winner to announce for the Save the Bees block of the month.  Lucky comment #13 belongs to Robin H.  She will receive a fat quarter bundle of Prettiful Posies courtesy of Sarah J. Maxwell.  Congratulations, Robin!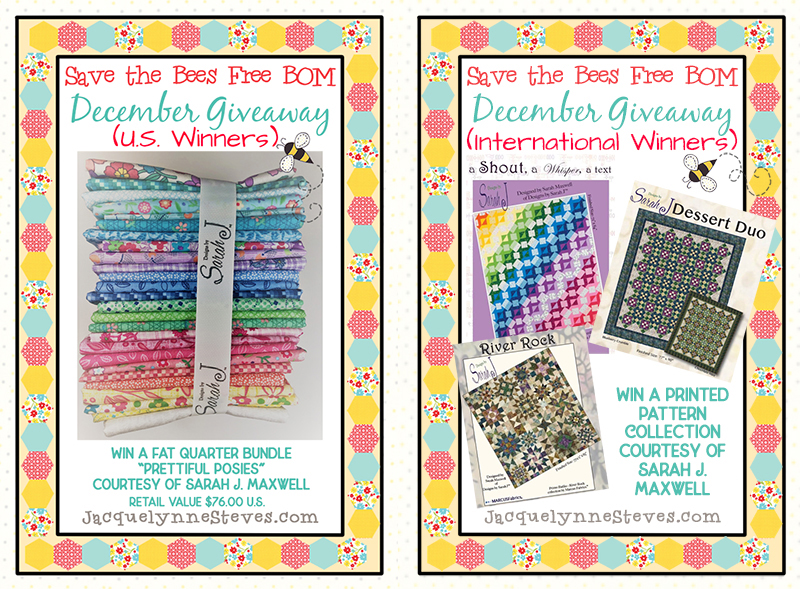 Thanks to everyone for participating and for all of the lovely comments.  I had such a good time making this quilt and having so many others join in the fun.  Many thanks to Jacquelynne Steves for designing, hosting and coordinating this amazing project!  You can still find all of the details about this BOM here.
If you love Jacquelynne Steves work as much as I do, you might be interested in The Art of Home Club.  Registration for membership is open now until December 13, 2018.  This  is a monthly club that provides you with patterns, designs, videos, tips and more.  It's a great resource for quilters!
The finish of my own Save The Bees quilt has been postponed for now.  I'm planning on finishing it after the holidays are over.  My priorities have shifted a bit in the past few weeks.  I'll explain in a future blog post.  I hope you all have a great day!