January UFO & WIP Challenge winner
I was so amazed at all of the beautiful entries into the January UFO & WIP Challenge link up.  I could never pick a winner on my own, so I used the True Random Number Generator to do it for me.  Out of 61 entries, it chose #20.  That belongs to Sherry, the maker of this beautiful Farmer's Wife Sampler quilt.  I am always in awe of these quilts with so many blocks and so much piecing!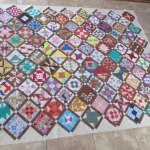 Sherry shared some background information about her quilt:  "My Mum was a Farmer's Wife and I'm using her fabrics for the blocks. There are leftover fabrics from items my Mum made for our home, fabrics from clothing made by myself and my two sisters, and even some scraps from clothes I made for my children."
What a treasure, and congratulations Sherry!   You will receive a kit containing the Avondale Tote Bag pattern and fabric from Fat Quarter Shop.
Thank you to all of those who participated in the challenge.  If you didn't get a project finished in January, you can always try again this month.  If you don't have any UFO's or WIP's then that's a prize in itself! Tomorrow, I'll show you which UFO I'm going to tackle for February and what the prize will be for this month's winner.