April UFO & WIP Challenge Link-up
Here we are at the end of April and it's time to link-up a photo of your finished UFO or WIP challenge for the month. I can't wait to see what you guys have been working on! This month's winner will receive a $30 gift certificate from our generous sponsor, Fat Quarter Shop. I'm going to throw in a few extra goodies that you're going to love, too!
Hopefully I've gotten the squeaks out of my new blogging platform. The last one didn't allow anyone to comment. I was hoping to do another test run, but the due date for this blog post is now. Let's cross our fingers.
My challenge for April has been to move into my new sewing room and make it organized and pretty. I have a few photos to show you, but I want to do a separate blog post devoted entirely to my sewing room. This will make it easier to find and navigate to in the future.
I have one wall of built in cabinets and shelves which contain all of my fabric and most of my ongoing projects (WIP's) and finished quilts.
The majority of my fabric stash is sorted by color and stored in plastic bins that I found at The Container Store. These are mostly half yards and fat quarters. The bins fit perfectly inside the cabinets.
Another wall has built in upper and lower cabinets with space for a sewing machine in between. I love being able to have two sewing machines set up at the same time. This station has my Juki TL-2010 Q which is a straight stitch only work horse. If you want to read more about sewing machines, (mine included) check out my Sewing Machine Advice Part 1 and Part 2.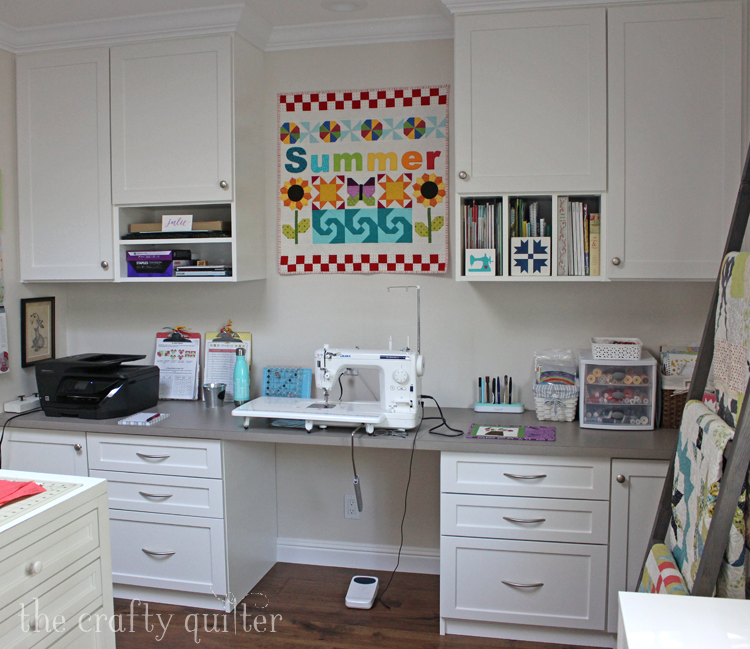 My main sewing machine, a Bernina 770QE, sits on a table underneath the window. Adjacent to it, along the other wall is my new ironing board/station made from an IKEA Kallax cabinet. I'll give a detailed DIY blog post later for that as well. I need to fix a few things on this one – it's not quite perfect yet.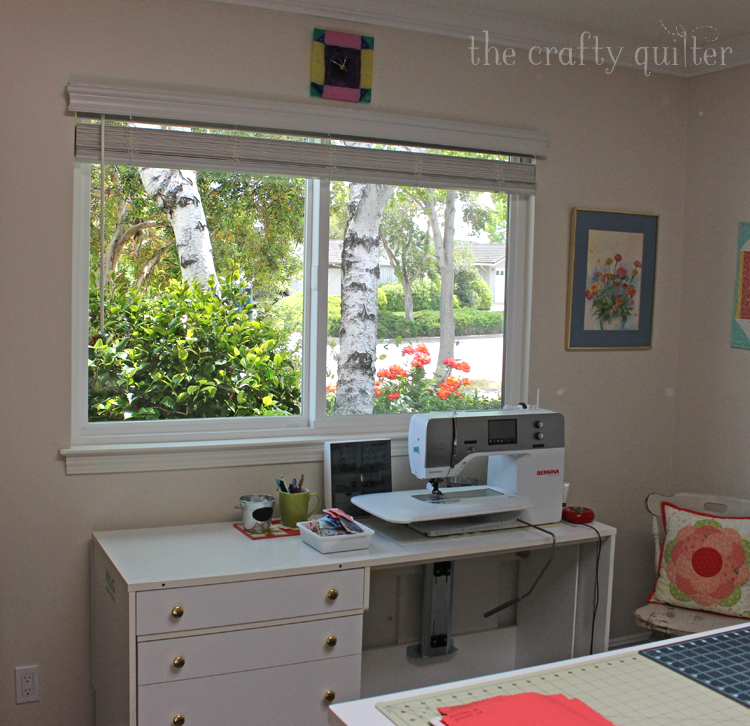 In the center of my sewing room is my cutting table. I love this table so much! I've had it for over 5 years – it's a Martha Stewart craft table that I bought from Home Depot. The drawers hold all of my rulers and cutting tools. Underneath I have containers for my scraps (sorted by color). I have a tutorial on how I made the fabric scrap storage bins here.
Yesterday morning, I finished hanging the last mini quilt on the wall, and Friday night I made a Jelly Roll Rug for Cooper to lay on!
The sewing machine cabinet in the picture above belonged to my grandmother. She had an old treadle sewing machine inside. When my mom inherited it, my Dad decided that she needed a new, fancy machine so he bought her a Singer 401A. That's the machine I learned to sew on in 7th grade, and it fits inside the original cabinet. Now I have inherited it from my Mom, and I'm so glad to have a proper place for it; maybe I'll start to use it again!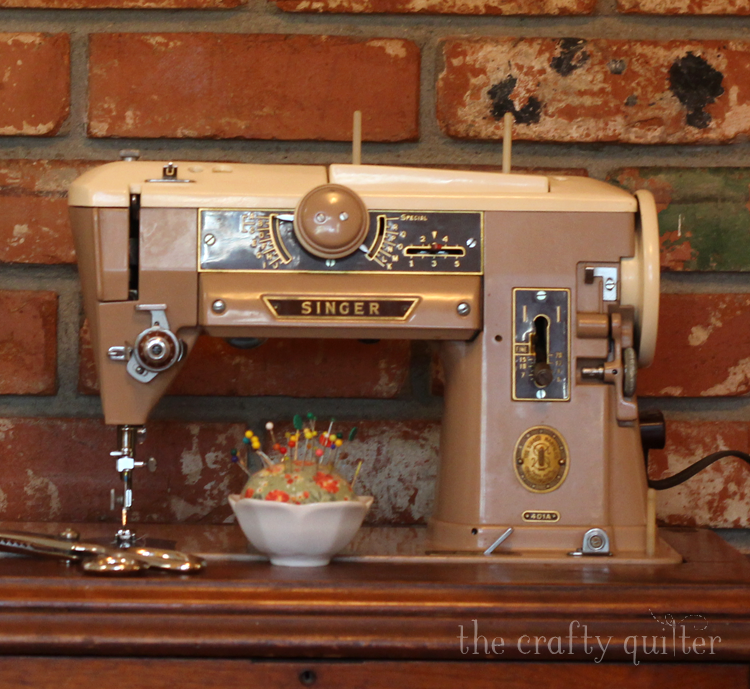 Well, that was more than I had planned on sharing, but I didn't want to leave anything out! I'll still do another blog post with more fun details.
April UFO & WIP Link-up
Now it's your turn! You don't need to have a blog to participate, so please join the fun!
Link-up rules:
You may add up to 2 finished projects.
One image per finished project.
Project must be quilting, sewing or needlework related.
The link-up will be open until May 4, 2019, at midnight, PST.
This month's giveaway is open to all.
Winner will be drawn at random on May 5, 2019
Link-up instructions:
Click on the blue "add link" button.
Enter the URL of your link. If you don't have one, click on the blue "enter without link" button. The upload widget will activate.
If your photo size is too large, it may not accept it. You'll have to re-size it to a smaller file size.
Enter a caption for your image. This should describe your project and it can include your name if desired.
Enter your email address. No one will be able to see this but me.
If you have any trouble, just leave a comment or send me an email with your photo attached. I can add it for you.