What is the perfect sewing machine?
Does the perfect sewing machine even exist? I know this is a hot topic for anyone who is a quilter or sewist. A good sewing machine is often one of the most expensive tools we own and the most important tool in the sewing room. Today, I'm going to give you The Perfect Sewing Machine Checklist (speaking from a quilter's point of view).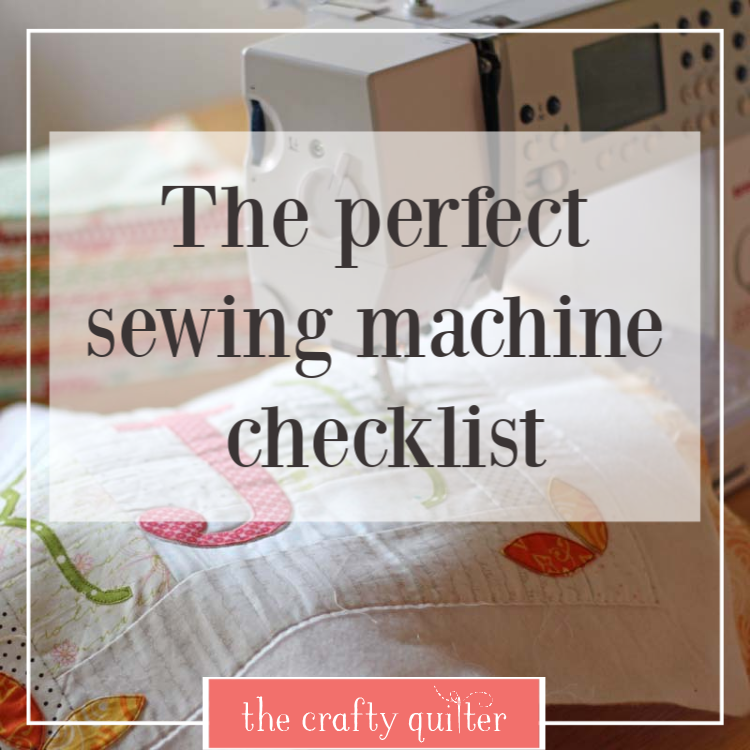 I'm on the hunt for the perfect sewing machine. And I'm not sure it's out there, so I thought I would chat with all of you about it. While I was writing this blog post, I began to imagine what my DREAM sewing machine would look like and thus, The Perfect Sewing Machine Checklist was born! But first, let me tell you about my current sewing machines and why I'm searching for something else.
My sewing machines
I currently own FIVE sewing machines. I have a Bernina 770QE and a Bernina 440QE. I still love my Bernina 440, but I upgraded to the 770 when I wanted a larger throat (harp) space, but I couldn't part with my original 440.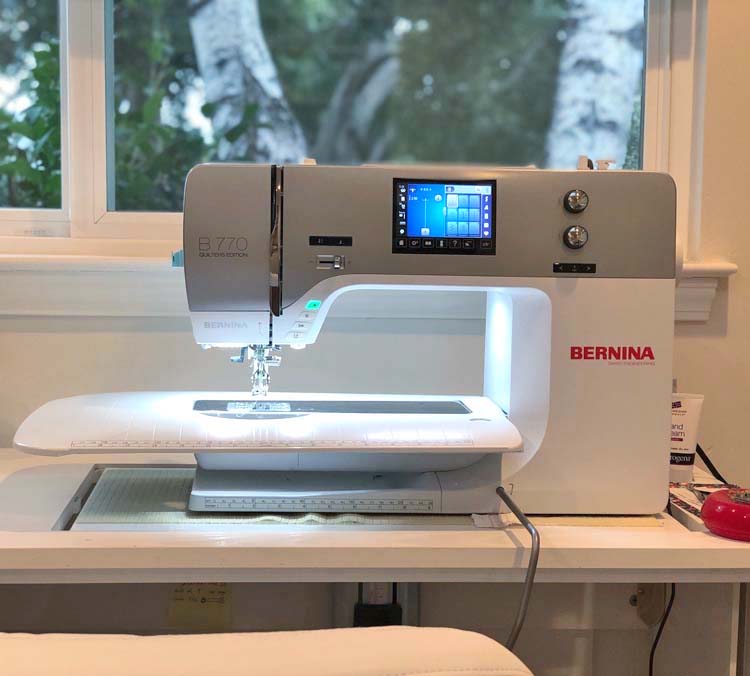 I thought I had found the perfect machine when I bought my Bernina 770QE in 2015 (I paid $5,000). This is a great, high-end sewing machine that has a lot of power and potential. It has integrated dual feed (IDF), a larger bobbin capacity, a stitch regulator for free motion quilting (that I don't use) and lots of other features that I appreciate. It creates a beautiful stitch and it can handle thick seam intersections and just about anything else I "feed" it. I LOVE that I can change the settings on any stitch to any length and width I want. I can get a blanket stitch or zig zag stitch to the exact size I need with no limitations imposed. I don't know of many machines that allow you to do that. It also has a fantastic walking foot and it's so easy to change to a different foot when needed.
However, my particular machine turns out to be quite temperamental. It has an upper thread sensor that intermittently tells me my thread is broken when it's not (and it won't let me continue sewing until I re-thread the machine). I recently discovered that you can turn off the upper thread sensor which is a simple fix. I also had to replace the mother board; fortunately it was still under partial warranty.
I also own a Juki TL 2010Q. I bought this sewing machine for $800 in 2013 (I think) specifically for free motion quilting. It's a solid, mechanical, straight-stitch only machine. It's also great for piecing. I have it set up in my sewing room as a second machine so that I can have two "jobs" going on at the same time. In other words, I can use one machine for piecing and have the other one set up for quilting. It feels so luxurious to have that ability! The drawback is that I can't use it for machine applique or anything that requires the needle position to move.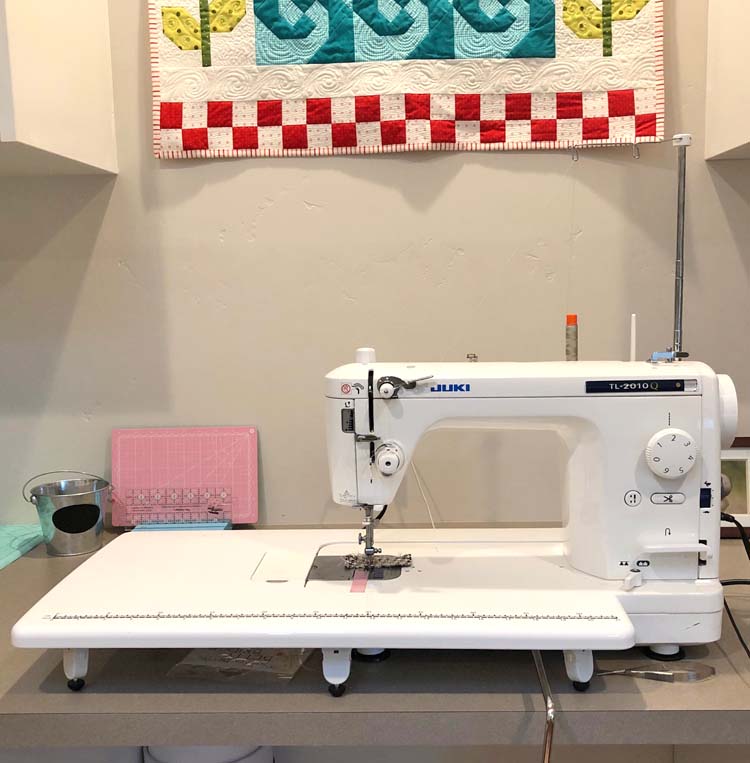 I have an Eversewn Sparrow 25 (no picture) that I use for my class machine. It's lightweight and portable, so I can take it to and from the quilt shop I teach at. It's a great little machine for the price (I paid $360 in 2017) and it has served me well. Even so, I might upgrade this machine soon to one that has more built-in features.
My last machine is a Singer 401A that belonged to my mom. This is the sewing machine that I learned to sew on in seventh grade. My parents gave it to me six years ago, and it lovingly sits in my grandmother's original sewing cabinet which is now located in my sewing room. I have more of an emotional attachment to this machine. I know it can still stitch beautifully and I should use it once in a while. Some day.
With all of these sewing machines at my disposal, what more could I be looking for? The industry leaders are taking advantage of new technologies and I'm completely enthralled with the laser guide beam. I've only seen this on the Babylock Crescendo, but I believe it's available on other brands and models. This guide beam can be used in place of drawing diagonal lines for HST's and stitch and flip squares. It can also be moved to create a specific seam allowance or to guide a seam for other purposes. I feel like I would use this function ALL the time. I know you can buy a separate guide beam and attach it to any sewing machine, but it seems like it wouldn't be as precise or adjustable.
The Crescendo also has a sensor pen that can be used to tell your machine exactly where you want your needle and stitches positioned and where to stop. This would be really useful for machine applique. I also like that it has a manual presser foot lever as well as an automatic pivot function. I've never owned a Babylock machine before, but I've heard good things about them. I recently test drove one and I liked how it performed. This is not a sponsored blog post, by the way.
So…. I'm not sure that I'm willing to give up some of the things I love about my Bernina for any of the new features of a different machine (especially that guide beam). I can't sneak add another machine into my sewing room, so I would have to give up something. Somebody really needs to come up with the perfect sewing machine that has it all.
The perfect sewing machine check list
In my opinion, the perfect sewing machine (for quilters) would have the following features:
Large throat (harp) space
Guide beam
Large bobbin capacity
Separate bobbin winder
Automatic thread cutter
Automatic needle threader
Automatic tension
Knee lift or hands-free presser foot capability
Needle up/down
Speed control dial
Integrated dual feed system
Excellent walking foot in addition to IDF (above)
Intuitive operating system (ease of use)
Excellent stitch quality
Powerful motor
No limits to stitch length and width settings
A variety of blanket stitches (I love to applique)
Mirror imaging capability
Extension table
Good lighting
Stitch regulator for free motion quilting
Easy to use bobbin system
Ability to adjust the pressure of the presser foot
Affordable price tag (since I'm dreaming)
I'm sure I didn't think of everything. What would you add to the list? Do you have a sewing machine that you love? Please share in the comments so we can all learn from each other.
If you would like more information about this topic, check out my Sewing Machine Advice, Sewing Machine Advice Part 2 (make sure to read the comments there, too) and 7 Tips for Buying a Sewing Machine.
Thanks for reading and may we all find the perfect sewing machine to suit our needs!