Carolina Lily quilt along with Fat Quarter Shop
Hey everyone! Welcome to my stop on the Carolina Lily Quilt Along taking place at Fat Quarter Shop!
Update March 10, 2020: Fat Quarter Shop had to postpone the release of their pattern and quilt along. I wasn't notified until after publishing this blog post. My apologies. I'll update all of the links here once they're working properly. Thanks for your patience.
Update March 24, 2020: All links have been updated.
If you need a little Spring in your life, you'll love this happy quilt block.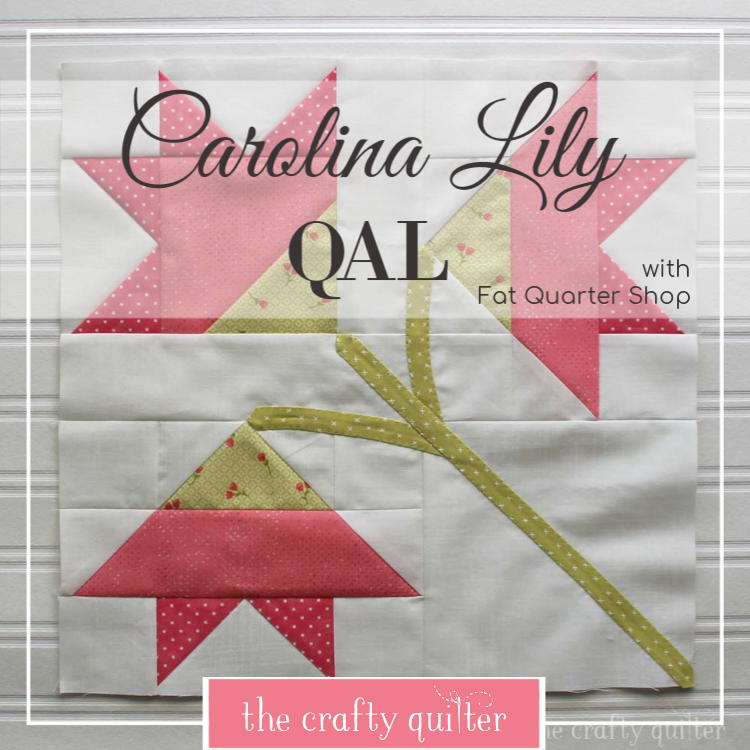 Carolina Lily Quilt Block
The Carolina Lily block is a free quilt block pattern from Fat Quarter Shop that is part of their Classic & Vintage Series. They also have a Carolina Lily Quilt pattern available here that includes instructions for a full quilt with fabric requirements, etc. for purchase.
I love this version of the classic Carolina Lily block and it was super fun to make. The block is 14 1/2″ square (unfinished) and it's pieced with a little bit of applique for the stems. I used some of my favorite colors and fabrics from my stash: the flower contains Spotted by Zen Chic for Moda in Tea Rose and Essential Dots by Moda in Peony; the stems contain Strawberry Jam by Corey Yoder for Moda in Seedling Canning Day and Seedling Plus. The background fabric is Painter's Canvas by Michael Miller Fabrics.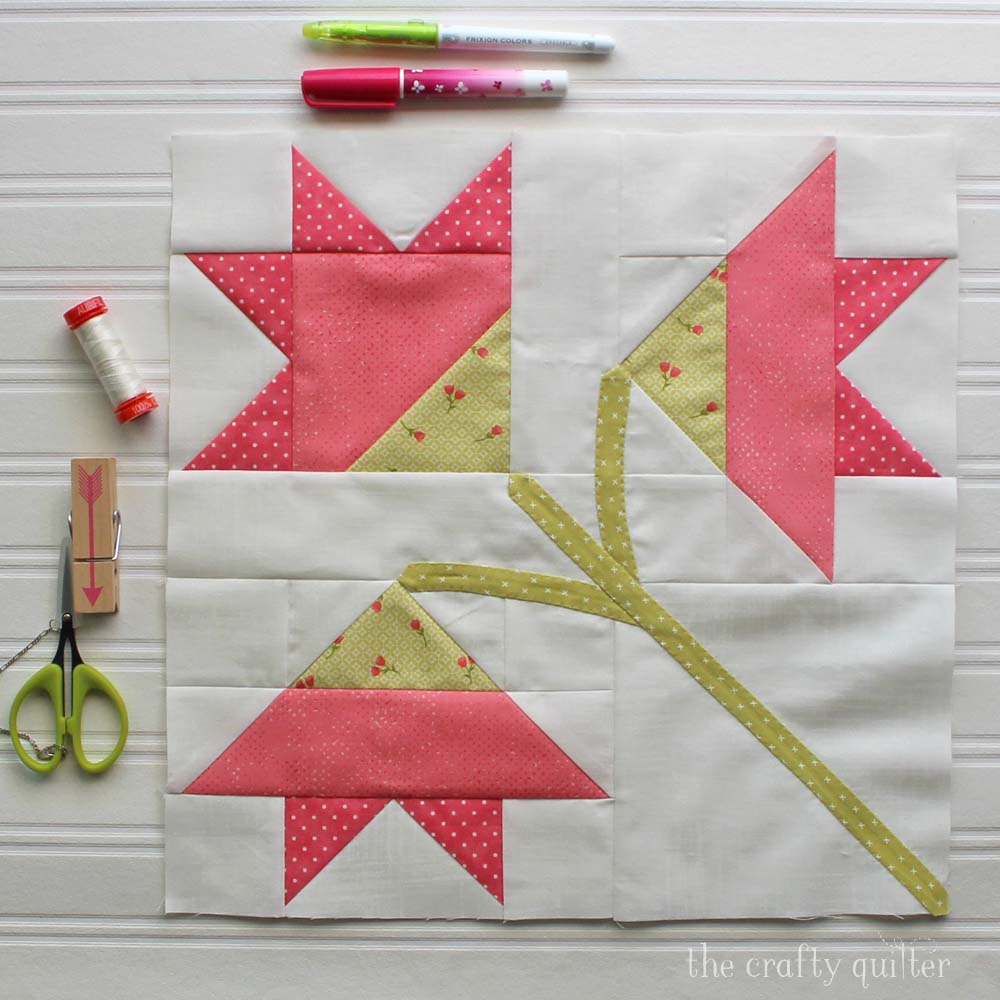 Carolina Lily block tips
As always, I like to pass along a few helpful tips that worked for me while making this block. The piecing is straight forward, but you need to pay attention when joining the diagonal seams together for the lily and stem sections. I pinned these together right where the diagonal seams cross each other at the 1/4″ seam allowance and then machine basted (stitch length 4.0) just at the intersection. Then I checked to see if it lined up. Once I was sure it was good, I stitched the complete seam at my normal stitch length of 2.0.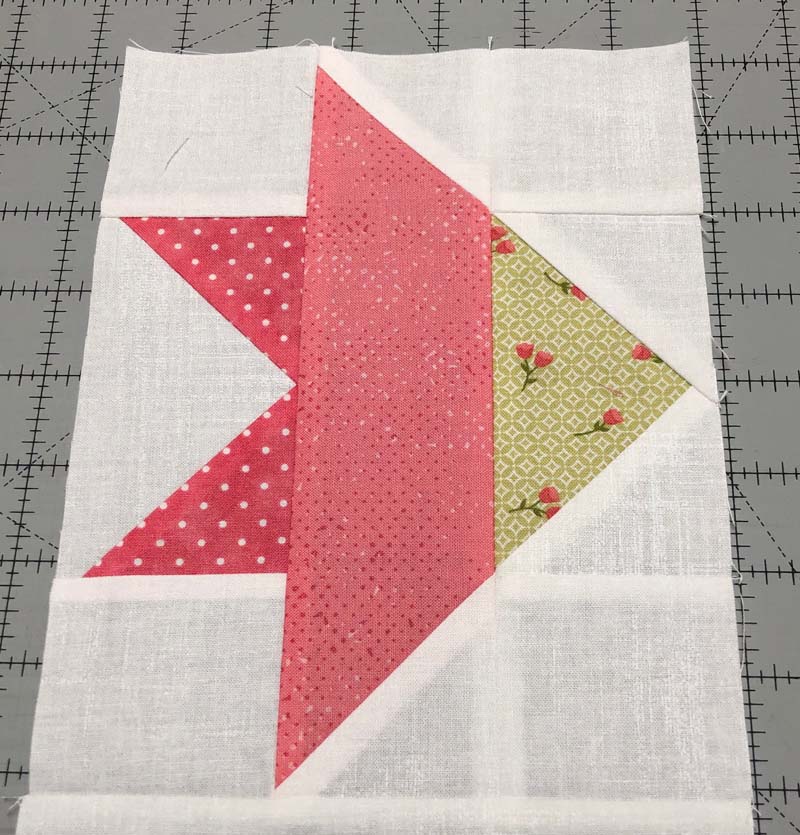 The stems for the Carolina Lily were made with a Clover 1/2″ bias tape maker (my favorite way to make bias vines and stems). This creates a stem that has both long edges folded under and on the bias so that it's easy to curve naturally.
I wanted my stems to have a folded point at the top of each one, so I folded one side and then the other over at a 45 degree angle and added a little glue to hold it in place. Then I snipped off the excess "tail".
Once my vines were made, I glued them in place with Roxanne's Glue Baste It. Then I stitched them in place, invisibly, using clear monofilament thread (Monopoly by Superior Threads) and a tiny blanket stitch. The settings on my Babylock Crescendo are 1.0 stitch width and 1.8 stitch length; I'm using a size 70/10 Microtex Sharp needle. You can see the holes left by the needle, but you can't see the thread or the stitch. Once this block is basted and quilted, the holes will become very faint and you'll think it was appliqued by hand. Objective achieved!
I love this technique and you can check out my Round Up of Turned Edge Applique Techniques to see more ways to achieve this (including one of mine).
The Carolina Lily quilt block is a classic and one that I've admired from afar. Now I have one that I can make into a pillow or add to a sampler quilt. Maybe I'll make a quilt full of them, we'll see!
Thanks for joining me for my stop on the Carolina Lily Quilt Along at Fat Quarter Shop. Make sure to visit their blog, the Jolly Jabber, and see the other versions of the Carolina Lily block. And always check out their daily Flash Sale for some great deals on fabric and notions!