Lincoln Stars quilt pattern on sale & Happy Thanksgiving!
It's always exciting when you put that last stitch in the binding of a quilt. I just completed my Lincoln Stars Quilt that I made last year (all it needed was binding) and the pattern is on sale in my Etsy Shop for $7 until December 31st, 2020!
This quilt has all of the ingredients for a good holiday throw quilt and was made with fabrics from the Merry Starts Here collection by Sweetwater for Moda Fabrics. I used black flannel for the back and the quilting was done by my SIL on her longarm machine. I love the swirled holly and berry that flows across the quilt.
The Lincoln Stars quilt measures 57″ square which is perfect to throw over the couch in the winter time. The pattern also has instructions for a 84″ square quilt if you want something larger. And, of course, you can change the look and feel with any fabric combination.
The quilt blocks are 14″ square. I made an extra one and enlarged it to a 20″ square for a pillow. I just finished that yesterday and now I'm ready for the whole Christmas decorating thing to begin!
Cooper has already claimed his spot. He's my final quality control engineer.
---
I can't remember the last time I stitched a binding on by hand, but I did for this quilt. I really enjoyed the process and the finished result is truly superior in looks compared to my all machine binding technique. But as I always say, finished is better than perfect; so we do what we must and I usually choose machine-finished binding.
Speaking of binding, I have a little tip that I've shared before but it's worth mentioning twice. To determine where to stop at each corner when stitching on the binding, fold the binding at a 45 degree angle at the corner and make a finger crease. Stop when you get to the crease – this works on any size binding and any size seam allowance!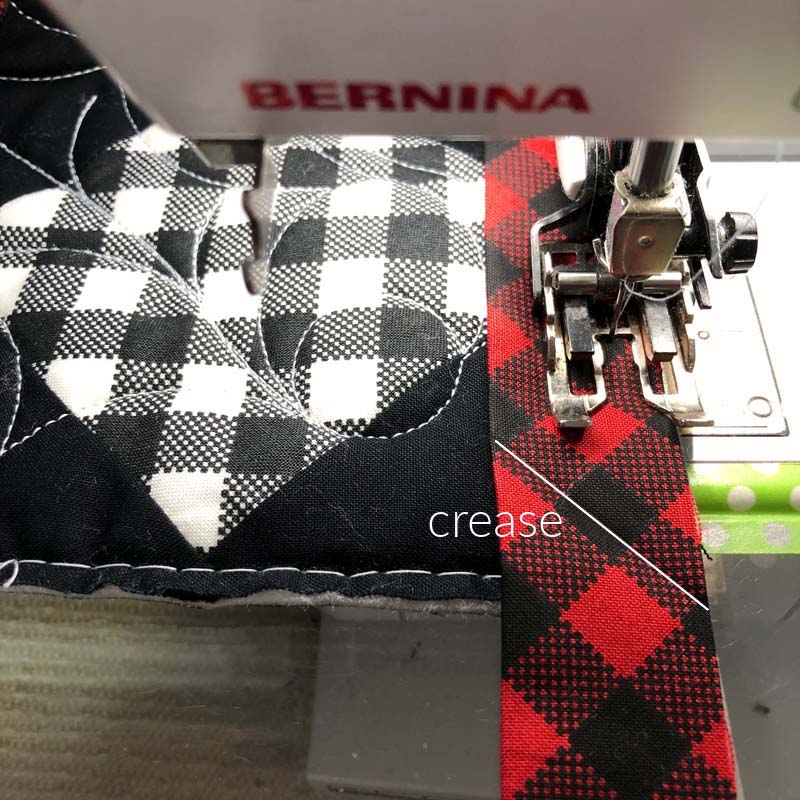 Don't forget, you can purchase the Lincoln Stars Quilt pattern (pdf) in my Etsy Shop while it's on sale through December 31, 2020.
---
I hope you have a wonderful Thanksgiving if you're in the U.S. For most of us it will be a much smaller gathering with the Covid restrictions in place. I'm finding some calm with the simpler menu and less stress of entertaining a big crowd. We will Zoom or Facetime with our family at various points throughout the day.
Thanks for taking the time to read this and for being part of my quilting family. Happy Thanksgiving!