Christmas sewing & Nordic Star correction
Does is feel like time is flying and Christmas is right around the corner? It is for me! I have been doing a little Christmas sewing in between other, larger, commitments. I'll show you my latest Christmas finish and then keep reading for information on a pattern correction for the Nordic Star Table Runner.
Christmas Sewing
I finished the All The Trimmings Mystery quilt top from Fat Quarter Shop. This was a free sew along with downloadable patterns that you can find here. I love love love how it turned out! I used fabric from the Christmas Morning collection by Lella Boutique for Moda Fabrics and the background is Linen Texture in charcoal by Andover. It's the perfect size for a wall hanging, and I have lots of fabric left over to make some coordinating pillows.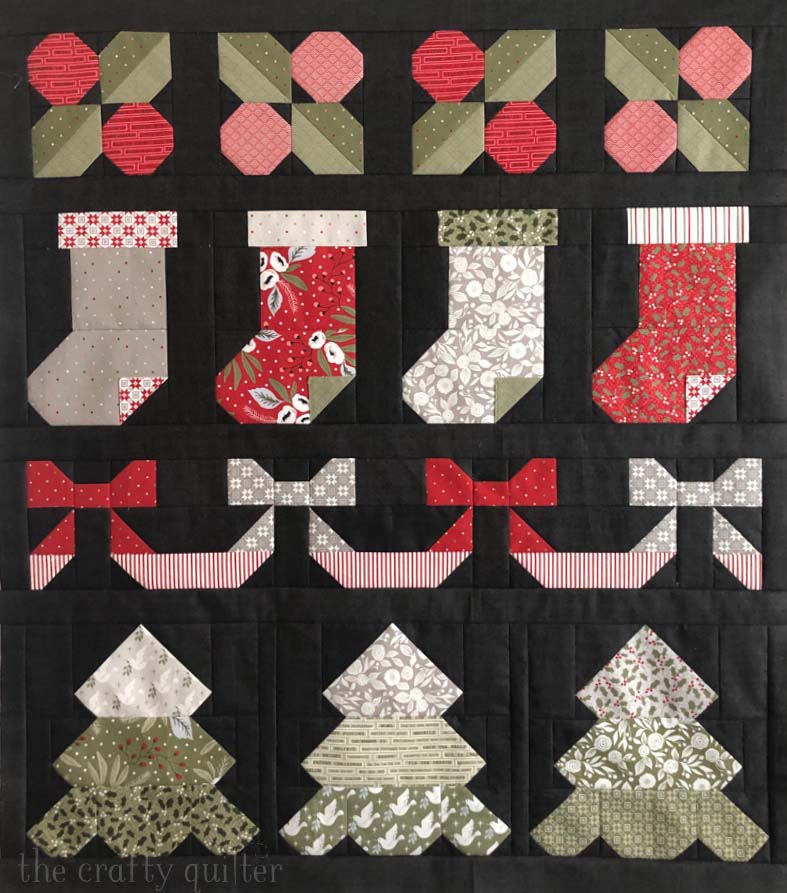 Nordic Star Table Runner Pattern Correction
I was just made aware that there was a small error in my free Nordic Star Table Runner pattern. On page 3, Step 10, I said the corner unit should measure 5 3/4″ square and it should say 6″ square. Otherwise, all of the cutting and piecing instructions are accurate; I have made the correction to the pdf and the original blog post. For your convenience, you can download the pattern below:
I had the pleasure of running into a blog follower, Donna C., at The Granary Quilt Shop where I work on Tuesdays. She had just finished making a Nordic Star Table Runner for her daughter, and she sent me a photo of it. It turned out beautifully and Donna gave me permission to share it here.
Donna was asked to make the table runner longer and 12″ wide. Donna did that easily by leaving off the border and adding extra blocks. The blue and white color palette is so pretty – perfect for a frosty look! I'm always thrilled to see my tutorials and patterns made up in "real life". It's the ultimate compliment!
Every year, I try to create a free holiday tutorial/pdf pattern to share on my blog. Last year's freebie was the Peppermint Snowball Candy Mat. This is a small project that is quick and easy to make. It's perfect for hostess gifts or perhaps to hold a plate of candy or cookies for Santa Claus!
I hope this sparks some ideas for your own Christmas sewing. It seems like all of the holidays are stacked up in the near future beginning with Halloween. Blink and it's Thanksgiving. Blink again and it's Christmas! Time to start sewing!