Free Fabric Heart Bookmark Pattern
If you're looking for a quick project to make for Valentine's Day (or any day), you're in luck! I have a free Fabric Heart Bookmark pattern to share with you! This cute fabric heart is SO fast and easy to make! It's perfect for using up small scraps and for fussy cutting a small motif for the front of the heart. It's a perfect project for making multiples of to give away to all the people you care about!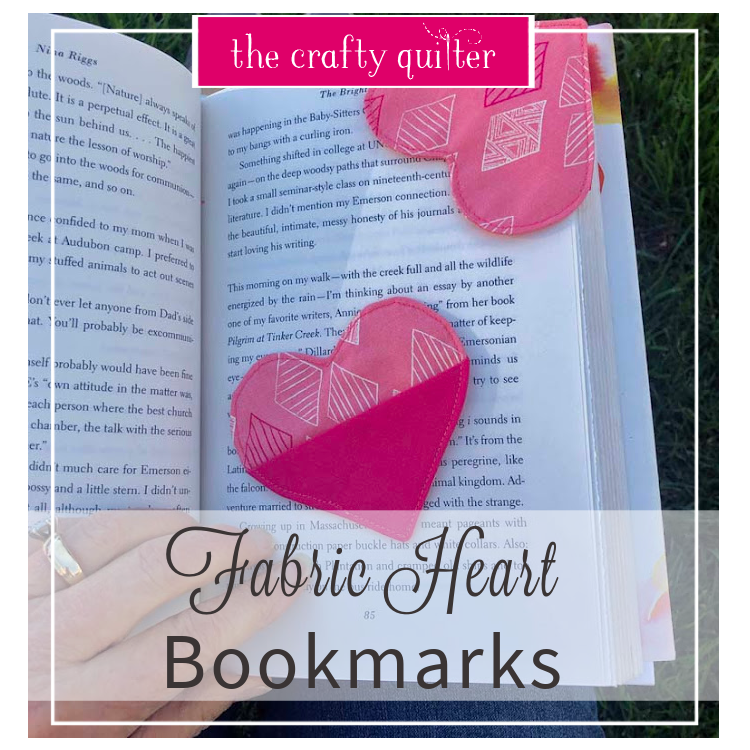 You can download the template for the heart below. It comes with basic instructions to make the Fabric Heart Bookmark.
Make sure to print it at actual size (no scaling). If you want to use your own heart shape, just beware of the bottom corner (point). A 90 degree angle turned out to be a little too narrow once it's all sewn. After several attempts, I adjusted it a bit and found the perfect angle. And the size seems just right, not too small and not too large (said Goldilocks).
Supplies and Tips
One bookmark requires (2) 4 1/2″ squares and (1) 3″ square. The 3″ square is folded in half diagonally to create a triangle for the back of the bookmark. This is the part that slides onto the corner page of your book. If you have pinking shears, they are great to use when trimming the heart shape after stitching. It reduces the bulk along the curves very evenly. If you don't have them, just trim 1/8″ away from the stitching and try snipping some notches along the curve.
I found it helpful to draw the stitching line first rather than stitch 1/4″ from the raw edge using my foot as a guide. The curves made that a difficult task without a marked guideline. Make sure to reduce your stitch length to 1.5 so that the curves are smooth. And take your time going around the curves. Any quick adjustment will cause a point to form in the curve. And that happens sometimes no matter how careful you are! Watch the video below for a good visual of the process.
Fabric Heart Bookmark Video
I made a video while making one of these bookmarks which has been time-lapsed for speed. It's just over a minute long! You'll see that these fabric heart bookmarks are really easy to make and don't require any special materials. With that said, I did use pinking shears to trim them which are super helpful to reduce the bulk along the curves, but not necessary. I also used an applique stiletto while I stitched the heart shape. This makes it easy to guide the heart shape under my presser foot (again not a necessary tool). A seam ripper or pin would do the trick as well. The fabric shown for the main heart in the video is Match Made by Pat Bravo for Art Gallery Fabrics.
---
One thing the video does not show is the top stitching around the edge. This is an optional step after the hearts are made. I think it finishes it off nicely and it adds some stability to the edges. Make sure to use a coordinating thread color in the top and bobbin!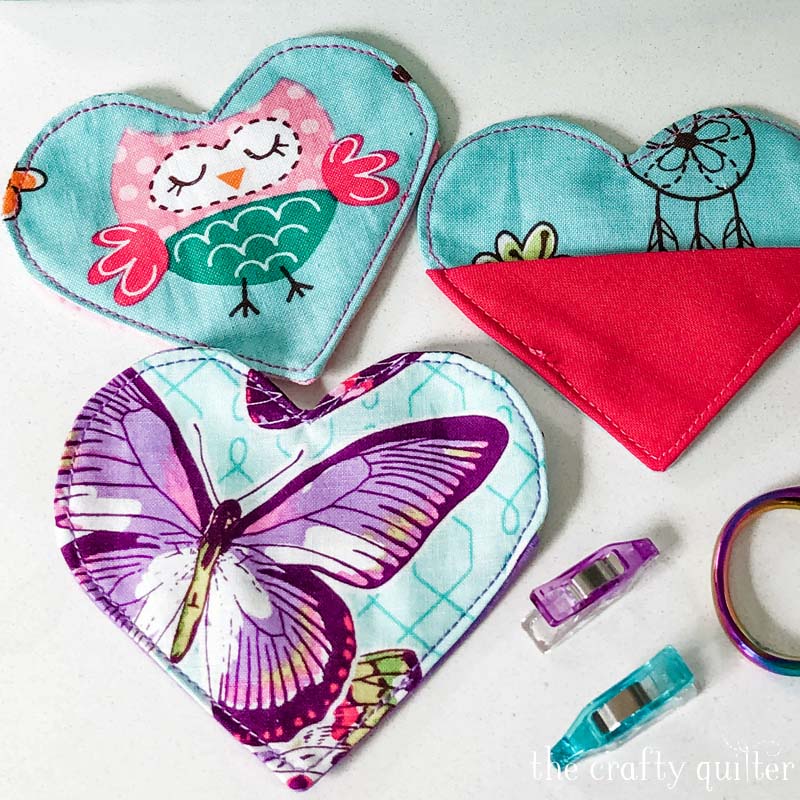 These can be very addictive; I've made 12 of them so far. I purchased a Valentine fabric panel, From The Heart by Anita Jeram for Clothworks along with some coordinating prints from my local quilt shop, The Granary. The panel squares are just the right size for these bookmarks.
I also made some bookmarks for the grandkids using up scraps from one of my novelty bins. These are just so cute!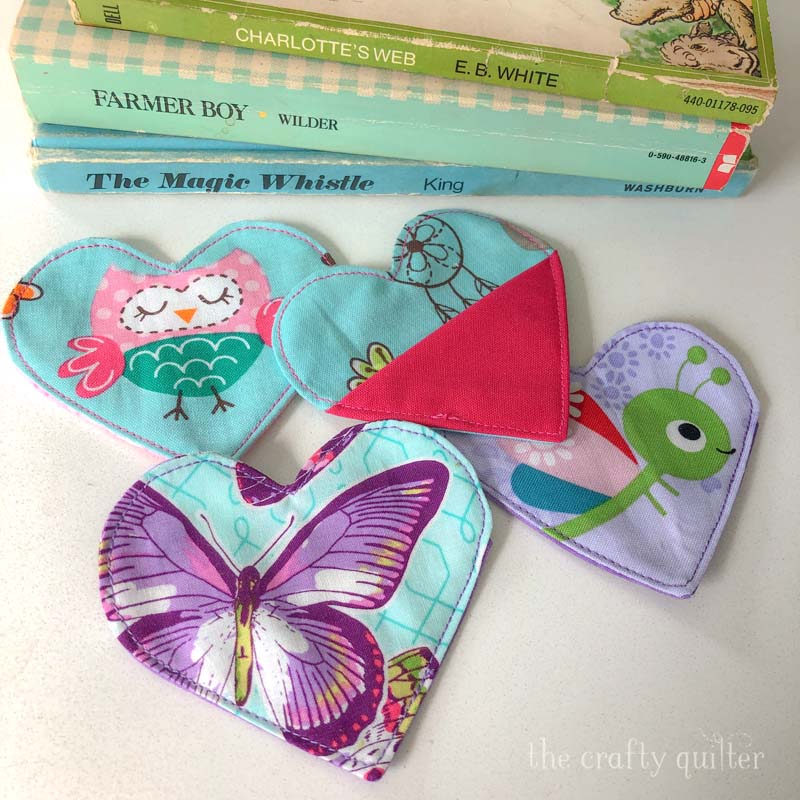 I hope you're able to stitch up something sweet this weekend! Maybe a Fabric Heart Bookmark? Add a little chocolate and a favorite book for the perfect Valentine gift!
Happy hearts my friends!