Hexagon Advent Calendar pattern available and on sale
Just in time for the holidays, my Hexagon Advent Calendar (and pillow) pattern is available and on sale!  (Update:  this pattern is no longer on sale). Right now you can purchase the PDF pattern with full instructions and templates at my Etsy Shop.
You can fill each hexagon with small treats, toys or notes filled with activities to celebrate the holidays.  There are 28 activity ideas included in the pattern.
Here's what you'll get with the pattern:
Full instructions to make the advent calendar
Instructions for creating a 18″ square pillow top along with quilting suggestions (pillow assembly instructions are not included)
Hexagon template
Advent numbers (printed in reverse for fusible applique)
Advent calendar activity ideas
The 18″ square pillow top uses 16 of the same size hexagons (1 1/2″), arranged into a tree shape.  I used charm squares from the Pondicherry Collection by French General for Moda Fabrics.  The quilting on this pillow is what really makes it stand out.  Full instructions for the quilting are also included.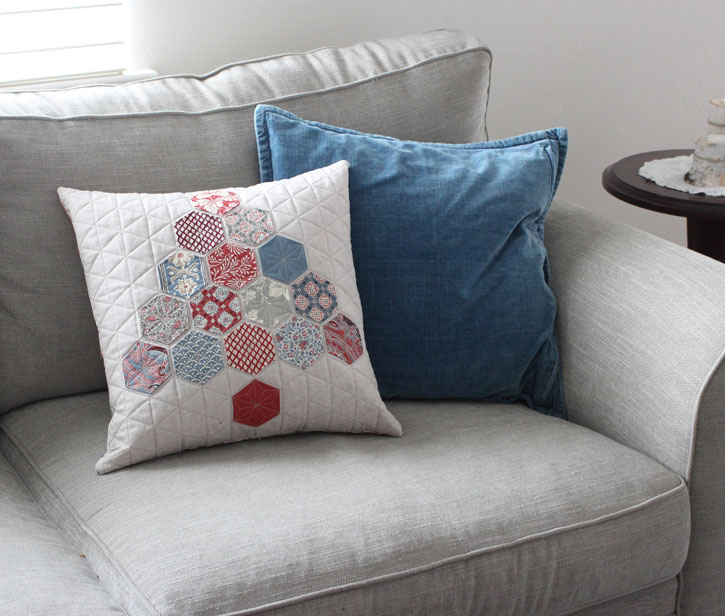 The advent calendar is an easy project to make, and there is no piecing involved!  You'll love my technique for making the hexagons because there is no hand stitching and no papers to remove.  All you need is a water soluble glue stick and a fiber-based stabilizer that stays in the project.  What is a fiber-based, leave-in stabilizer, you ask?  Great question and the secret to this easy technique.
Fiber-based stabilizers are often used in machine embroidery to give support and structure to the fabric.  They can also be used for foundation piecing, turned-edge applique or machine applique.  They are super versatile!  The great thing about this type of stabilizer is that it can remain in the project.  It softens to a sheer layer that adds a slight dimension to the shape.
Some products are fusible on one side such as Quilter's Select Print & Piece Fuse Lite and Wash-Away Applique Sheets by C&T Publishing
.  This makes it easy to position the stabilizer and it keeps it from shifting.  Another product that is available (but it's not fusible) is Ricky Tims' Stable Stuff Poly.  I use this for all of my machine applique.
All of these products come in 8 1/2″ x 11″ sheets which makes it really easy to work with and you can run it through an inkjet printer.  I've used them all successfully, so they are tried and true.
Both the pillow and the advent calendar are fast and fun to make.  To see more details and/or to purchase the pattern, please visit my Etsy Shop.
I'll be back soon with a free tutorial, but I wanted to sneak this pattern in because we'll be counting down to Christmas soon!