Are you ready for a virtual trunk show of quilts?  This brilliant idea comes from Soma at Whims and Fancies.  She's hosting a Virtual Trunk Full of Quilts and I thought I would jump on board.  There is no judging at this show, just appreciate of quilts past and present.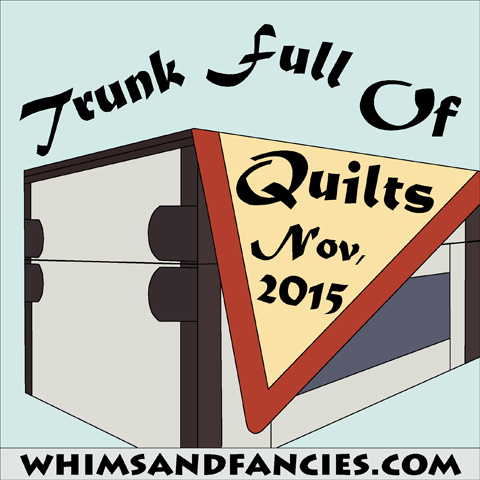 I've picked seven of my favorite quilts to show you.  They range in size from mini to full.  If you've been following me for a while, you'll recognize most of them.
I made this rainbow mini quilt for an Instagram swap earlier this year.  It's my own design, and it's one of my favorites.
This is my Classic Meets Modern BOM that I finished last year.  Actually, I still need to stitch the binding down!
This next one, Watch Out For Those Geese, was designed for the Jaftex 85th Anniversary blog hop.  (The picture below shows the quilt top only, but it's completely finished.  I just don't have any good pictures of the finished quilt.) I'm obviously going through a rainbow phase!  You can find the mini version, along with the tutorial here.
I finished this red, white & blue quilt, Oh My Many Stars, back in 2013 and it's a classic that I will never get tired of.
I'll be bringing out my Quilty Christmas quilt soon to decorate for the holidays.  This was an Instagram sew along last year from Lori Holt at Bee in My Bonnet.
Another holiday favorite from last year is my little Nordic Mini Quilt.  The tutorial is still available if you want to make your own!
Another mini quilt that I made earlier this year is still hanging on my sewing room wall.  If you want more details, you can read about it here.
Make sure to check out the other participants in the Whims And Fancies Trunk Full Of Quilts 2015 .  It's full of quilty inspiration!