Sew Thankful Sunday, June 2015
{I love the idea of "paying it forward".  I think the world would be a better place if we could spread some joy and acknowledgement of good deeds done by others.  I try to do that once a month for my Sew Thankful Sunday posts.  I highlight some great content that I've found on other people's blogs that I hope will inspire you and reward the originator by bringing traffic to their site.  If your blog has been mentioned without your consent, please let me know and I will take you off the current list of featured bloggers.}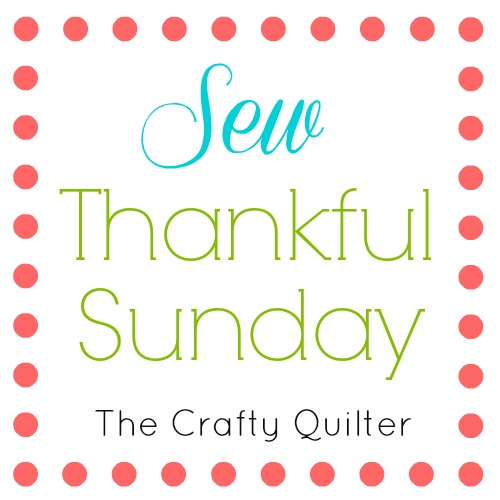 How can it be June already?  Summer is here for many of you, and it's a great time to start a new quilting project or finish up an old one.  Here are a few ideas to get you started.
(Remember, you can click on any of the images in this post and it will open up a new tab to the associated link).
1.  My friend, Cheryl, at Meadow Mist Designs has just begun a Midnight Mystery Quilt which will run from June 2015 through March 2016.  Make sure to get on her email list so she can send you a set of directions on the first Thursday of each month.  I'm in!
2.  This Hexagon Fabric Tray from the girls at A Spoonful of Sugar is a nice little twist on the square fabric trays I've seen.  This would make a quick gift or a great addition to your own sewing room.
3.  If you enjoy foundation paper piecing, then you'll love this Triangle Wheel Block from Alyssa at Pile O' Fabric.  Alyssa provides a video tutorial, picture tutorial, block pattern and quilt pattern all for free on her blog!
4.  I appreciate new ideas for free motion quilting, and Christina at A Few Scraps has a great Bear Claws FMQ tutorial that fits the bill nicely.  I love this design and how easy Christina makes it look!
5.  Are you afraid to quilt that queen-size quilt on your home sewing machine?  Check out these Top 10 Tips for Quilting Large Quilts on Your Sewing Machine from Jessica at Quilty Habit.  You can do it!
6.  I love cuteness in the kitchen and you'll be able to make these cute apple and pear potholders using a free foundation pieced pattern from Charise at Charise Creates.  She also gives you links to tutorials for making round pot holders and creating your own bias tape.
7.  If you have bright scraps lying around, you can put them to good use with this Bursting Buds Table Runner from Anorina at Samelia's Mum.  How pretty would this be on your table?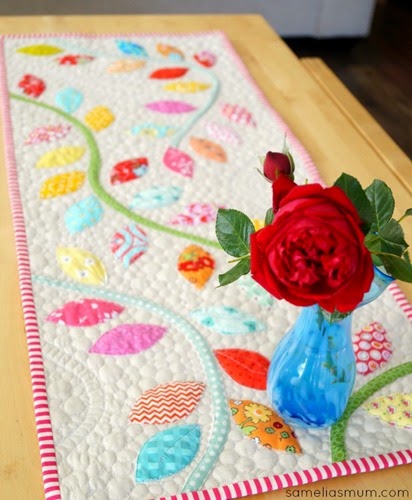 8.  If you're like me, you appreciate the lessons learned in a sampler quilt.  Peta at She Quilts Alot has a Free Sampler Project Sheet that she's sharing with you on her blog.  This would be a great way to perfect your piecing skills.
9.  Sometimes I'm a little late to the party, but nonetheless I had to share this Spangled Star Quilt Along with you from Susan at Quilt Fabrications.  It will be ending at the end of June, but it's not too late to get started on your own patriotic quilt or wall hanging using Susan's tutorials and free pattern (available in different sizes).
10.  If you've never tried making an Irish chain quilt, you may want to hop over to Happy Quilting where Melissa is sharing a tutorial to make a Super Scrappy Single Irish Chain Quilt.  This would be a great way to use up those scraps and it's beginner-friendly!
I don't know about you, but I'm excited for this summer.  There are so many projects calling my name!  Some of them are included in this list of amazing projects.  Thanks to everyone who was featured today!