I love making mug rugs and I think they make a great "thank you" gift.  Enter my latest finish, the Orange Peel Mug Rug.  This is a special thank you to a very kind and hardworking realtor who did a fantastic job for us recently.
This mug rug was easy"ish" if you don't mind a little hand stitching and machine applique.  I absolutely love orange peel designs and it's nice when I can incorporate them into my projects.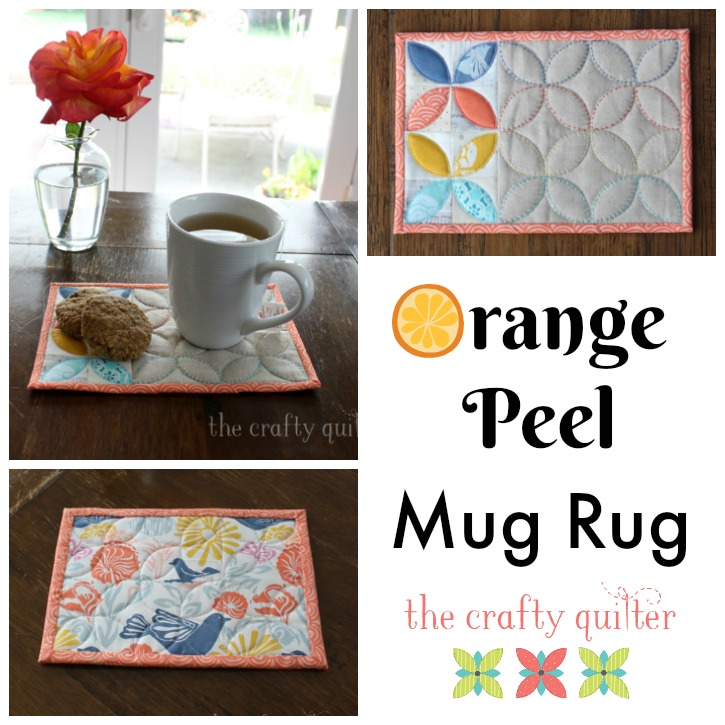 I took photos of the process, so you can make one, too, if you'd like.  There is a template for the orange peels that you can print out here:  Orange Peel Template
Orange Peel Mug Rug
The groundwork for this mug rug is simple.  Eight squares (1 7/8″ unfinished) are sewn together to make a 3 1/4″ x 6″ rectangle, which is then sewn to a 6″ square of linen/cotton fabric.  Then you applique the orange peels onto the small squares and stitch/embroider the orange peel design onto the big square.
I used fusible machine applique for the fabric orange peels (on the left side.)  You can see my tutorial for that technique here.
I made the decision to do the hand stitching in a sashiko style before basting rather than hand quilting with a big stitch after it was basted.  This was a little easier for me and I like the way it turned out.  I used 3 strands of Aurifil floss for the stitching.
I marked 1/4″ seam allowance with a Frixion pen as well as a grid that is 1 3/8″ apart (the same size as the finished applique squares.)  I used an acrylic template to draw in the orange peels.  I've included a template that you can print out:  Orange Peel Template. Trace onto freezer paper or template plastic to make your own template.  The same template is used for the orange peel fusible applique.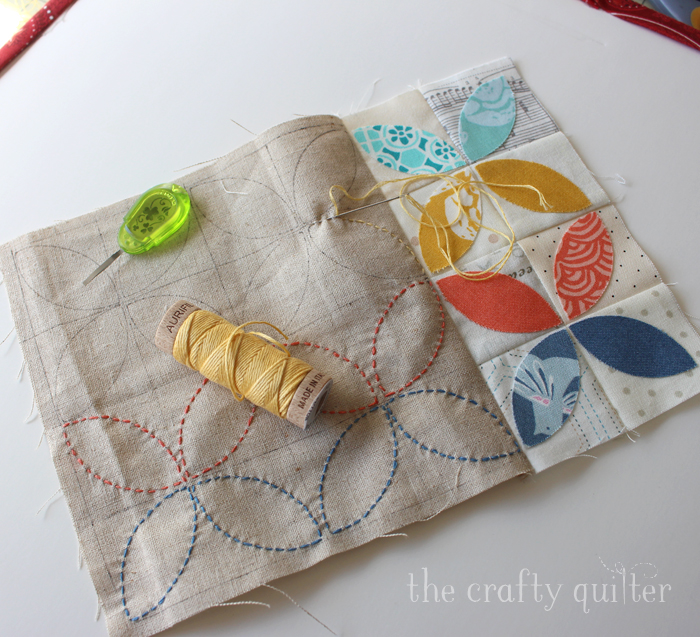 The Frixion Pen markings disappear with an iron after all of the stitching is done.
I used a small zig zag stitch to applique the orange peels after everything was basted.  This way I was quilting and appliqueing at the same time.  I added free motion quilting to the hand stitched portion by echoing the design with a matching thread.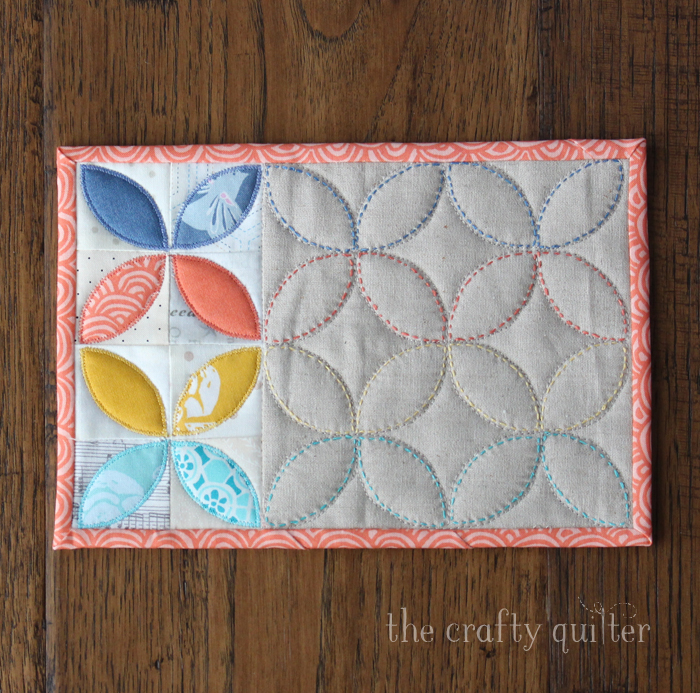 I wish I had taken a picture of the entire gift package that I sent out.  Mug rugs make the perfect platform for all kinds of goodies to add in.  I included a Starbucks gift card, a box of my favorite tea, some chocolate and a cute mug.  I also added this mug rug tag from Hilltop Custom Designs.  It helps to include an explanation of what a mug rug is to those who don't know.
If you're making a mug rug as a Christmas gift, I have a mug rug poem that is perfect for that.  I shared this a few years ago to go with my Christmas Pocket Mug Rug (which you can purchase here.)
I have some tips on binding a mug rug that I'll share with you next week.  For now, I hope you have a wonderful weekend and a Happy Mother's Day!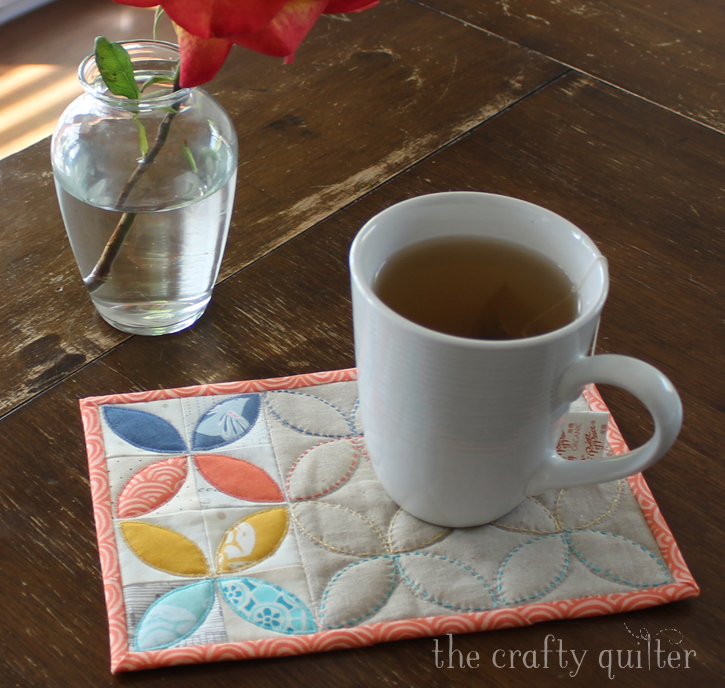 Save
Save
Save
Save
Save
Save