I Love Home BOM Block 4 plus tips for finishing a quilt fast
It's time for Jacquelynne Steves' I Love Home BOM block 4, and I get to show you my version today.  Keep reading because there's a great giveaway at the end of this post!
If you've been following me, you know that I've made each block from this BOM a mini quilt based on the four seasons.  This month I've made my Summer version which includes a few tall sunflowers for the garden.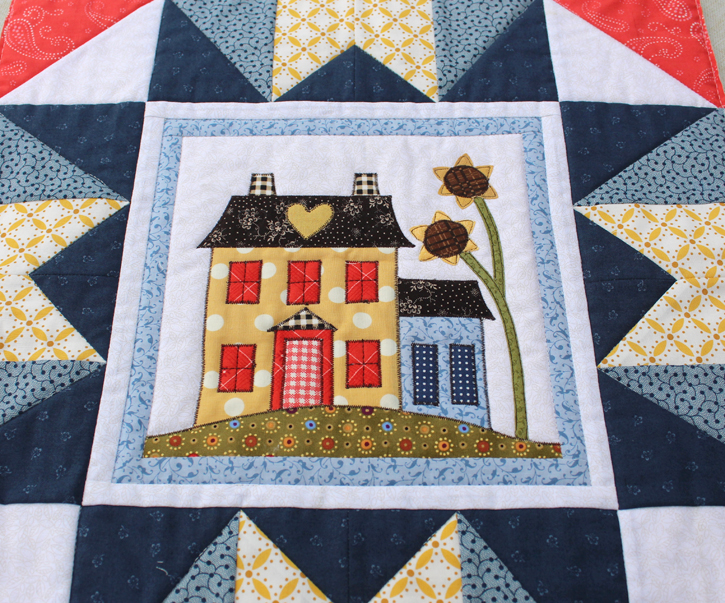 Choosing colors for this block was the hardest part for me.  I think  there were too many choices and I didn't know which direction to go in.  I finally decided on a red and blue color scheme with some yellow thrown in.  If I could (would) make it over again, I'd choose a brighter color palette with a little purple and orange in the mix.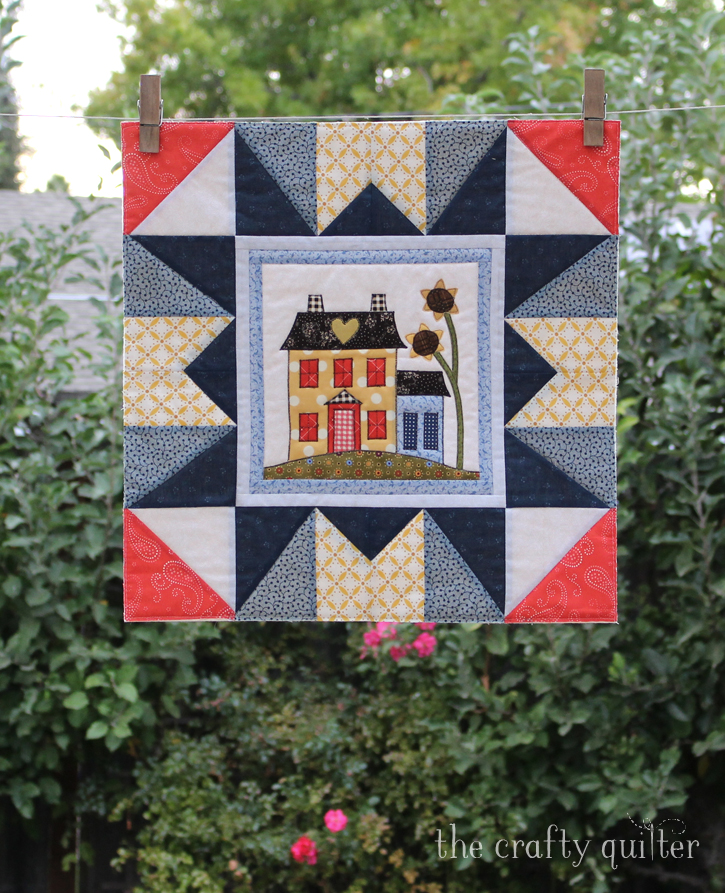 The piecing for this block has the same half square rectangle as last month, but in a smaller size.  Thankfully I kept my trimming templates from last time and cut them down to the correct size.  It went together really easy this time.
October was a busy month for me, so I needed to get this month's block finished in a hurry.  I don't like to rush projects, but sometimes it's necessary and finished is better than perfect.  I have some ideas to share with you for getting a quilt with applique done in a hurry.
Tips for finishing an applique quilt fast (and lessons learned)
First, we'll assume that you're using machine applique rather than hand applique.  Already, you've saved time!
Machine stitch the applique at the same time as you quilt it.  I basted the quilt sandwich and then stitched around all of the applique shapes.  This accomplishes two things at once – quilting and applique!
Use the same color thread for all applique.  This avoids having to change thread colors often; however, choose wisely.  The black thread I used shows every stitch on the shapes with contrasting color.  You can see where I stopped and started on the windows.  It's a little strong for my taste.  I chose straight lines for the sunflowers.  I like the whimsical look and the whole project could have been stitched that way.
Jump from one applique object to another without breaking your thread.  This way you don't have to pull up the bobbin thread each time you start a new shape.  Clip the threads later. 
Leave out unnecessary applique objects if you can.  I learned this lesson a little late, but I found that the three hearts on the house weren't necessary and the two small hearts looked awful with the black thread.  I'm still not sure about the stitching on the yellow heart.  I also left off the leaves of the sunflower, but I think I'll add those in later. 
Stitch in the ditch.  It's quick and there's no thinking or planning necessary.  You can always add more quilting later if you want.  This isn't how I would normally approach quilting, but it can be done in a pinch.
Binding all by machine.  Start by stitching the binding to the back of the quilt and then wrap it around to the front.  Machine stitch close to the folded edge on the front with matching thread.  (You'll notice that I still have to add the binding to my mini quilt).
Giveaway
Now it's time for this month's giveaway which is being sponsored by Olfa and includes a folding cutting mat, rotary cutter and a package of Endurance rotary blades.  I have always used Olfa rotary cutters and mats and I love the convenience of this folding mat.
To enter the giveaway, just leave a comment by November 12 telling me if you prefer video tutorials or photo tutorials.  Personally, I prefer photo tutorials because I'm often in a public place or in bed when I'm perusing tutorials and I can't have the audio on.  Plus some videos are too long (mine included) and I want to jump right to the good stuff!
Here are the giveaway rules:
To enter, leave a comment telling me whether you prefer photo tutorials or video tutorials.
You must comment by 11:59 pm PST on November 12, 2017.

Your email MUST be included in your profile information or in your comment. If I choose your name and I cannot contact you, I will choose another name.
Giveaway is open to US entries only, due to shipping costs.
Winner will be chosen at random.
Make sure to be inspired by visiting all of the other featured bloggers and enter their giveaways too.
Make sure to use the hashtag #ILoveHomeQuilt on social media.  Also, check out Jacquelynne's Facebook group page to see the blocks that everyone else is making.
Thanks for stopping by!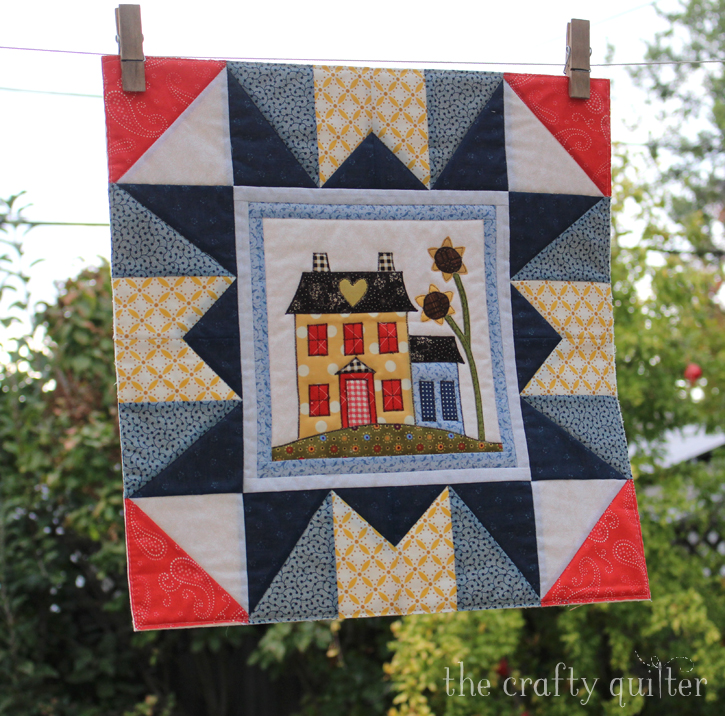 Save
Save