My latest BOM progress and some cute little girls
I'm back home, and busy, busy!  I  have some BOM progress to share, but first some cute little girls.  We had a great time with our granddaughters in Austin, Texas.  We babysat for 48 hours and the girls were as good as could be.  Clara is just about ready to crawl at 6 months old, and she smiles whenever she sees a new face.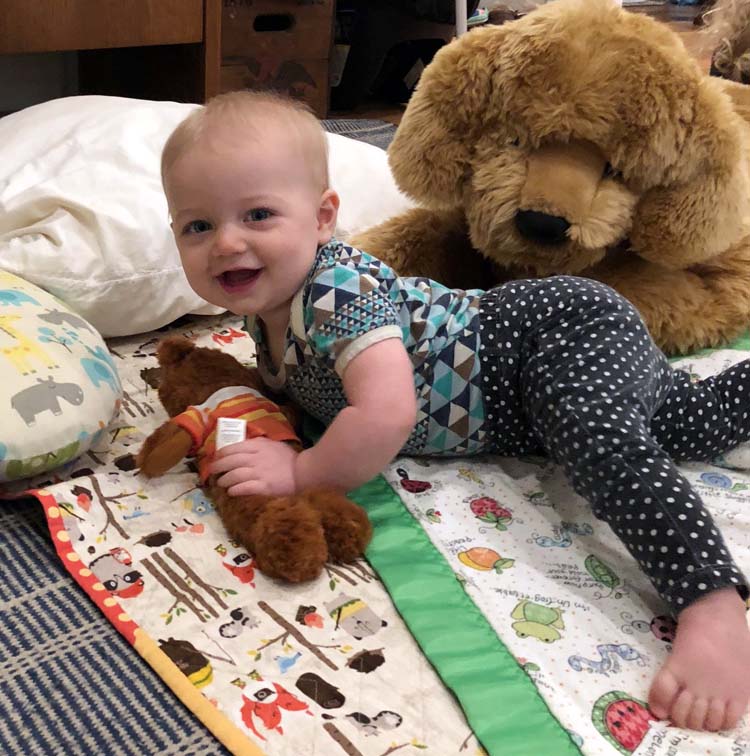 Amelia is three and she loves to play with Grandpa, rain or shine.  Mr. Crafty Quilter had his work cut out for him, but he wouldn't have it any other way.
I have to catch up with all my BOM projects, starting with the Vintage Sampler blocks for the block of the month I'm co-teaching with Dianne Sheppard.  I've completed another section which will be quilted in a quilt-as-you-go method and then joined with the other sections.
I love all of the blocks in this section, especially the applique and the stars.
I need to work on my Quilter's Planner Sampler block for October, but let me show you my block from last month.  I'm resizing them to 6″ and 3″ finished blocks.  They are always so cute when they're this small!
Every time I put the blocks together, I get a happy rainbow feeling!  But, that orange block on the top center may have to be redone.  I don't like that soft orange in there.  We'll see – the "finished is better than perfect" rule may prevail!
Last month's block for the Heartland Heritage BOM is a beautiful willow tree block.  I really like the way this turned out and it was really easy.  Now I need to get started on the October block.
That's all I have to show you right now.  I should have my latest pattern (Patchwork Pumpkins) available  this weekend.  My pattern testers have been super quick and helpful which makes it so nice for me.  Big hugs and thanks to them!
Have a great day!