Happy Little Things giveaway winner & thoughts on mini quilts
Giveaway winner
Happy Wednesday! We have a giveaway winner for the Happy Little Things BOM sponsored by Olfa and hosted by Jacquelynne Steves. To enter the giveaway, you had to leave a comment telling me whether you like to make mini quilts or not. Out of 626 comments, #405 was randomly chosen. That belongs to Catherine C. who said "I have collected miniatures ever since I can remember ( I am 65). So, when I began to craft and quilt, I was drawn to miniatures. Now I almost exclusively make quilts that are no bigger than 36″ x 36".

Congratulations to Catherine! Based on the number of comments, I think everyone was hoping for a chance to win such a generous prize package. Plus, we have a lot of Olfa fans in the quilting community! Thank you all for participating.
Happy Little Things BOM
In case you missed it, I am a participating blogger for Jacquelynne Steves' Happy Little Things Block of the Month. It runs from August to December 2019. You can still sign up for this free BOM, here. This is my fifth year as a participating blogger and it is always so much fun to see the different interpretations of the blocks. I'm making my blocks mini – half the size of the original. So, mine will finish at 6″ square, plus I've added a little applique to my winter-themed quilt. My final quilt will measure 23″ x 31″.
Thoughts on mini quilts
It's always a pleasure to read your comments, and very enlightening – especially when asking a specific question. This time I wanted to know if you liked making mini quilts, and there's no right or wrong answer. I'd say the feedback was fairly divided, and I gained some good insight on both sides.
Here are some positive thoughts about making mini quilts that were shared in the comments:
I love making mini quilts for the simple fact it's a great way to try out a new technique without committing to a larger project.
Instant gratification!
They are quicker to complete and are great for when I want to make a whole quilt with limited time.
Love mini quilts…you can use scraps and incorporate so many fun little things that would get lost in a big quilt.
I like making minis and large quilts. The minis are fun to make to fill in the gaps of time and I can try a pattern much more quickly with small ones. The large ones are fun to cuddle with my grandchildren.
I enjoy making mini quilts. I like to make them for the different seasons so I can change them out regularly.
A mini quilt allows me not to get too bored too quickly and I can always finish one quickly to give as a gift.
I love mini quilts. I live in a small space, so they are practical too!
I like making tiny quilts. I think it allows me to practice quilting skills on a smaller scale so that larger quilts turn out better.
I like all sizes of quilts, but a mini quilt is more likely to get finished.
Working with small projects is not everyone's cup of tea. Here are a few thoughts on that:
I like to make big enough quilts to snuggle under.
I don't have the ability or patience to make a mini quilt.
I like to make quilts that will get used and I don't like clutter.
It's easier to work with nice big squares.
I prefer making larger quilt blocks simply because I am not always precise in either my cutting or sewing. Gives me some fudge room.
I have so much fabric that I need to make big quilts to use it all up!
Most of you enjoy making anything, big or small. Even if you don't like making mini quilts, you enjoy looking at them. Quilting for the sake of creating is something we all have in common.
Mini quilt ideas
Personally, I love making mini quilts. I enjoy the challenge of working with smaller pieces and I can usually use my scraps and some stash to finish a project. Mini quilts are quick to finish and easy to quilt on my home sewing machine. An example of this would be my Nordic Mini Quilt Tutorial from 2014. This wall hanging measures 14 1/2″ square!
I also like the challenge of reworking the math of a pattern to make it mini-sized. I did this last year for the Quilter's Planner Sew Along. These blocks finish at 3″ square, so they are really tiny. I turned my blocks into a wall hanging for my sewing room. The finished Sew Happy Mini Quilt measures 18 1/2″ x 17″, and you can find my free tutorial here.
The ultimate mini quilt (for me) is a mug rug. I love making them; I love using them; I love giving them as gifts. Mug rugs are cute, practical, and quick. I've made so many that I've lost count, and I have several free tutorials of my own: Holiday Mug Rug, Happy House Mug Rug, Snow Birds Mug Rug, Glass Half Full Mug Rug, and Orange Peel Mug Rug.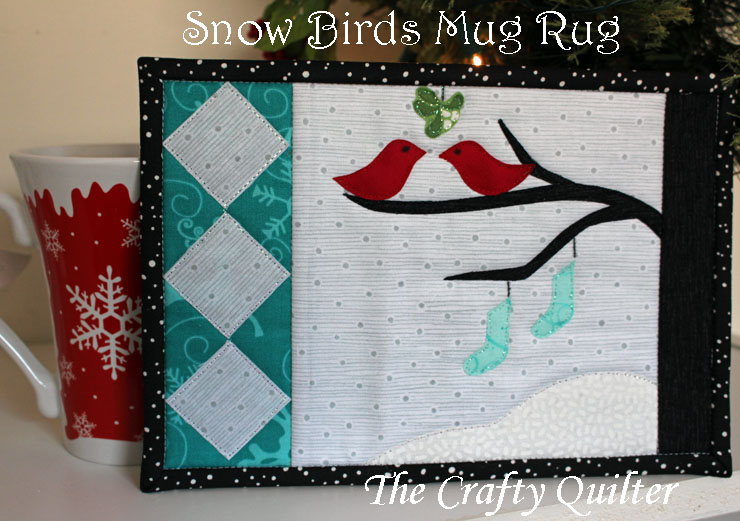 There are so many other ways that mini quilts can be used: doll quilts, pot holders, placemats, ornaments, table runners, candle mats, bags and pillows. If you haven't made a mini quilt project yet, I hope you'll give it a try!