Works in process – February
I don't often show you my works in process (WIP's) and I have so many. I won't even mention my UFO list; although it might make you feel better to know someone has more UFO's than you do!
Works in process for February
My big project is quilting my Arrow Stone quilt from last year. I made this during the quilt along I hosted last February/March and its been sitting around waiting to be finished since then. I'm just quilting straight lines from top to bottom. I have my sewing cabinet fully extended in the back and to the left of my machine. It's nice to be able to support the weight of the quilt as I sew.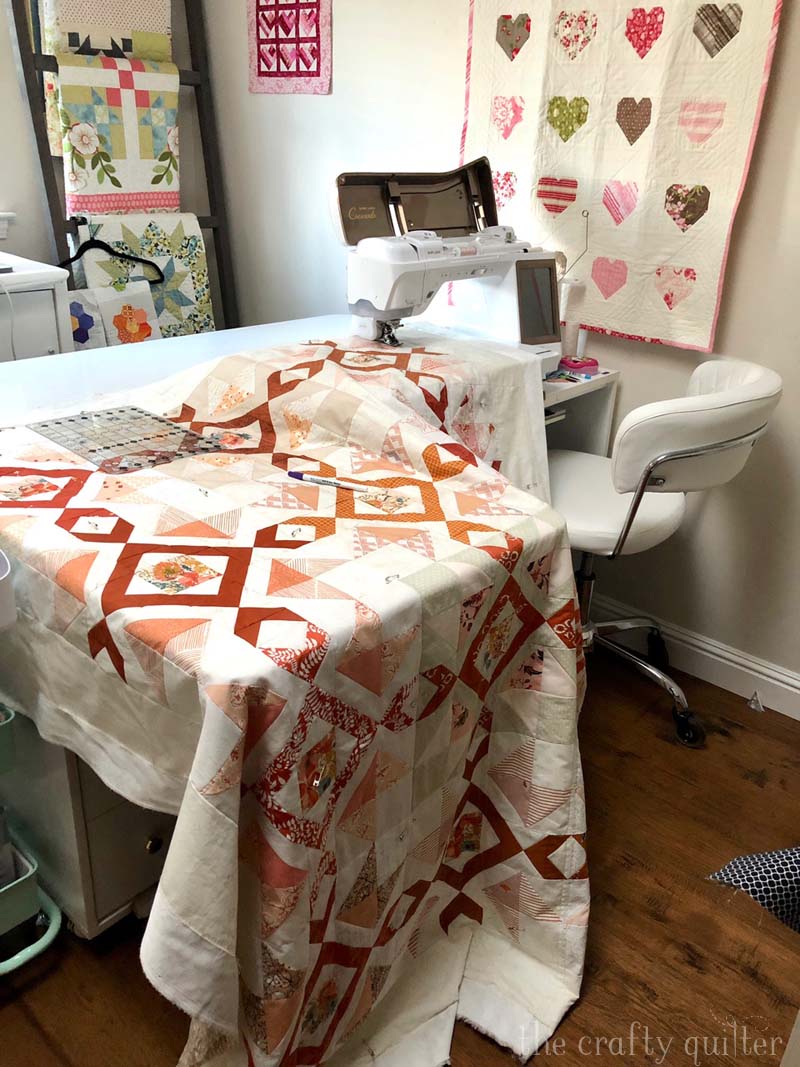 I'm trying to keep up with the Tula Pink Butterfly Quilt Along that Pat Sloan is hosting. This is a big quilt that I'm making for my oldest granddaughter. I love everything about it. All of that piecing and the colorful Tula fabric makes me happy.
As I work on piecing various projects, I'm using leaders and enders that will become a scrap quilt (using the free pattern, Traffic Jam, by Pat Sloan.) My black and white scrap bins have been overflowing, so I'm using them to make this. Below you can see how the blocks are looking. I have 20 blocks, and now I'm sewing them together with sashing and cornerstones. It's a sneaky way of making a scrap quilt while you're making other quilts!
These don't really count as WIP's, but I have two blog posts in the works. One post has tips for pressing bulky seams and the other is a product review of Scanfil Organic thread. I should have one of them ready to publish by this Sunday.
Last week, I had to go to a neighboring town to pick up some prescriptive glasses and I happened to park in front of a yarn shop. Well, you know what happened next. I went inside and decided it was time to start a crochet project. I learned to crochet when I was about 10 years old and I was pretty good at it. I was making afghans and sweaters by the time I was in high school. Eventually, I started sewing and quilting which took over all my creative endeavors. Since high school was a long time ago, I'm starting my re-entry into crochet with a simple scarf. I have also rediscovered Ravelry which is another word for "rabbit hole".
It's nice to have a project that I can work on in the evenings while we watch TV. I've started to teach more in person classes at our local quilt shop, so my schedule is full of activity. We're expecting some cold and wet weather in the days ahead, so I look forward to staying warm inside and working on my WIP's. I hope you're able to do the same!