My experience with Crayola Ultra-Clean Washable markers on fabric
Hi friends! I have an important experience to tell you about. This past weekend, I used Crayola Ultra-Clean Washable Markers to mark the quilting lines for an upcoming Fat Quarter Shop project that I'm participating in. I had heard some good reviews about using these markers on quilts while I was researching for my blog post about using Frixion Pens and quilting. First of all, never mark fabric without testing the marking tool first – my first mistake.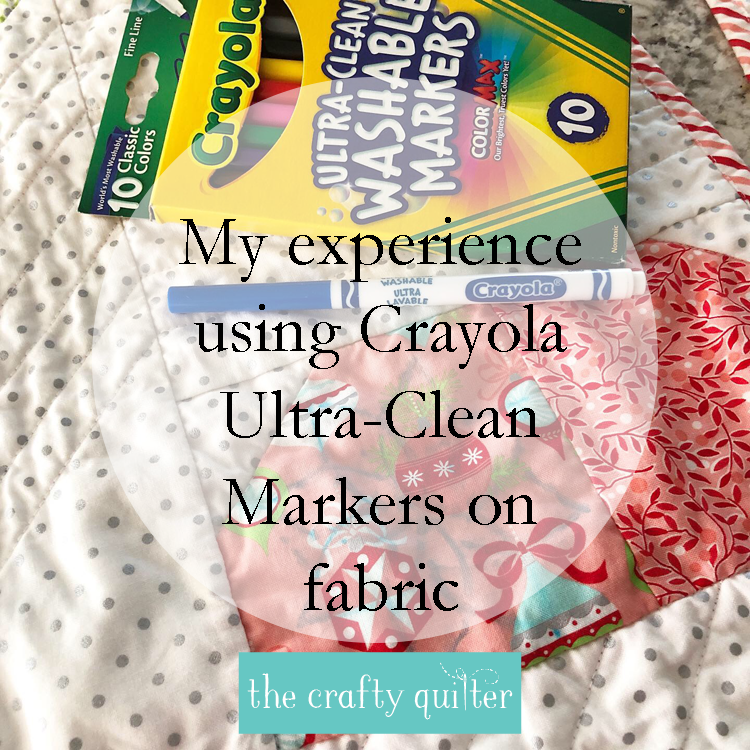 I began by using the blue Crayola Ultra-Clean Washable Marker and a stencil to mark some quilt blocks. After I had marked four of them, I realized that I didn't have time to quilt all 16 quilt blocks with this motif. I then started marking all of my straight lines with the pink Crayola Ultra-Clean Washable Marker.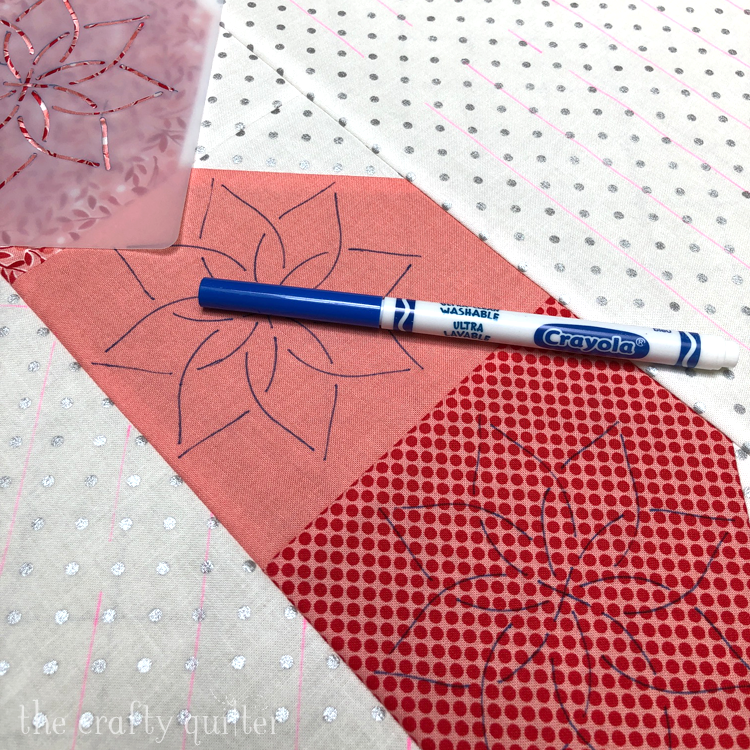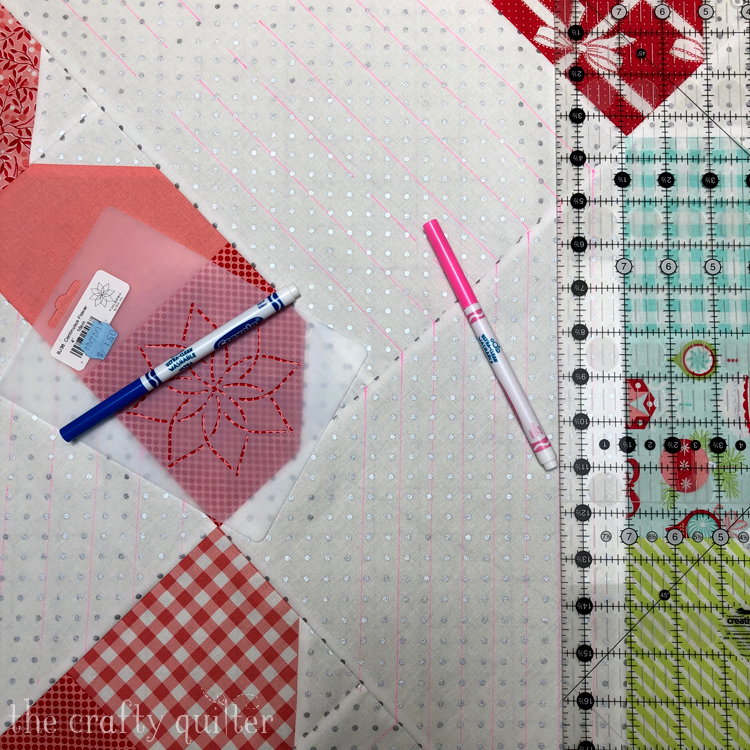 Once the straight lines were quilted, I decided to add a half-feathered wreath to the outer blocks and I used a blue water-soluble pen (thank goodness) to mark those. Usually when I'm done quilting, I spray my water-soluble marks with water and they disappear fairly easily. I noticed that the pink lines weren't vanishing as readily as the blue water-soluble pen marks were. The four blocks that I marked with the blue Crayola Ultra-Clean Washable Marks were hardly going away.
I decided that I would need to totally submerse the quilt in water to get all the marks to disappear. This required me to finish the quilt with binding first, and then start the washing process. I put the quilt in the washing machine on a gentle cycle and no detergent. Without checking the four blue-marked squares (mistake #2), I put the quilt in the dryer. I had a deadline to meet, and I needed to take pictures of the project, so I didn't have any time to let it air dry. I took it out of the dryer while it was still a little damp. Then I noticed the blue Crayola Ultra-Clean Washable Marker "stains" on only two of the four blocks. Hmmm. In the photo below, the pink/red vine fabric was marked with the same pen at the same time but it disappeared in the wash.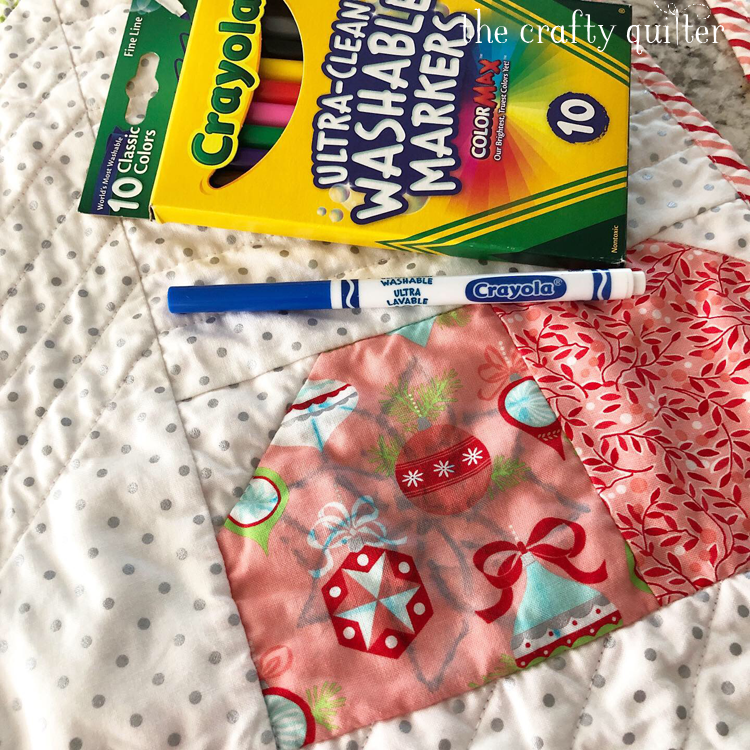 I tried Grandmother's Stain Remover with no luck. Then I used OxiClean and it finally removed the marks, but I had to scrub and let it sit for 5-10 minutes before they completely went away.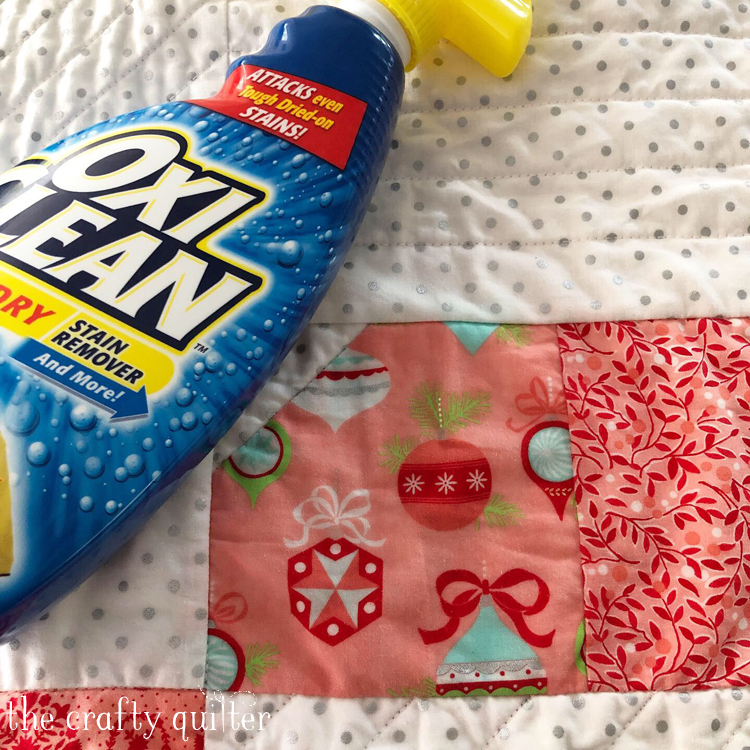 Fortunately all of the pink-marked lines disappeared in the wash. They don't vanish as quickly and easily as the blue water-soluble pens do. I don't always want to wash a quilt to get rid of all of my quilting marks when I'm done. Usually a solid spritz of water from a spray bottle does the trick. If I mark heavy handedly and the ink penetrates the batting layer, then I need to repeat the water spraying process once or twice. Some people love the crinkled look of a freshly laundered quilt. Normally, that's OK with me, but this was a different type of project (you'll see in a few days). Here's a sneak peak: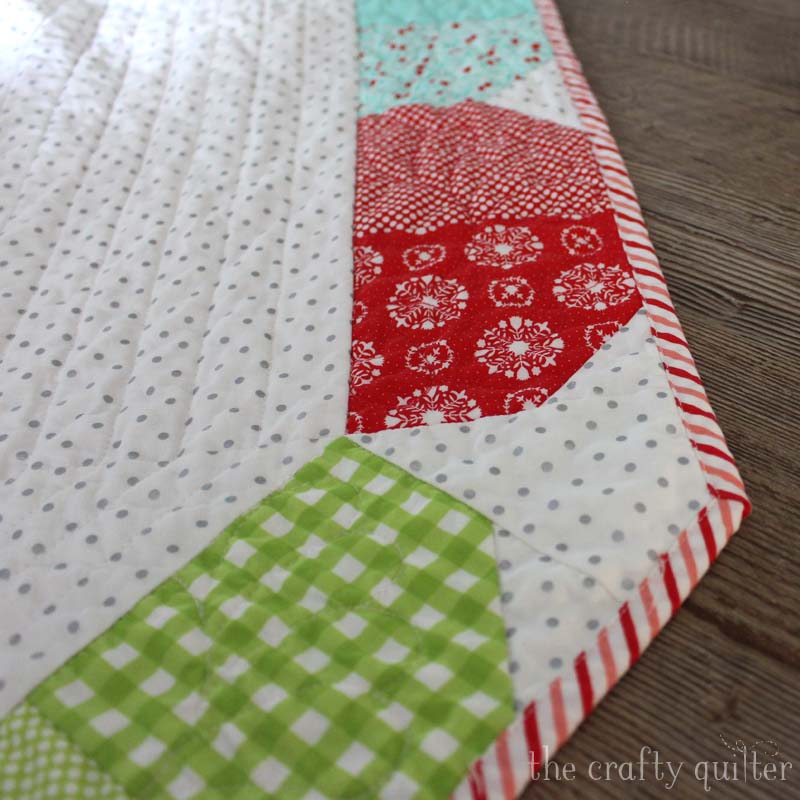 So, the long and short of it is to always test each marking tool on your fabric first. For this project, it might not have mattered since the blue Crayola Ultra-Clean Marker washed out of one fabric bot not the other from the same fabric line. I don't think this result is very typical, though. Even though all of the marks did come out, I will definitely not take the chance using these markers again. I think my granddaughter, Amelia, will have a much better experience with them on her art projects.
Thanks for reading and I hope you learn from my silly mistakes. I'm so glad I can pass my experience along to you all! Have a wonderful day!