Pillows and WIP's and summer!
Hey everyone! I've been away from the computer for a while, but busy in the sewing room and the kitchen. We're almost at the halfway point on the calendar year. The first day of summer is in a few days! How did that happen? I feel like I should have a lot to show for my time spent at home these past few months. But no. I think I'm creating more UFO's than finishing the ones I already have.
I did just finish two 16″ pillows for my granddaughters. These were quick to make, and they turned out pretty cute. I didn't use a pattern, just my own idea. Amelia picked out the fabric and I did the rest.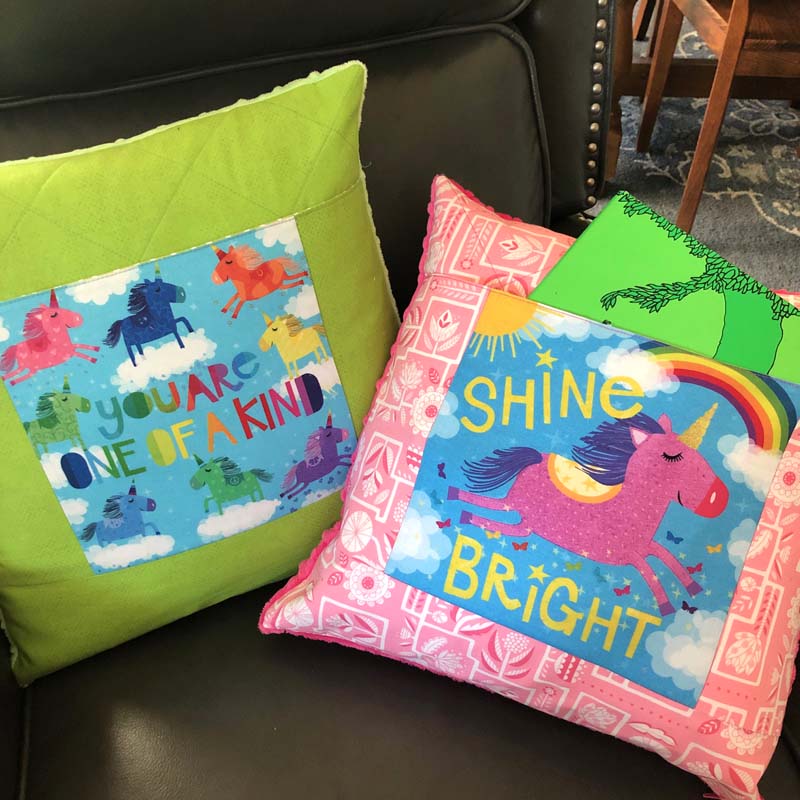 The pillows feature a center square made from the Shine Bright Panel by Katie Webb Design for Clothworks. It's full of rainbows and unicorns and super cute for kids and the young at heart. I used Shannon Minky Cuddle Dimple fabric for the backs which makes them super soft to lay on.
There is also a pocket built into the front of the pillow to put books or a small stuffed animal. This was an afterthought, but it turned out well!
I added a zipper to the bottom of the pillows which was a little bit of a challenge because of the cuddle fabric, but not too bad. It's actually easier to put a zipper in a seam as opposed to a hidden flap and so worth it!
---
I am co-teaching a block of the month at The Granary Quilt Shop via Zoom meetings. We're using the Timeless Tradition pattern and I've got all of the blocks finished through month 5.
It's fun to see them all together. Now I need to get moving on the applique blocks. Below are the most recent blocks and one of the applique blocks which I'm still in the process of stitching by machine. You can check out my favorite tools for machine applique here.
---
I've embarked on a sourdough bread making adventure that I might soon regret. I had no idea how much time (and effort) goes into making a sourdough levain. It's a lot of trial and error, but I will persevere. My first two loaves turned out good, but not great. I thought after spending two days creating them, they would taste like the best bread ever. They were a little chewy for me, but so pretty!
Now that I've invested the time in making a sourdough starter and the money on various equipment, I'm going to keep trying. I'm reading Tartine Bread by Chad Robertson which is really interesting and full of great information. It's kind of cool that I live close enough to San Francisco that I could visit the Tartine Bakery and taste what a good loaf of bread should taste like. Maybe I'll even learn a few tricks along the way.
---
I have started listening to A Quilting Life Podcast by Sherri McConnell and Chelsi Stratton. It's a nice, 30 minute dialog of topics in the quilting world and they include a quilting tip and a favorite notion in each segment. I always tune into Pat Sloan for her weekly Fireside Chats, and now I'm trying to get caught up on my Bluprint classes before they disappear. If you hadn't heard, Bluprint (formerly Craftsy) is closing. That's a sad announcement in my world, but I'm sure another venue will fill the void.
How's your summer going? It's a weird time when we're not sure if we can make a summer vacation happen or if we should sit tight for a little while longer. I'm hoping to go visit the grandkids in Austin before the summer is over. At least I have Cooper to keep me company (and Mr. Crafty Quilter) as we enjoy the long evenings of June.
In the meantime, I'll keep plugging away at my UFO's and coming up with new ideas to share with you. Christmas in July is on my radar. I have a few ideas for easy gifts to make and a roundup of others to pass along.
Remember, you have until the end of June to save 20% off everything at Purple Hobbies. The discount code is craftyquilter (no space).
Happy summer and happy quilting!