Some new quilting tools & books
I like to keep an eye on what's new in the quilting world, especially when it comes to new quilting tools. I'm lucky that I work in a quilt shop so I get to see many of the latest quilting books and gadgets as soon as they hit the market. Let me show you a few of my latest finds!
Note: Affiliate links have been provided for your convenience and I will receive a small compensation (with no additional cost to you) if you make a purchase using one of those links. With that said, I strongly believe we need to support our local quilt shops. I hope that you reach out to your local quilt shop first, to see if they carry any of these products.
New Quilting Tools
Finding a good air erasable marker isn't always easy. I want something that I can see well, that is easy to apply and that goes away just as easily. I'm happy to share that the Quilter's Select Self-Erase Marker does all of that.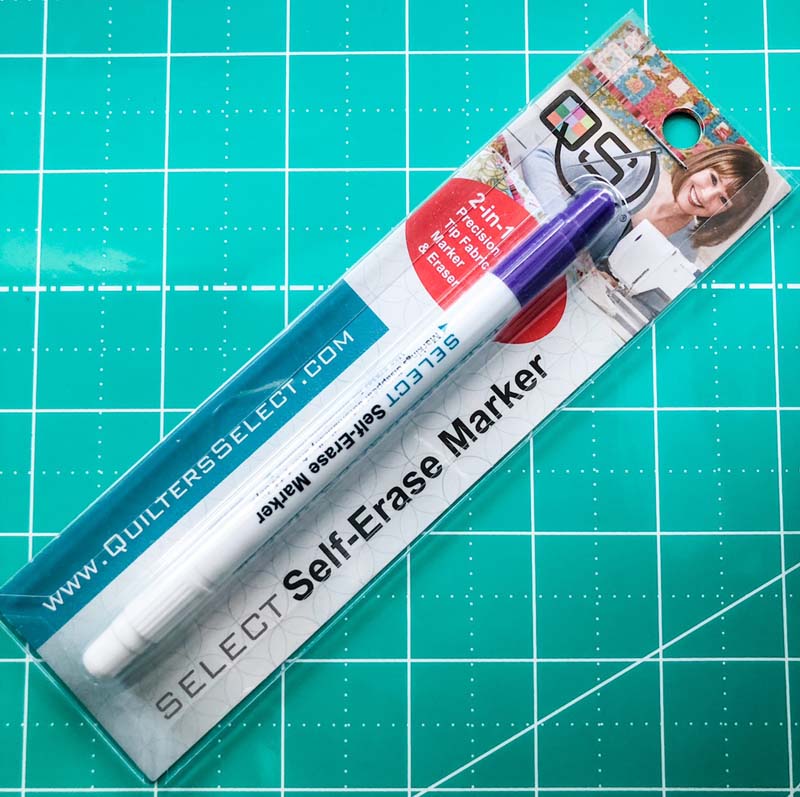 I typically don't like air erasable markers, but this one stays visible for a minimum of 3 hours all the way up to 3 days. So, that could be a bad thing if you're not planning on using those marked guidelines for a while. But if you need a temporary guideline, this marker has a few things that make it unique. It has an eraser so you can erase your marks if needed, and you can iron over it and it will not heat set the drawn marks! I can draw a diagonal guideline and not have to worry about ironing over it. Nice.
I will probably use a different tool for marking quilting lines, because I usually want something that will last days or weeks. I did try it out for one section of a recent quilt, and I liked the precision of the drawn lines and the way it disappeared by itself when I was done (after about 24 hours for this).
If you want more details, check out this short video by Alex Anderson about the Quilter's Select Self-Erase Marker.
---
I love teaching classes and sharing tips with others, but I always learn something from my students as well. In a recent Zoom class, several students mentioned the Sew Steady Grid Glider. One person said she uses it to get accurate 1/4″ seams and there is so much more that it can do. The grid makes it easy for quick measurements and its slippery surface makes it ideal for free motion quilting. It comes in two sizes; I bought the large, 12″ x 20″ size. It has a cutout for the feed dog area and a sticky back that is easily positioned in place.
It has markings 1/4″ on both sides of the center needle position so you can sew diagonal seams without having to mark them. Below, I have a HST square with the bottom corner lined up with the 1/4″ line that is to the right of center. The top corner gets lined up with the edge of my 1/4″ foot. It also has 30, 45 and 60 degree markings which can be helpful for other shapes.
The Sew Steady Grid Glider is a wonderful tool, but I have to be honest – it has its drawbacks too. I have a top loading bobbin, and I can't see it or access it without having to remove the glider or make a cutout for the bobbin case. This can be a little annoying. I read that it doesn't fit every sewing table and that some people prefer the Supreme Slider for free motion quilting, but I have yet to test it for that myself. I'll continue to play with it and enjoy the benefits of the grid and other markings.
If you want to watch a good video about this product, check out what Laura at SewVeryEasy has to say about it. Skip to the 8:00 minute mark (unless you want to see other ways to sew a diagonal seam without having to mark it).
New Quilt Books
I love thumbing through quilt books. I have a nice collection of books and I add to it very thoughtfully now. (I had to purge when we remodeled two years ago and found that I could very well open my own quilt shop and library with all of the stuff I had accumulated). I find so much inspiration and guidance in quilt books!
I recently purchased the book, Scrap School by Lissa Alexander, and it is full of fun projects for the scrappy quilter! Lissa has joined forces with some of her designer friends and they've got 12 projects that range in variety and style. I know that most of us accumulate scraps of fabric that just keep getting bigger and bigger. Well, this book will give you some wonderful ideas to put those scraps to use.
It's hard to choose a favorite design in this book, but the one that drew me in and sealed the deal was Ombre Butterscotch Baskets, designed and pieced by Lissa Alexander. I love everything about this quilt!
I also love this bright and cheery County Fair quilt designed by Amy Smart. It's perfect for those 2 1/2″ squares that I have been cutting and saving.
And then there's While At Lunch, designed, pieced and quilted by Sarah Huechteman. I love the tile pattern that is created by the color value and placement of each block.
Throughout the book, Lissa sprinkles her wisdom through her Scrap School tips, giving you the confidence and freedom to play with your scraps.
---
The second book I purchased is Top the Table, a Moda All-Stars book compiled by Lissa Alexander. I love smaller projects and this book is all about that with table toppers in all shapes and sizes.
Even with all of the great designs included, I think what I love most about all of the Moda All-Stars books is learning about each of the designers featured. There's always a Q&A included with each project and this book's topic is "Table Talk". Things like their favorite table center piece and tips for quilting smaller projects are among some of the topics. You can see an example of a Table Talk page, below, with Corey Yoder and her adorable table runner, Add It Up.
The first project in this book, Charmingly Recycled by Lisa Bongean, caught my attention and I've already got some fabric picked out for it. I enjoy anything with an orange peel design and how can you go wrong with denim? Actually, I haven't quilted with denim, but I love this idea!
If you like a more traditional look, you can't go wrong with Cinnamon Sugar by Jo Morton. Reproduction prints in any color range would look so good with this pattern.
And for a more modern take on a table runner, check out Frank's Prairie by Robin Pickens. This design was inspired by Frank Lloyd Wright and I appreciate the artistic look of this project. It's also on my list!
If you're looking for a quick gift or you just want to spruce up your table, you'll love the many options provided by Top the Table.
---
That's just a few of the new quilting tools and books that are available. Do you have any favorites? Leave a comment and let me know!
Check out my Five Favorite Quilting Tools and My 7 Favorite Hand Embroidery Tools for more tips and inspiration.
Next week I'll share about a new photo editing app I've been using. Thanks for visiting today and happy quilting!