Rearranging my sewing room & blog hop winners
On the spur of the moment last week, I decided to rearrange my sewing room. I had this idea in mind since the New Year, but no solid plan for how it would come together. All I needed was a day without an agenda and a little determination!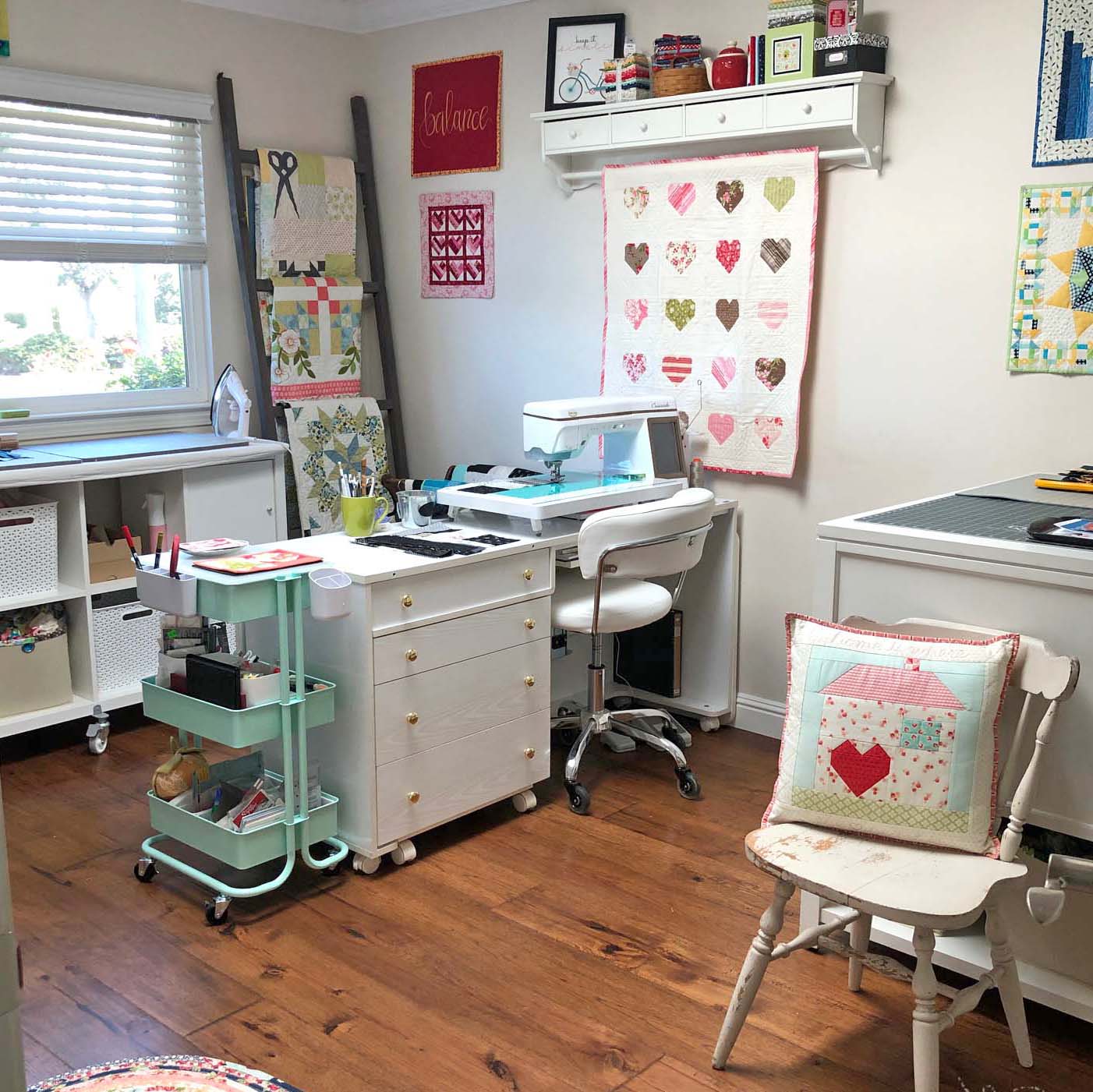 Sewing Room Rearranged
Three days later, I have a clean, mostly uncluttered sewing room – along with a sore back. The room is 12 feet square (approximately) and it has two walls with built in cabinets. Originally, I had my cutting table in the center of the room and my sewing table underneath the window. It had a nice flow, but I wasn't getting the most use out of the space.
Visually, I think it looked better before. But I can live with that as long as the functionality has improved. Below is a little before and after. If you're reading this in your browser (not email), you can slide the arrow over to compare the two.
I have more open floor space now, and I might even get a small design wall set up in one corner. I'd like to do more "thinning" of inventory when I get a chance. My stash and especially my scrap bins are still overflowing. Below you can see all four corners of the room. There's a lot going on in that room!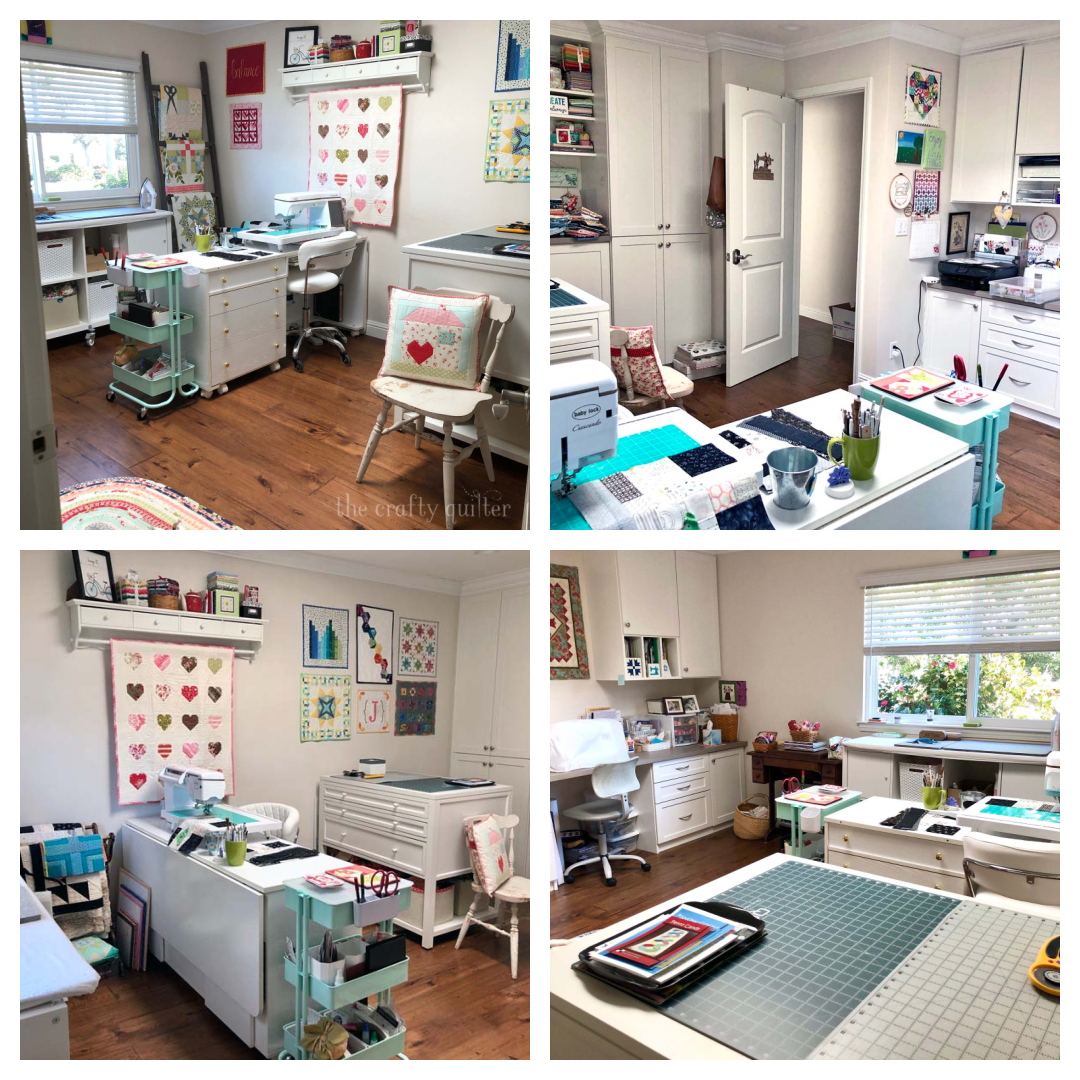 The built in cabinets are so nice to have. My stash is sorted by color and placed in clear plastic bins. I have precut bundles displayed on open shelves.
The other wall of cabinets has a mix of office supplies, paper crafting supplies, books and another sewing station. I like to have two sewing machines set up (when I can) so that I can have one machine dedicated to quilting or an applique project and the other machine can be used for piecing. I also have a pull-out extension table that is great for ironing and trimming. The photos below are from two years ago, but the layout is the same now.
Sewing room product details
Because I know you're going to ask, I'll try to list as many of the products and sources as I can.
Cutting table: This is a Martha Stewart Craft table I purchased in 2013. Unfortunatley, I can't find it anywhere online.
Sewing table: Again, I couldn't find my exact table anymore. This Kangaroo Sewing Cabinet is almost identical to mine. I absolutely love it.
Sewing Machines: Baby Lock Crescendo and Baby Lock Soprano (smaller)
Ironing station: I purchased an Ikea Kallax shelf unit ($149) and had Mr. Crafty Quilter install caster wheels along the bottom. We purchased 1/2″ thick x 20″ wide plywood and had Home Depot cut it to fit the length of the shelf unit.
Craft Storage Cart (aqua): The Container Store
White sewing chair: Purchased at Home Goods in 2019.
Clear plastic bins: The Container Store – large shoe box size
Shelf with drawers and quilt hanger – A lucky find at a consignment store 20 years ago.
Quilt ladder – made for me by a friend's husband.
For more sewing room photos and ideas, check out three ways to make your sewing space more efficient.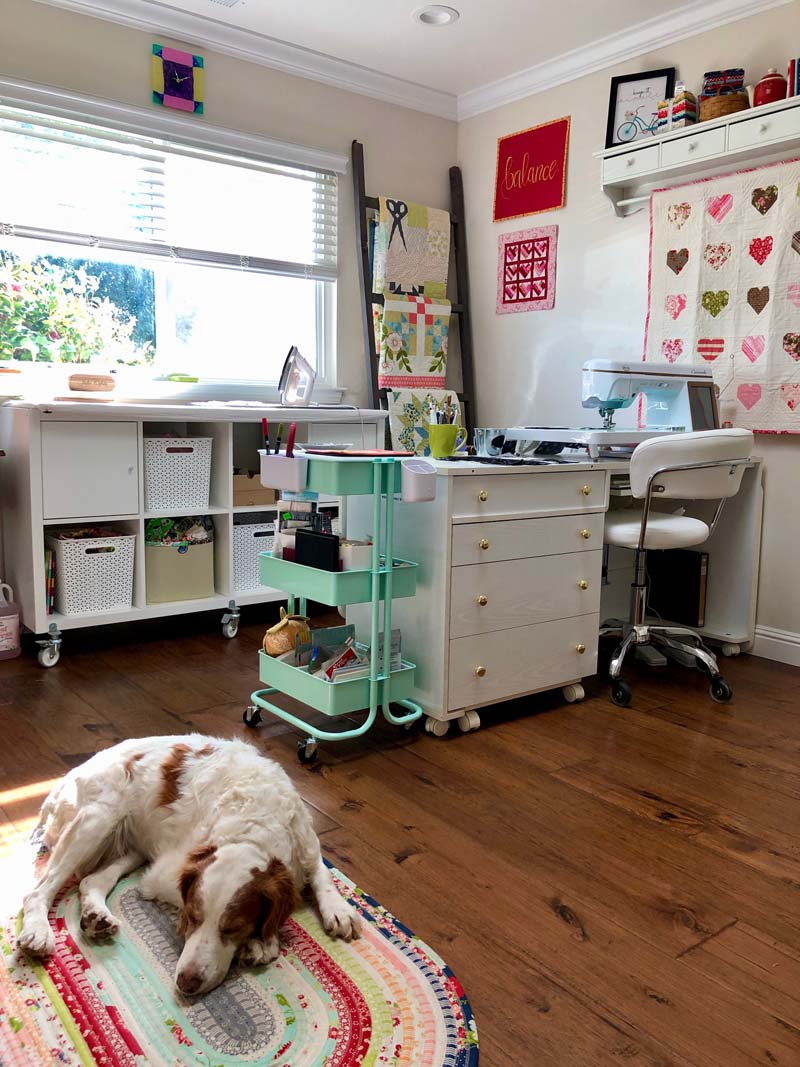 Blog Hop Winners
I completely forgot to announce the winner of my prize for the Fast & Fun Blog Hop! All of the main blog hop winners can be found at the Villa Rosa Designs Blog.
The winner of a prize package from me is Tonia Conner. Congratulations! I've emailed you for mailing information; you will be receiving one charm pack, 3 VRD Rose Cards, my Arrow Stone quilt pattern, and a few other goodies.
Thanks to everyone who participated!
And… HAPPY VALENTINE'S DAY my friends!