Scrappy Arrow Stone quilt finish & other new things
It's been a busy few weeks behind the scenes, and I haven't chatted with you in a while! I finished my scrappy Arrow Stone quilt and finally got some good photos to share. Besides waiting for the weather to clear, I wanted to find a fun spot to take pics. So yesterday, I took my quilt for a trip to the local garden center hoping to find some good backdrops. And I did!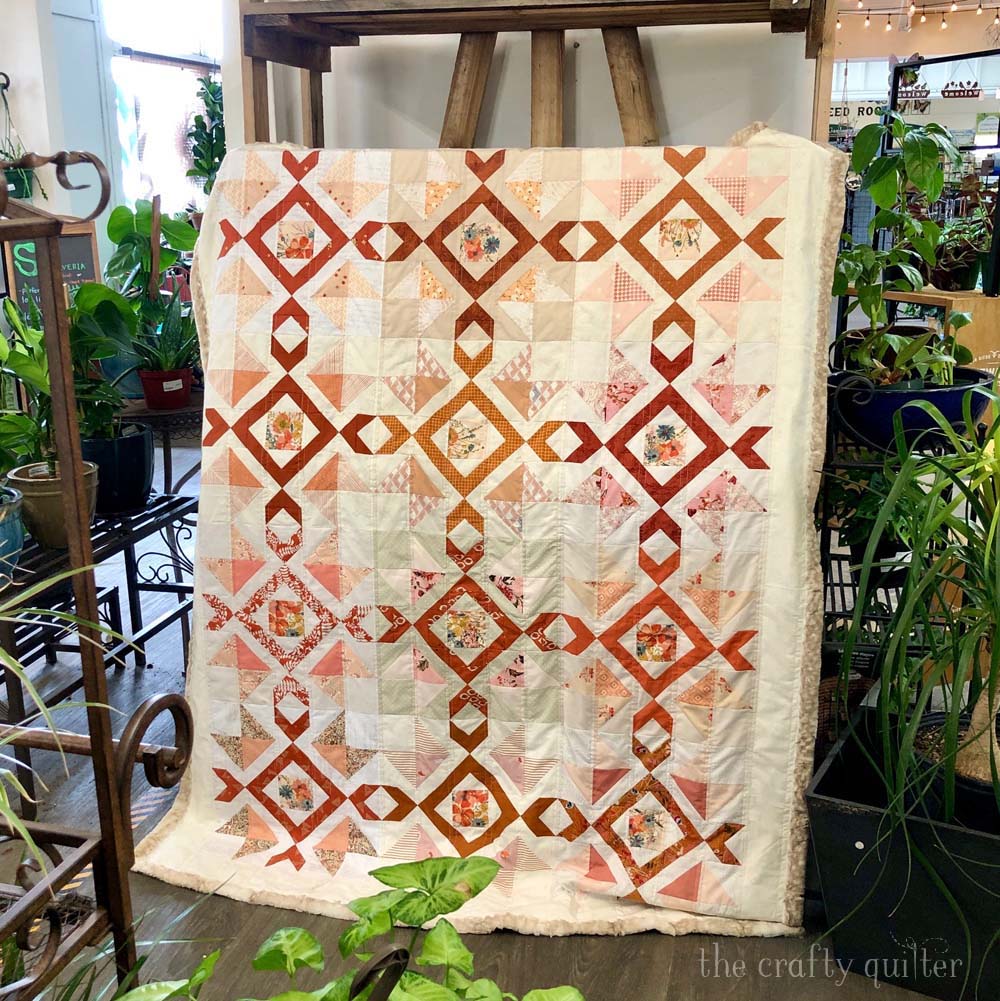 The Arrow Stone quilt pattern can be found in my Etsy Shop.
Scrappy Arrow Stone Quilt
It's been one year since I hosted the Arrow Stone quilt along, and I made most of these blocks during that time. It's finally finished and I think this scrappy Arrow Stone quilt is my favorite! There are cutting instructions included in the pattern if you want to use scraps; otherwise, it can be made with yardage. This size is the throw, 53″ x 68″.
All of my fabric came from my stash; most of it is from Art Gallery Fabrics. I love the combination and variety of coral, rust and peach all together. Each block is a different combination of fabric except for the center squares. They are all cut from Spirited by Sharon Holland for Art Gallery Fabrics. After putting the quilt next to some clay plots, I think Terracotta would be the right name for this version!
Did you notice the backing fabric? That's Luxe Cuddle Fawn in Beige by Shannon Fabrics. You have to feel how soft it is to believe it. It's incredible! I decided to forgo any batting, and I wrapped the Cuddle around to the front for the binding. I will have a follow up blog post on that whole process along with my "lessons learned".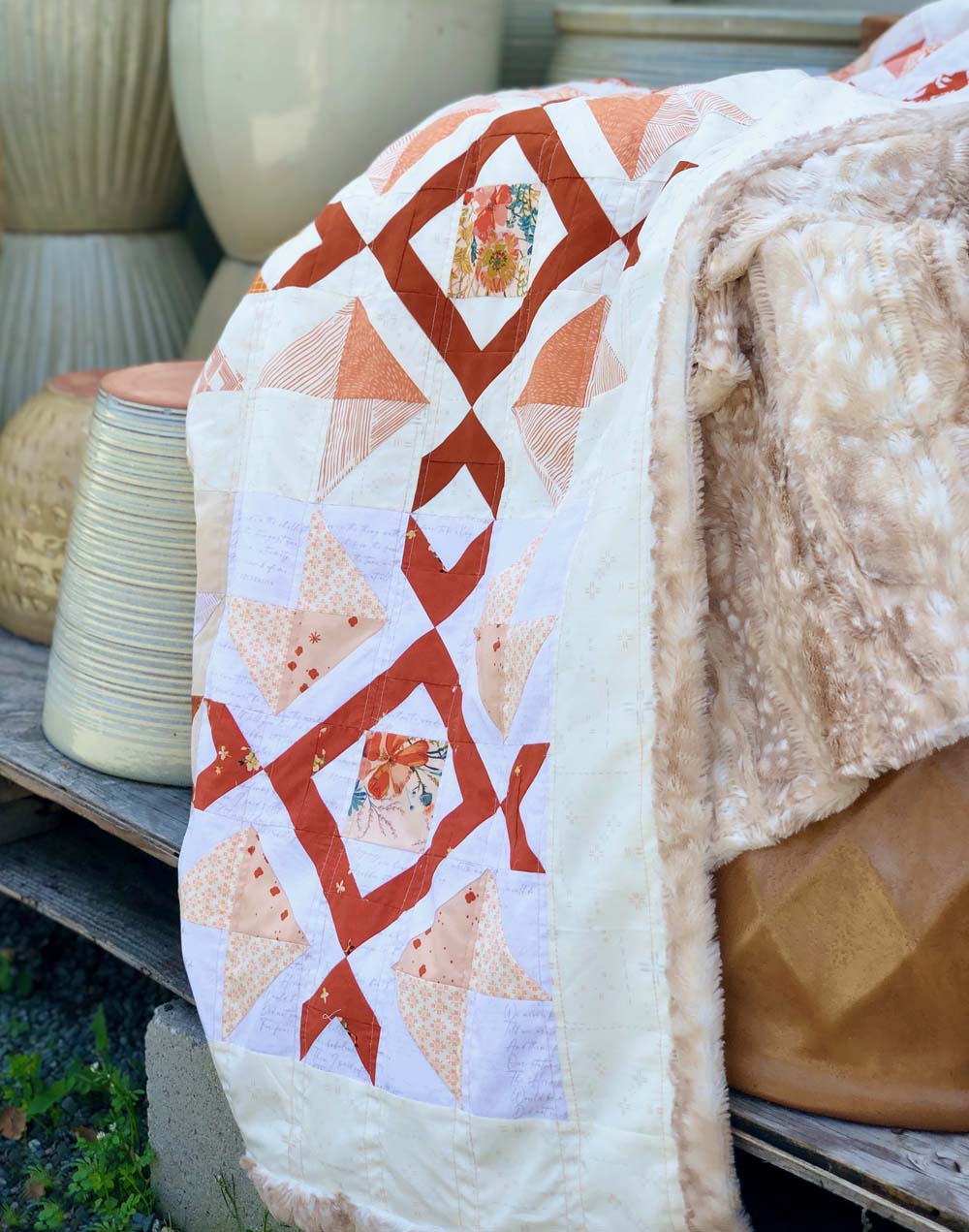 Overall, I'm really happy with the way the quilt turned out. I quilted it myself very minimally; just vertical straight lines using my walking foot. It turned out that I didn't spray baste well enough (another lesson learned), so the center area has some rippling. I'm not thrilled about that, but it's better finished than perfect as they say.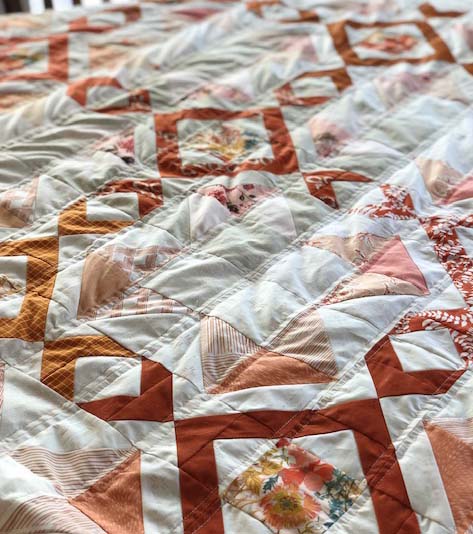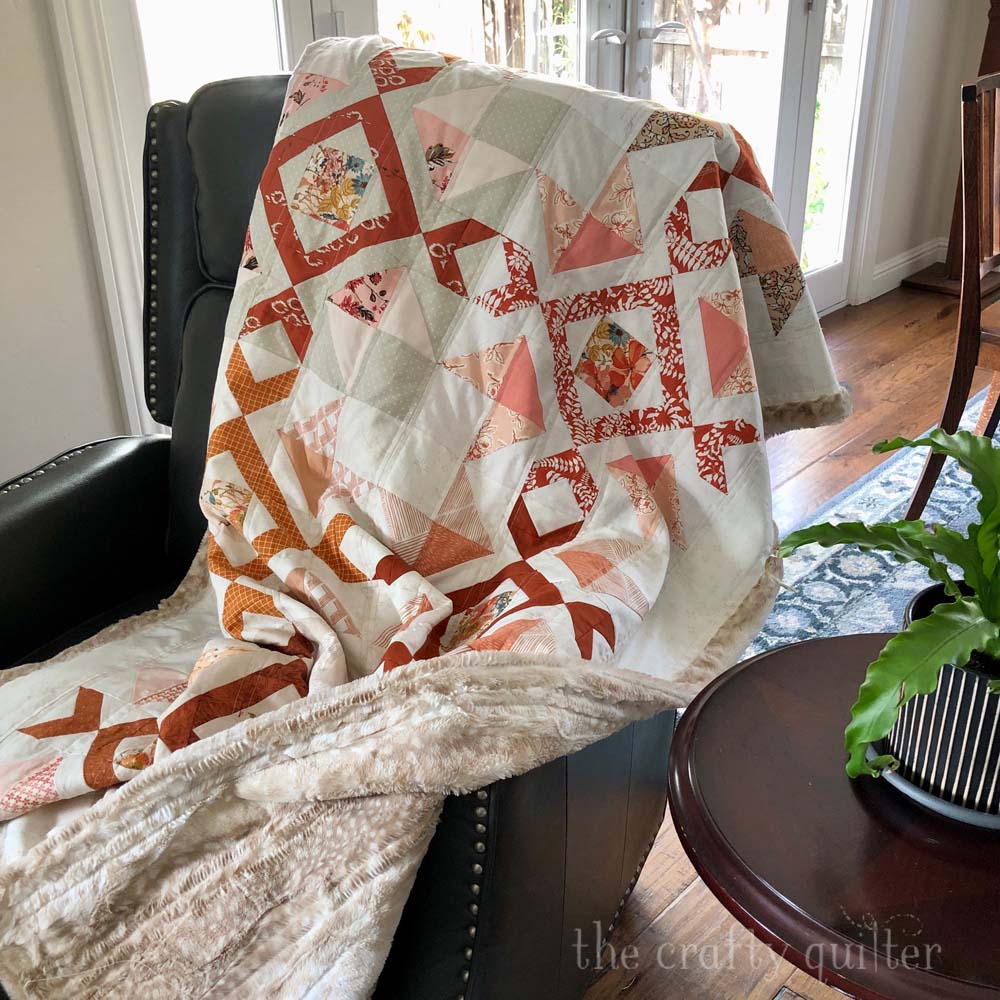 If you're interested, paper copies of the Arrow Stone pattern along with kits for the original version can be found online at The Granary Quilt Shop. If you're making the pattern, you'll find some great tips in the Arrow Stone Quilt Along blog posts.
Other new things
For those of you who have been waiting, my Vinca Blossoms quilt pattern is in the pattern testing phase. This is a complete pattern based on my free tutorial for the Vinca Blossom quilt block. It will have full color diagrams and instructions with four quilt sizes to choose from.
I have another quilt pattern that just got released to my pattern testers. This one is called Sterling, and it's a very classic and easy quilt that you will love. It would be perfect for someone who has just started quilting, but also a delight to make if you're an expert! I'm currently working on the cover quilt which is made from the new Gayle Loraine collection by Elizabeth Chappell for Art Gallery Fabrics.
Both Vinca Blossoms and Sterling will be releasing in May! I'm really excited and sew thankful for my pattern testers and tech editor who help make this happen.
I'm also testing out the new Scanfil Organic Thread line and so far I'm really pleased! I've been using the 50 wt. to piece my blocks for Sterling, and I'm working on a free motion sample to test the 30 wt. thread. I should have a review ready by the end of the month.
That's all my quilting news for now. Behind the scenes, I've been rehabbing my knee (arthritis) with daily exercises for the past three weeks. Everything was going great until today when I jammed my knee on some uneven pavement. I just about cried in frustration (and pain). Now I'm back to icing it and Advil. There's always something to complain about, right? The bright side is that it doesn't affect my quilting or computer time, and I can skip the major housecleaning for a while!
I hope you're getting ready for a nice Easter weekend, if that's something you celebrate. Sunday is also Mr. Crafty Quilter's birthday so we will be having some cake to go along with our hardboiled eggs! Thanks for reading and have a great weekend!