Disappearing 9-patch quilt along, week 1
It's kick-off time for the Disappearing 9-patch Quilt Along! I'm so excited for this and so happy that many of you are following along with me.
Below is the full schedule for this relaxed summer quilt along. There is also a Disappearing 9-patch QAL TAB (or menu item on mobile devices) at the top of my blog that I'll keep up-to-date with all of the blog posts linked there.
June 15 – Fabric requirements and general information
June 22 – Disappearing 9-patch, cutting and sewing instructions
June 29 – Block and quilt layout options
July 6 – Assemble quilt
July 13 – Linky party to show off your finished quilt tops
July 20 – Linky party ends and winners will be chosen
Fabric requirements
Today is all about fabric requirements and a little more general information. I already discussed basic fabric requirements last week in the Getting Ready blog post. I also mentioned how color placement is a big consideration for the look of this quilt. You can create a controlled color version which is all about where you place color squares in the initial 9-patch, or a random color version where anything goes and looks very "patchworkie". If this doesn't make sense to you, read the Getting Ready blog post.
Below are the fabric requirements which are based on the number of disappearing 9-patch blocks used. Each block will measure 13″ finished. If you're using a random color scheme, then you only need to look at the last column for the total number of 5″ squares. If you're going for the controlled color version, then you'll divide that total number into white, color and center dark squares. Remember, the quilt size does not include borders since they are optional.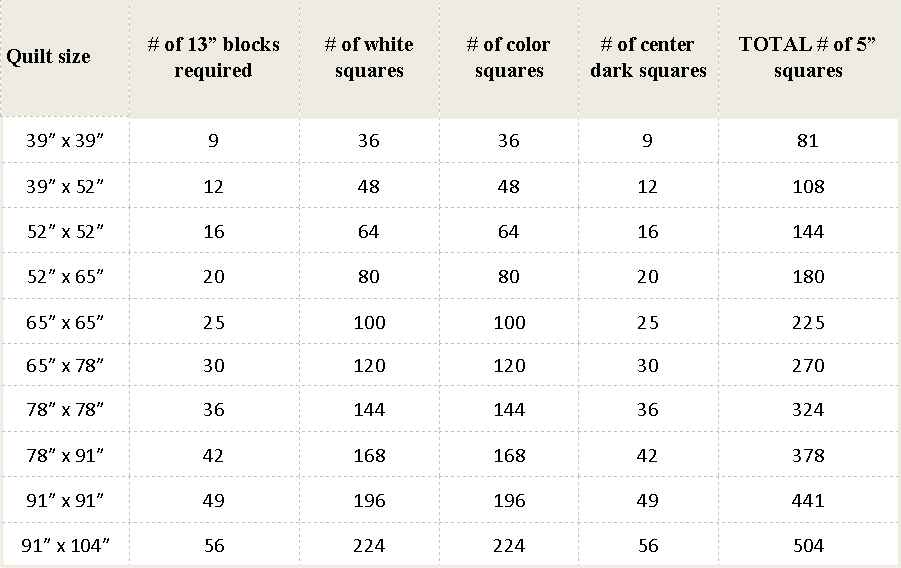 Working with precuts
If you're using charm packs (pre-cut 5″ squares) they usually come with 42 squares in a package. Most precuts, have a pinked or serrated edge. This is to control the raw edges from fraying. When you measure a precut you should be using the outer most points of the edge as a guide for cutting and for sewing with a 1/4″ seam allowance.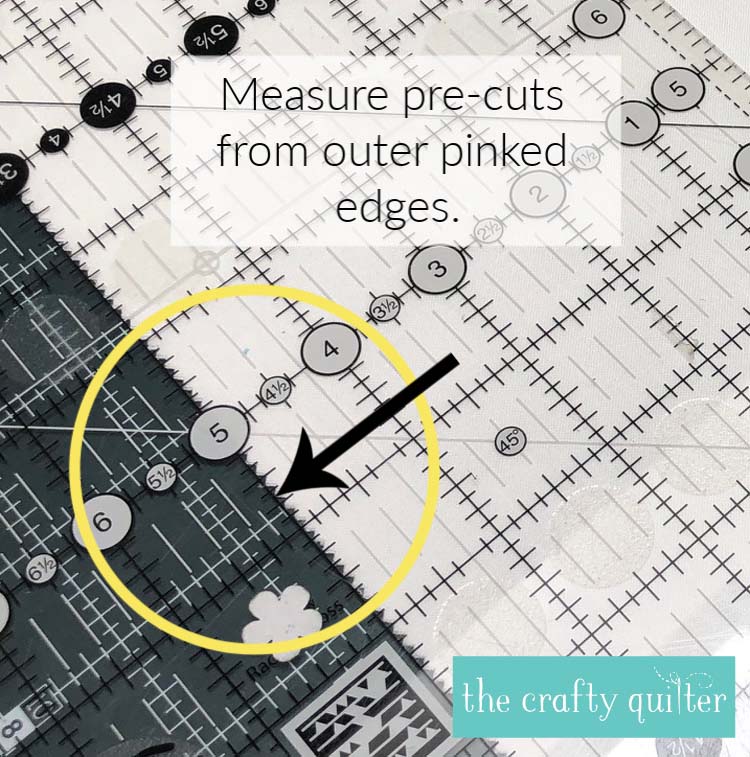 You could also use a layer cake (pre-cut 10″ squares) and cut it into 5″ squares. That is what I did for my white squares. I had a junior layer cake of (20) 10″ squares and I cut each of them into quarters – (4) 5″ squares. I'm also using 2 charm packs of Mama's Cottage by April Rosenthal for Moda.
Tip #1: First, measure your precuts to make sure they're the correct size. Different brands can vary, and it's best to know what you're working with to begin. If you're using the same precuts for the entire quilt, it's OK if they're ALL a little smaller or larger. They just need to be consistent.
Tip #2: If you're cutting a layer cake into 5″ squares, layer 4-5 squares at a time, and cut them apart. I like to use a 60 mm (large) rotary cutter when cutting through lots of layers. It's faster and more efficient. You can also use a standard 45 mm blade just as well.
Tip #3: If cutting layer cakes, move the ruler and not the layer cake when you make the second cut. Less movement of the fabric will give you a more accurate cut.
Working with yardage
You may find that you have lots of scraps or fat quarters or yardage that you want to use for your 5″ squares. That'll work just fine, too!
First, make sure to press each fabric so that it's nice and flat. If you're using fat quarters or yardage, cut them into 5″ strips first. Then cut the strips into 5″ squares. You can get (8) 5″ squares from one strip of 42″ wide fabric. If you're working with fat quarters, you will get (4) 5″ squares from one strip and a total of (12) 5″ squares per fat quarter.
Easy peasy so far!
General Information
There is no need to sign up for this quilt along. Everything will be posted here on my blog for all to see and use. If you want to subscribe to my blog through your email, that will ensure that you get the latest updates straight to your inbox. Again, that's not necessary for the QAL; just a convenience for you.
If you use Instagram, use the hashtag #disappearing9patchqal and show us your progress as we sew along. I'm contemplating a separate giveaway for Instagram followers. You can follow me at @thecraftyquilter. I'd love to see your updates!
Next Saturday, I'll give you the sewing instructions and we'll begin making the disappearing 9-patch blocks. After that, you'll have three weeks to complete your quilt top in order to participate in the linky party and giveaway that starts on July 13 and will end on July 20.
Giveaway Prizes
Every good quilt along should have an equally good giveaway, don't you think? And not just one winner, but TWO winners will each receive a prize package!
Prize package #1 includes two charm packs of Vintage Holiday by Bonnie & Camille for Moda Fabrics, one charm pack of Modern Basics (ocean) by Michael Miller Fabrics, one Cupcake Mix Recipe pack and one Art Bin Clear View case (perfect for holding 5″ squares).
Prize package #2 includes one charm pack of Sphere by Zen Chic for Moda Fabrics, one charm pack of Miss Kate by Bonnie & Camille for Moda Fabrics, one Jolly Bar of Sew Cherry by Lori Holt for Riley Blake Designs and one Cupcake Mix Recipe pack (not pictured).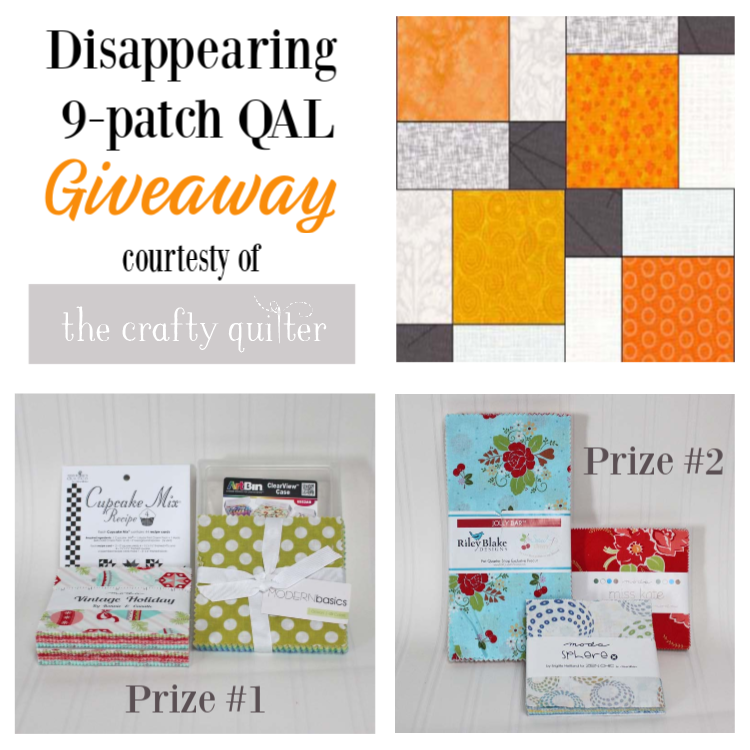 To enter the giveaway, all you need to do is add a photo of your finished quilt top to the link-up which will be open for one week starting July 13. Your quilt doesn't need to be quilted, just pieced together. I'll give detailed instructions on how to join a link-up when it's open.
If you have any questions, please leave a comment below. There's usually someone else with the same question, so don't be shy! Thanks for joining me today!