A new adventure in hand lettering and some WIP's
I don't have any special plans for the weekend, but I have begun a new creative adventure in hand lettering. Modern calligraphy and hand lettering have become really popular in the past few years. I've always enjoyed hand-writing, so this new art form was a natural curiosity for me.
Hand lettering
I've been playing with hand lettering over the past year or so and I even took a workshop with my daughter a while back. This month, I've subscribed to a Lettering Subscription Box at Let's Make Art. It's full of writing tools, practice sheets, project ideas and full video tutorials to support it all. It's so much fun!
I just finished lettering "FRIDAY" in different styles. I didn't veer too far from the instructions, so this is basically what's taught in the kit. You don't need a subscription to access the video and downloadable outline; they're available online here.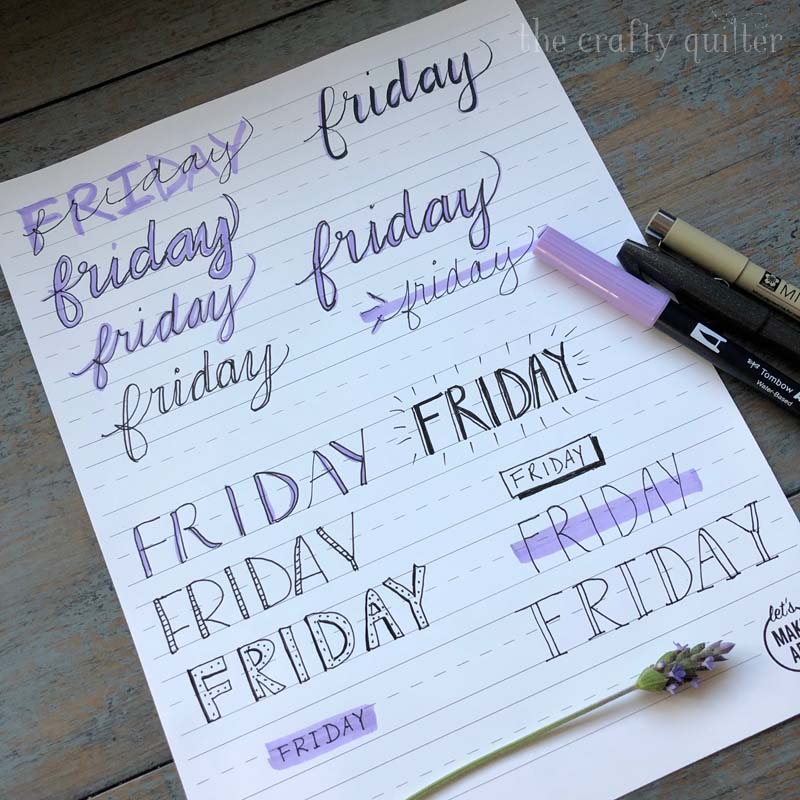 This month's kit included a bullet journal with instructions for a January calendar month. I think this might also be a great way to practice free motion quilting on paper. Something I think everyone should do! I decorated my page with a "swirl and hook" FMQ design.
WIP's
I know, you're here for the quilting, right? I always have that going on in many different stages! I'm way late in making a baby quilt for my new grandson, Benjamin. He'll be one month old on the 29th! I decided on the Glacier Modern Quilt Pattern by QLT Studio. I'm sticking with a similar colorway using my own stash except for the white background fabric. I see lots of half-square triangles in my future!
I'm still making Ombre Hearts for my next Ombre Love Quilt. I've completed 15 hearts in three different color ways. Only 15 more hearts to go! I'm using a layer cake of Olive's Flower Market by Lella Boutique for Moda Fabrics. Remember, my Ombre Love Quilt pattern is still on sale for $6 until February 1, 2020.
You can see a peak of my Simple Heart Quilt hanging above my ironing station in the photo above. This is a free pattern and tutorial by Allison at Cluck Cluck Sew. Last year, she gave it a fresh update and included a printable for the heart block in different sizes.
In my version, I set my hearts straight across instead of staggered. I used fabric by Verna Mosquera for Free Spirit. I can't remember the name of the collection and it's long gone.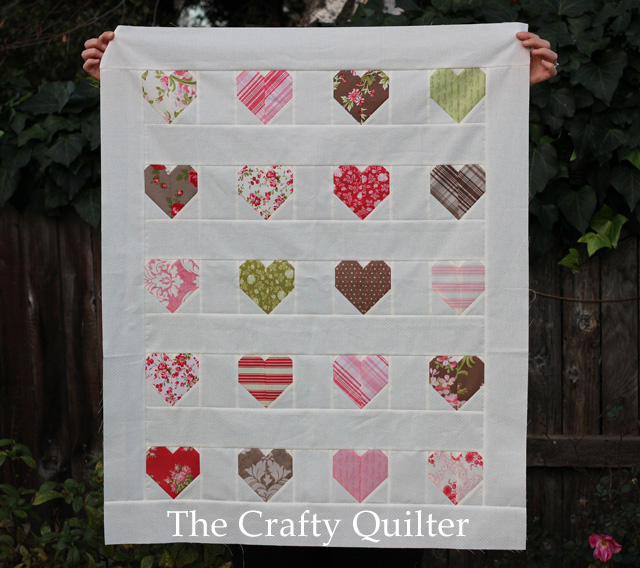 That's what's going on in my creative life. Next week I'll share some details of my sewing space and what makes it so functional. I'll tell you more about my sewing machines, too. I hope you all have a wonderful weekend!