Butterfly and Flowers Applique Project
A few weeks ago I showed you some new fabric that I brought home from my favorite quilt shop (aka The Granary).  You can go here to see that post.  I just finished the quilt top yesterday and I really like it.  I know, it's not true love yet, but it will be once I've quilted it and added some blue piping around the outside and all.  The pattern is from the book, Sisterhood-A Quilting Tradition: 11 Heartwarming Projects to Piece & Applique.
There were some big prints in this fabric line from Michael Miller (aptly named "Bella Butterfly") and I really wanted to use all of them.  The large hydrangeas in the outer corners are actually made up of little butterflies.  So cute!
TIP:  Make a fabric swatch color guide before you start a new quilt project.  It really helps to keep things organized and then you don't have to think so hard!  Here's what mine looks like:
On the right side of each fabric swatch, I wrote the corresponding color and letters as given in the pattern.  So, for instance, any time the pattern said to cut the tan fabric or to use piece C, I would know to look for my green fabric.
And here's a close up of the applique: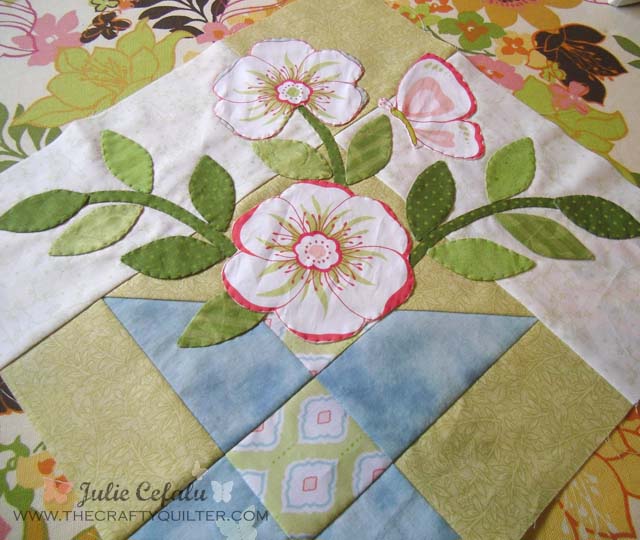 There are so many techniques for applique and I wanted something that was done by machine.  I chose a turned-edge technique using lightweight fusible interfacing and then it's finished off with invisible thread and a blind hem stitch.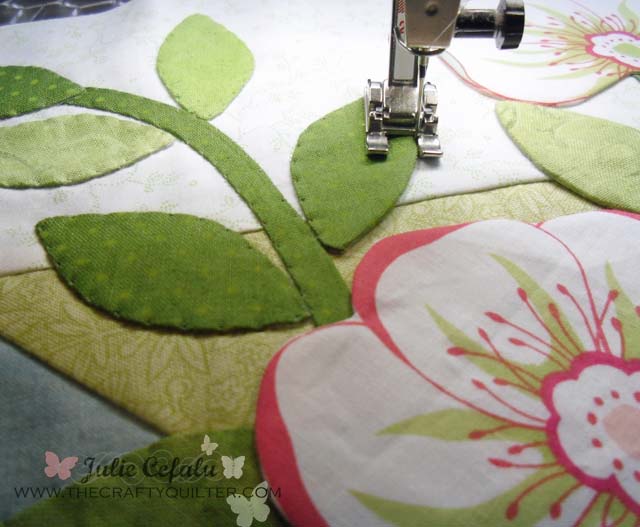 I decided to use the flowers and butterfly that were printed on one of the other large scale fabrics.  This is similar to Broderie Perse which uses pre-printed elements to make up an applique scene. Here is the fabric before cutting it up and after:
I am working on a tutorial for the turned-edge applique technique that I used in this project.  It works well for larger, simpler applique shapes.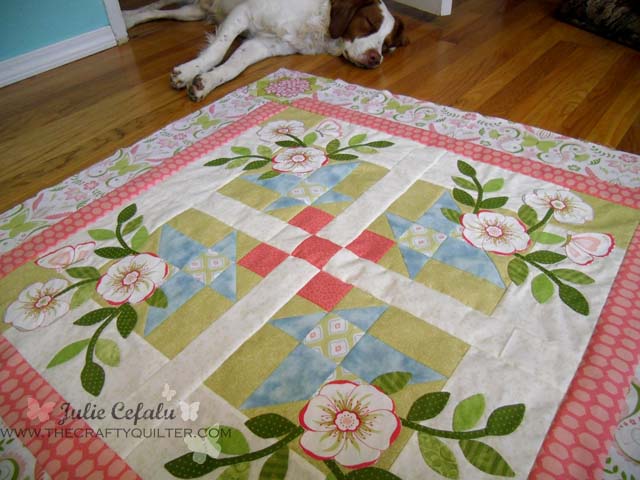 And where ever I am in the house, you're sure to find Cooper close by.  He loves quilts too!
Have a happy day!