I'm back with a fresh & updated website!
It's been a minute since my last blog post, but I'm back with a fresh and updated website! You'll find the navigation is easier, there's a new contact page, and the look is more current/modern (but still "me"). If you're reading this in an email, click here to check out the new look and tell me what you think!
I've been busy re-categorizing ten years worth of blog posts and making things easier to find. I'm still using WordPress, but I have a new theme that is very user-friendly and full of the same great content. I'm glad to have that part of blogging behind me so I can focus on new projects and fresh information for you guys.
I also have a separate newsletter that is dedicated to keeping you up-to-date with all the things happening in the online quilting world. It's similar to my old "Sew Thankful Sunday" blog posts but with more variety; I send it out once a month (I don't want to clutter your inbox). If you would like to subscribe to my email newsletter, just fill out the form below.
Current projects
I made two Nantucket Mini-Charm Bag samples for the quilt shop (also available as a kit.) I LOVE this Nantucket Summer fabric line by Camille Roskelly for Moda Fabrics. It's a beautiful collection of cool blues and greens that is just so charming! The pouch pattern is available as a free download from Moda Fabrics. These pouches were easy to make (now that I'm not so freaked out by zippers anymore). And who doesn't need another cute pouch to store things in?
I'm staying caught up with my Halloween Figs Sampler BOM that I'm co-teaching at The Granary. Below are the past two months worth of blocks. I love the addition of the applique blocks. I made mine with a turned edge. One is stitched by machine and the other is stitched by hand. I bet you can't tell which is which! (The bottom-left is by machine). Check out my Round Up of Turned Edge Applique Techniques for more information about these methods.
Another BOM that I'm participating in is a sampler-style quilt from the Quilter's Candy Membership. I finished the "Star of Bethlehem" block which I always thought would be a challenge. I took my time, and it turned out perfect (much to my surprise). This block is made with strip piecing and then cutting segments into diamond shapes. That was easy, but all of those diamonds had to match up at the seam intersections. And then I crossed my fingers and hoped the whole thing would measure 26 1/2″ square. And it did!
Here are two more blocks from the Quilter's Candy Membership Sampler BOM that I completed last month. All of the fabric I'm using is from various collections of Art Gallery Fabrics. I love the soft, modern color palette.
I've started teaching in-person classes again at my local quilt shop, The Granary. So far I've taught two machine applique classes and one free motion quilting class. We have a new classroom space so we can accommodate more students. It's so nice to teach in person again!
Coming up
Enough of the current stuff – let me tell you about what's coming up! I'm doing a comparison of "stitch & flip" techniques using two (maybe three) different rulers. Stitch & flip is often used to make snowball blocks or any time you want to stitch a diagonal corner onto a square or rectangle. You don't actually need a ruler for this technique. I have never used one until recently (after hearing how amazing they are). I'll give you all of the details early next week.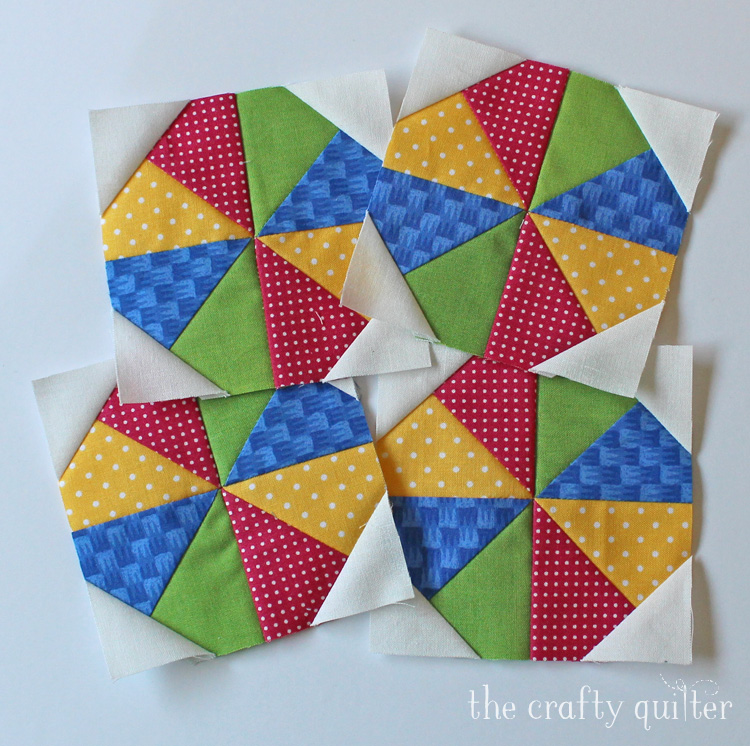 After the "stitch & flip" corners blog post, I have something really exciting for you! I've been working on a Christmas in July tutorial, and since my July days are numbered, I'm working fast. I've designed this fabulous quilt block that can be made into a table topper, table runner, lap quilt or larger. There are so many options that I don't know where to start or end! Below is a peak at the block. It's very easy and it contains some "stitch & flip" corners (so that blog post will come in very handy).
---
Thanks for being patient with me as I redesigned my website. I don't think I've ever taken a month away from blogging, so it feels nice to be back. I hope you're all enjoying your summer, and I'll see you next week!